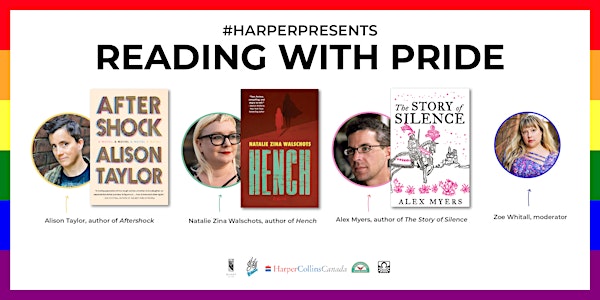 #HarperPresents: Reading with Pride
Celebrate the launch of three new exceptional works from HarperCollins with #HarperPresents: Reading with Pride
Date and time
Wed, Sep 30, 2020 4:00 PM - 5:00 PM PDT
About this event
Moderator: Zoe Whittall
In Conversation With Alison Taylor (Aftershock), Natalie Zina Walschots (Hench) and Alex Myers (The Story of Silence)
We have four official book stores supporting this event!
Toronto: Another Story
Ottawa: Octopus Books
Vancouver: Massy Books
Edmonton: Glass Bookshop
Don't forget to purchase your copies of the books before the event. You can also find a new favourite store at bookfinder.ca!
Reserve your free e-ticket to the event!
Learn more about the books below!:
Alison Taylor's Aftershock
Aftershock follows a mother and daughter's parallel journeys through shared trauma: mother Jules struggles to regain control of her life and her OxyContin dependency while daughter Chloe goes off the map after a rocky visit to her father in New Zealand. Mother and daughter will need to reconcile before they can finally address the secrets surrounding the tragic death of a sister and the emotional impact they have wrought.
About Alison: Alison Taylor was fired from jobs as a babysitter, a chambermaid, a barista and a farm hand, before spending twenty years as a television editor in Toronto, Ontario. They have previously published a short story in Exile Literary Quarterly, performed deadpan stand-up on various comedy stages and made several internationally screened experimental short films. They now live in Fredericton, New Brunswick with their partner and two bossy felines. Aftershock is their first novel.
Natalie Zina Walschots' Hench
Told with razor wit and a love of all things Superhero, Hench is a smart, evocative crossover novel that examines the world of Supers through the lens of human resources and spreadsheets that builds to an incredible story of love, betrayal, revenge, and redemption.
About Natalie: Natalie Zina Walschots is a freelance writer, community manager and bailed academic based in Toronto. She writes everything from reviews of science fiction novels and interviews with heavy metal musicians to to in-depth feminist games criticism and pieces of long-form journalism. She is the author of two books of poetry. In her free time she has been exploring the poetic potential of the notes engine in the video game Bloodborne, writing a collection of polyamorous fairytales, developing interactive narrative classes and composing short text-based body horror games. She also plays a lot of D&D, participates in a lot of Nordic LARPs, watches a lot of horror movies and reads a lot of speculative fiction.
Alex Myers' The Story of Silence
A knightly fairy tale of royalty and dragons, of midwives with secrets and dashing strangers in dark inns. Taking the original French legend as his starting point, The Story of Silence is a rich, multilayered new story for today's world.
About Alex: Alex Myers is a writer, teacher, and speaker. Born and raised in Paris, Maine, Alex was raised as a girl (Alice) and left Maine to attend boarding school at Phillips Exeter Academy. At Exeter, Alex came out as transgender, returning his senior year as a man after attending for three years as a woman, and was the first transgender student in that Academy's history. After Exeter, Alex earned his bachelor's at Harvard University, studying Near Eastern Languages and Civilizations. Alex was also the first openly transgender student at Harvard and worked to change the University's nondiscrimination clause to include gender identity. Subsequent to earning a master's degree in religion at Brown, Alex has pursued a career in teaching, as a transgender advocate, and as an active journalist contributing to the Guardian, THEM and other publications. He currently lives in New Hampshire with his wife and two cats. The Story of Silence is his first book for Voyager.
This event will be live on Zoom at 7 PM ET. Zoom link will be provided in confirmation email under 'Additional Information.'