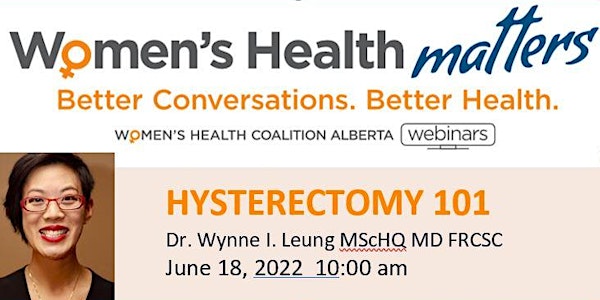 Hysterectomy 101
Hysterectomy - When is it needed. What to expect. Recovery, alternatives. and tips to navigate the system
Refund Policy
Contact the organizer to request a refund.
Eventbrite's fee is nonrefundable.
About this event
Hysterectomy 101.
Dr. Wynne Leung will share insights and information about hysterectomies, the alternatives and considerations when deciding to choose hysterectomy as an option for treating gynecological health issues. Dr. Wynne will provide information for patients and physicians to have a better conversation about gynecological health conditions and how to navigate the system.
Who should attend
• Women considering hysterectomy as an option for treatment of gynecological health conditions.
• Healthcare professionals who want to learn more about hysterectomies, alternatives and navigation considerations.
• Women's health stakeholders that want to drive new conversations for better health outcomes
Dr. Wynne Leung MScHQ MD FRCSC, Department of Obstetrics and Gynecology, Calgary
LEADERSHIP IN GYNECOLOGY (current)
Examinations Committee member. Royal College of Physicians and Surgeons of Canada. (2017)
Connect Care Women's Area Council Co -Chair (2018)
Connect Care Women's Health Physician Training Lead (2018)
Connect Care Women's Health Area Calgary Zone Trainer (2020)
Rockyview Representative. Department of Obstetrics and Gynecology Quality Committee.(2014)
OBGYN Representative Rockyview NSQIP committee (2019)
RESEARCH AREAS: Health Quality, Minimally Invasive Gynecology, Pelvic Pain
____________________________________________________________________________________________
About The WHC
Mission
The Women's Health Coalition is committed to creating a movement to speak openly, learn and engage with purpose to address menstrual reproductive and sexual health through all the ages and stages.
Vision
The right support and treatment at the right time for improved quality of life, improved health outcomes, and better lived experiences.
Mandate
The Women's Health Coalition will take a leading role in engaging and informing community stakeholders, healthcare professionals, industry and government to challenge traditional thinking, address gender bias, and improve health outcomes for women facing menstrual, reproductive and sexual health challenges.
The Women's Health Coalition is a network of:
Women who have faced health challenges
Professionals who care for women
People who care about women and women's health
Businesses and Associations committed to women's health
We will fulfill our mandate by:
CONNECTING WITH WOMEN to understand their health journey: Engage women of diverse backgrounds to provide testimony of unique experiences in Alberta's health system to validate priorities identified for system change and empower women to own and guide their health experience.
ENGAGING THE HEALTHCARE COMMUNITY for system improvement: Work with healthcare professionals, educators, and stakeholders to explore opportunities to improve women's gynecological health.
ADVOCATING for policy and systemic change: Establish relationships and credibility with provincial and federal governments to raise awareness and advocate for policy and system change to support patient access, choice, and address gender equity.