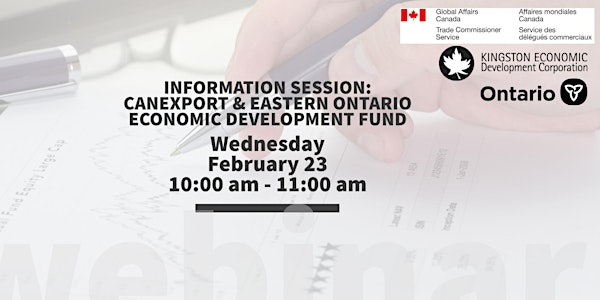 Information Session: CanExport & Eastern Ontario Development Fund
Funding Information Session
About this event
Trade Commissioner Services and FundingThe Trade Commissioner Service (TCS) helps Canadian companies sell their products and services outside Canada by connecting them with its funding and support programs, international opportunities and its network of trade commissioners in more than 160 cities worldwide. In this webinar, TCS officials will present an overview of available services and highlight the CanExport SMEs program, which supports Canadian SMEs with up to $50,000 in funding to assist with international market development activities.
Presented by:
Simon Gittens, Trade Commissioner
Amna Khan, Trade Commissioner
Eastern Ontario Development Fund
The Eastern Ontario Economic Development Fund is designed to help businesses create new jobs, and invest in new technologies, equipment or skills training for workers. It will also support economic development projects that will attract or retain investment in Ontario-based industries and communities.
Presented by: Kent Fitzhugh, Ministry of Economic Development Job Creation and Trade, Senior Business Advisor