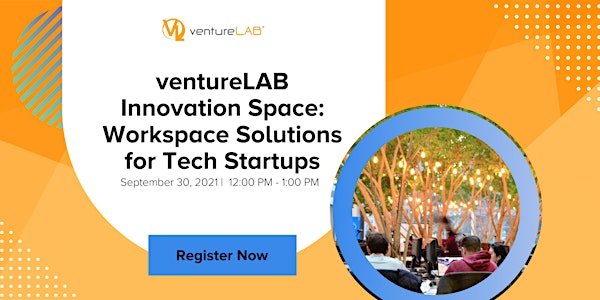 Innovation Space: Workspace Solutions for Tech Startups
Join the Webinar to learn more about different Workspace options available at ventureLAB's Innovation Space for your tech startup!
About this event
ventureLAB Innovation Space- Workspace and Community Solutions for Tech Startups (Webinar)
About ventureLAB
ventureLAB is a leading technology hub that supports tech entrepreneurs and small businesses. Located in York Region, Canada's densest technology cluster, ventureLAB has supported over 2,000 entrepreneurs in a region that is home to over 4,300 technology companies and 65,000 tech jobs.
ventureLAB operates a 50,000 square-foot innovation hub that is home to over 45 tech companies and innovation partners. At ventureLAB, we support tech entrepreneurs through programs focused on capital, talent, and technology to grow and scale their businesses locally, nationally, and globally.
About the Webinar
Are you a growing business operating in the Hardware Technology, Enterprise Software, or Consumer Software sectors?
Join our upcoming informational webinar for an overview of the workspace and community solutions available at ventureLAB's Innovation Space. During the session we will be covering:
- What is ventureLAB's Innovation Space
- The different workspace options available for tech startups
- Onsite and hybrid work model opportunities for your team
- Special features included with workspace at ventureLAB's Innovation Space, such as discounted access to ventureLAB's $7 million prototype Lab, exclusive benefits & perks, onsite showcase, testing & demo opportunities, and many more!
- Benefits associated with the ventureLAB ecosystem and community
- How ventureLAB can help grow your business to the next level
- How ventureLAB has created a safe and COVID-19 compliant innovation hub
- Q&A
Why should you come?
Have you been working from home for a while now, without knowing what comes next for your business? Have you been struggling to find answers concerning business challenges or space solutions for your team?
This session will address the importance of having a space that is suitable for your business needs as people slowly return to in-person work, and will also touch upon the importance of networking and community building when growing a tech startup both virtually and physically.
The Innovation Space team will be present at this session and can connect with you 1:1 following the session if you are interested in learning more.