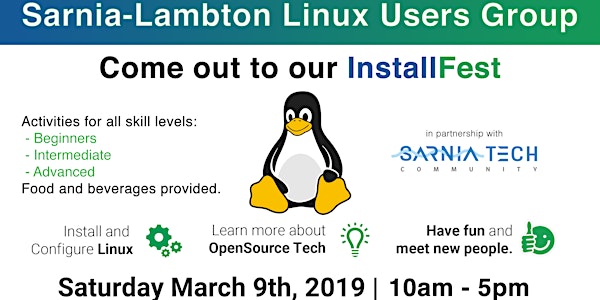 InstallFest Winter 2019
When and where
Location
Lambton College 1457 London Road Room D1-204 Sarnia, ON N7S 6K4 Canada
Description
Join us Saturday March 9th, 2019 for the Sarnia-Lambton Linux Users Group (SLLUG) InstallFest.
You don't need to be a computer guru or even a power user. We will introduce you to Open Source technologies and teach you how to harness them.
There will be activities for all levels of user, from the day-to-day web browser to the grey beard.
Food and drinks will be provided throughout the day. Seating is limited.
View event post on SLLUG.ca
Learn more about the Community at sarniatech.ca
---
Schedule
10:30 - Introduction
11:00 - Team Formation
11:15 - Team Orientation
11:30 - Get Started
12:30 - Lunch
15:00 - Check-In
17:00 - Tear Down & Take Off
Beginner: An opportunity to explore a variety of operating systems. Maybe you've thought of running Linux on your desktop, or you want to build a home theatre PC but would like some guidance.

Intermediate: Already have some system skills? Come out and learn how to build web servers, database servers and other important systems that can be consumed by Track 1 and make the internet go

Advanced: Be a part of the team that creates the virtual private cloud and container system that the Intermediates use to setup services.
---
We will be providing desktops, servers and software for all of this to work as well as a few key people who've done this sort of thing before to help guide everyone.