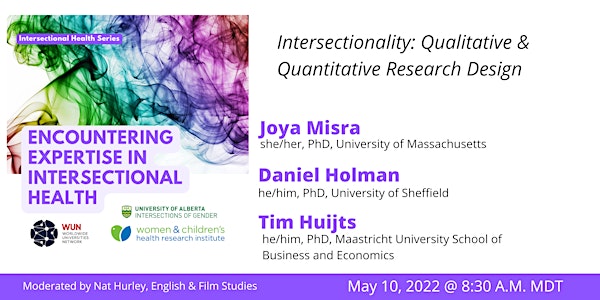 Intersectionality: Qualitative and Quantitative Research Design
Join Intersections of Gender and Women and Children's Health Research Institute for a panel on intersectional research design!
About this event
Part II of the Encountering Expertise in Intersectional Health Series
The Encountering Expertise in Intersectional Health Series is jointly organized by UAlberta's Women and Children's Health Research Institute and the Intersections of Gender Signature Area. In four sessions, panelists from health sciences, social sciences, and humanities come together to provide introductory, theoretical and methodological, applied, and grant-oriented information about how health research and researchers do, can, and should use an intersectional lens for more dynamic, informative, and impactful research.
Intersectionality: Qualitative and Quantitative Research Design
Intersectionality theory has been used by health service researchers to bring to light how intersecting systems of oppression contribute to health experience. Despite this, there is limited understanding of how to conduct intersectionality research. In this session, offered in collaboration with the Worldwide Universities Network Intersectional Research Group, we will discuss key considerations in incorporating intersectionality into qualitative and quantitative research design, including on women and children's health.
We encourage you to review these readings from our panelists either pre or post event in order to help familiarize yourself with the topics at hand.
Joya Misra is Professor of Sociology and Public Policy and Director of the Institute for Social Science Research at the University of Massachusetts. For almost three decades, her research has focused on intersectionality by race, gender, class, parenthood status, and nationality in workplaces, higher education, and at the societal level, using both quantitative and qualitative methods.
Daniel Holman is a lecturer in Sociology and Public Health at the Department of Sociological Studies at the University of Sheffield, where he co-leads the Well-being and Health Across the Life Course research theme. He is also Research Fellow for the university's Healthy Lifespan Institute. He was Principal Investigator for the ESRC funded project "Chronic disease and healthy ageing at the intersections: social locations, biomarkers, and health practices." Dr. Holman's research focuses on health inequalities, social determinants, intersectionality, and the life course.
Tim Huijts is research leader at the Research Centre for Education and the Labour Market (ROA) at Maastricht University School of Business and Economics. As of April 2021, he also holds a part-time position (0.2 FTE) as Professor of Sociology at the Centre for Global Health Inequalities Research (CHAIN) in Norway (ntnu.edu/chain). He obtained an MSc (2006, cum laude) and PhD (2011, cum laude) in Sociology at the Radboud University Nijmegen. Before joining ROA in April 2018 he worked as Assistant Professor at Utrecht University, Postdoctoral Researcher at the University of Oxford, Lecturer at Queen Mary University of London, and Senior Lecturer at the University of York. In his research he examines how national and institutional factors influence social inequalities, and how these factors moderate the impact of education and employment on outcomes such as health and well-being. His work has appeared in a broad range of journals in Sociology, Demography and Public Health. Additionally, together with international colleagues he designed the rotating module on "Social inequalities in health and their determinants" for the 7th wave of the European Social Survey (2014), which will be repeated for the 11th wave (2022). His research was rewarded with a Philip Leverhulme Prize (2017) for outstanding achievement.