Description
Join 400 of Vancouver's most dynamic influencers and business leaders for a night to remember in support of One Girl Can's efforts to empower girls in sub-Saharan Africa through education!
Last year's silent and live auction was tough to beat, but with even more extravagant trips and experiences, this year proves to be the best yet!
A vibrant, fast-paced evening where you can mingle and bid on 50+ coveted auction items, sample the most unique appetizers Vancouver offers – all while enjoying a powerful speech and video from Lotte's latest trip to Africa. Her husband John Davis closes with an exciting, fun-filled live auction that you won't want to miss!
What You'll Get:
3 AG Products: value

$68

One complimentary drink

Appetizers from award-winning

Juno Kim Catering
Come and hear CEO and Founder, Lotte Davis, talk about her life-long mission to eradicate poverty and promote gender equality in some of the most disadvantaged areas in Africa. See why empowering girls through education is essential to this mission, and how One Girl Can is changing lives in incredible ways.
Last year we raised over $200,000 to build dormitories and washroom facilities in a girls' school in Kenya and provide scholarships for girls in high school. This year we need your help to build and equip 2 science labs in an effort to promote essential learning in the notoriously male-dominated fields of Science, Technology, Engineering and Mathematics! STEM education has been directly linked to economic growth and it is estimated that 80% of jobs created in the next decade will require some form of STEM skills. Theory training in science and technology is common practice in most African secondary schools, and students have little to show when it comes to practical application. One Girl Can wants to equip girls to succeed by giving them the level of hands-on experience that is required to enter the job market or pursue higher education in STEM subjects.
Find out more about One Girl Can here
Help us build 2 science labs in Kenya by donating the cost of an essential piece of science equipment!
Please be advised that The Imperial is a licensed premises. All guests must be 19+.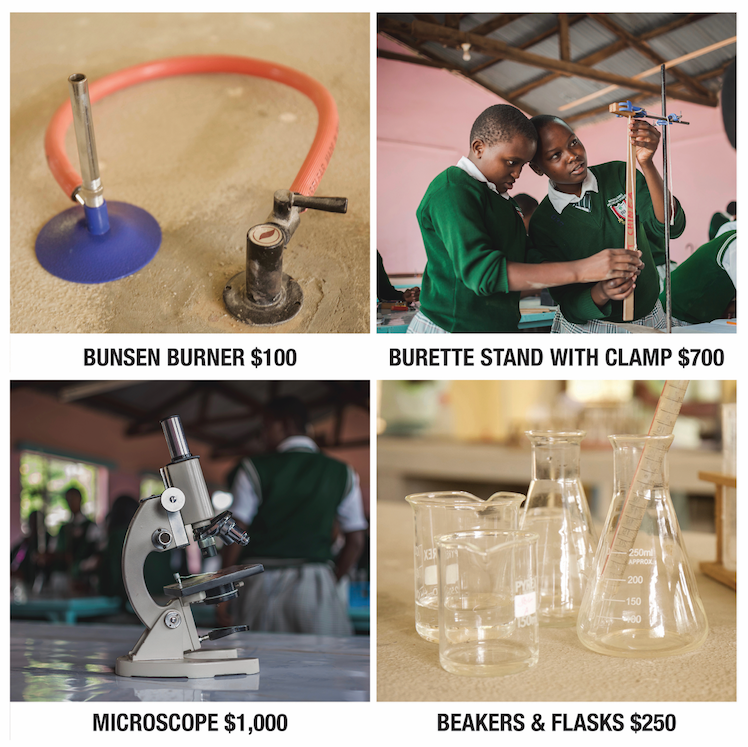 Event made possible by the generous support of our sponsors: