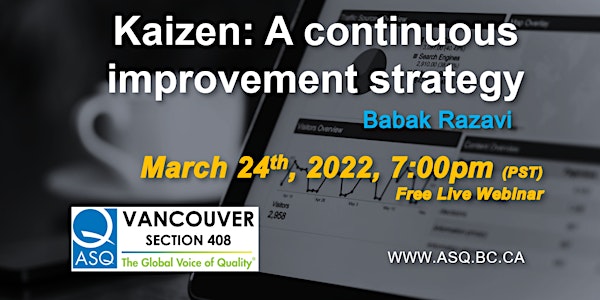 Kaizen: A continuous improvement strategy
In this lecture, the main critical success factors for proper kaizen implementation inside companies will be introduced
About this event
ASQ VANCOUVER MONTHLY QUALITY AND EXCELLENCE PROGRAM
Kaizen: A continuous improvement strategy
Free Webinar!
March 24th, 2022, 7:00 pm to 8:30pm PST
REGISTRATION INSTRUCTIONS:
1- Register on this EventBrite page with your email.
2- We will send you the Zoom link and information by email.
Note: Please use the same participant name on Eventbrite and the Zoom in order to claim your RU receipt
Event info:
Kaizen is the key to Japan's competitive success. Kaizen is a strategy to win by developing people into problem solvers. In this lecture, Kaizen as one of the continuous improvement strategies will be introduced.
In this lecture the main critical success factors for proper kaizen implementation inside companies will be introduced.
Main Questions that will be answered during this lecture are:
What is the philosophy of Kaizen?
Why Kaizen is important and what are Kaizen benefits?
What is Role of Management in Kaizen?
What is Muda (Waste)?
What is Gemba Kaizen?
What is Relationship between 5S(Good housekeeping) and Kaizen ?
What are Golden rules of Gemba management?
What are main activities in Kaizen planning /executing/controlling phase?
What are main obstacles in implementing Kaizen?
What is visual management?
Come join us!
Earn Recertification units for your ASQ Certification by attending this event
About the Speaker
Babak has Bsc. In Industrial Engineering and MBA in Management . He has finished kaizen course in Japan (APO) and has practically implemented kaizen in Many industries. Also consultant and tutor of Kaizen in IRAN and held many courses about 5S and Gemba kaizen for various industries.
He also has experience of working with Japanese kaizen consultants. After passing the exams and interviews, he was selected as the selected person of the year 2009 by the National Productivity Organization of Iran and was sent to Japan to participate in the advanced Kaizen courses.
He has visited several Japanese Companies Such as Toyota , Roland ,Yamaha . He Also held a lecture about cost reduction method in Japan . He took part in practical Kaizen workshops in Japan . He Also held a lecture About effect of Job Rotation on Productivity improvement .
After Returning From Japan to Iran he held lectures for Iranian Managers about his experience and what he has learned during his course in Japan .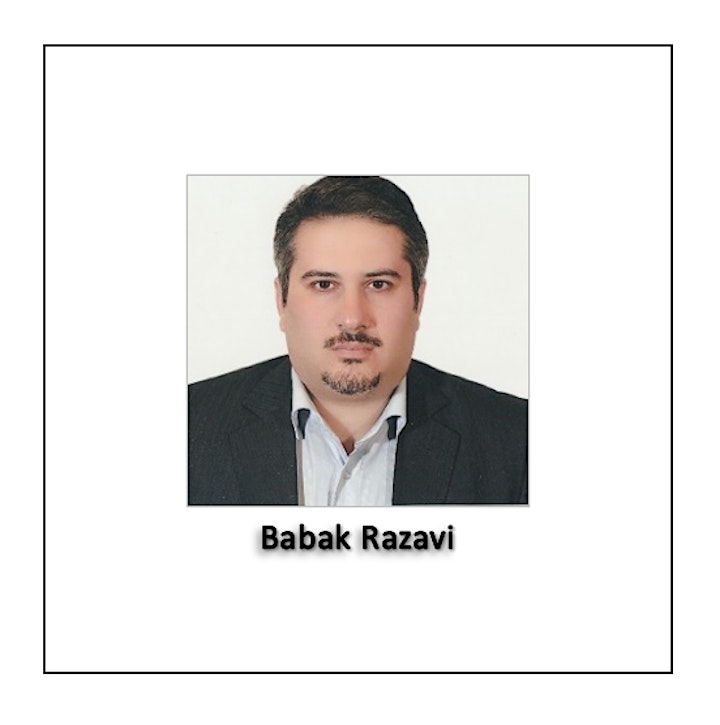 About ASQ Vancouver Section 408:
ASQ Vancouver (ASQ Section 408) has been advancing individual and organizational performance excellence in BC by providing opportunities for learning, quality improvement and knowledge exchange for professionals in quality management, risk management, and sustainability management since 1986. We have over 400 members across British Columbia.
Our objectives are to provide a valuable resource to our members for achieving professional excellence and advancement; to be a provider of information and learning opportunities for all topics related to quality; and to be a leader in operational excellence and delivering value to our local quality community.
Visit WWW.ASQ.BC.CA for more information about our monthly programs.