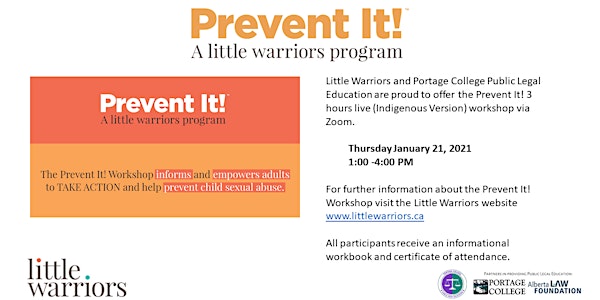 Little Warriors Prevent It! Workshop (Indigenous Version)
The Prevent It! workshop informs and empowers adults to take action and help prevent child sexual abuse.
About this event
Portage College Public Legal Education Program and Little Warriors invite you to attend a FREE live online facilitator led interactive Prevent It! workshop via Zoom. Participants will learn how to help protect children from child sexual abuse.
Little Warriors is a national, charitable organization focused on the awareness, prevention, and treatment of child sexual abuse.
Did you know?:
Experts estimate that 1 in 3 girls and 1 in 6 boys will experience sexual abuse.
95% of those children will know and trust their perpetrator.
After attending the workshop, participants (those with, are around, or work with children) will feel empowered and be informed about the following:
Child sexual abuse
Child sexual development
How to talk with children about healthy sexual development
Troubling signs to watch for in children
Troubling behaviours to watch for in other adults
Child Protection Laws
How to respond to disclosures of child sexual abuse
How to report abuse
How to reduce the risk of sexual abuse as responsible adults and organizations
Who should take this workshop?: ALL parents, professionals and volunteers that work or interact with children. All participants receive a comprehensive workbook and certificate of attendance.
Learn more about the workshop here: https://littlewarriors.ca/prevent-it/
Questions? Email preventit@littlewarriors.ca or call 1-855-922-9010.
Please note: Zoom log-in details and workbook will be emailed the day before the event, so please check the email you register with.