Event Information
Location
Laval University
2325 Rue de l'Université
Quebec City, QC G1V 0A6
Canada
Refund policy
Refunds up to 30 days before event
Description
NEWS: We have included "Half-retreat" registration passes under our tickets sales! This will allow participants to register for Saturday June 1st or Sunday June 2nd.
REGISTRATION DEADLINE (NEW): MAY 23rd!
---
As a natural extension of our values, we are organizing the third annual Leaders Overcoming Gender Inequality in Chemistry (LOGIC) retreat in Quebec City on June 1st and 2nd 2019. This event is a two-day satellite meeting of the Canadian Chemistry Conference. This year, we will be celebrating the theme "Women Leading and Excelling". The retreat includes plenary lectures, panel discussion, and workshops, all with the aim of providing professional development and networking opportunities to women in the chemical sciences related fields across Canada while conversing on issues about gender equity. The LOGIC retreat provides a unique opportunity for networking and demonstrating support for diversity in tomorrow's innovators. See our program here.
We are excited to announce that LOGIC will be held at Laval University. Room bookings are suggested to be made through Laval University Residences. To book your room through Laval University, follow this link: https://www.residences.ulaval.ca/en/short-term-accommodations/conventions-and-conferences/
---
LOGIC has and continues to attract high-profile female scientists and strong role models in their fields. As such, our confirmed speakers (including workshop leaders) can be seen as follows: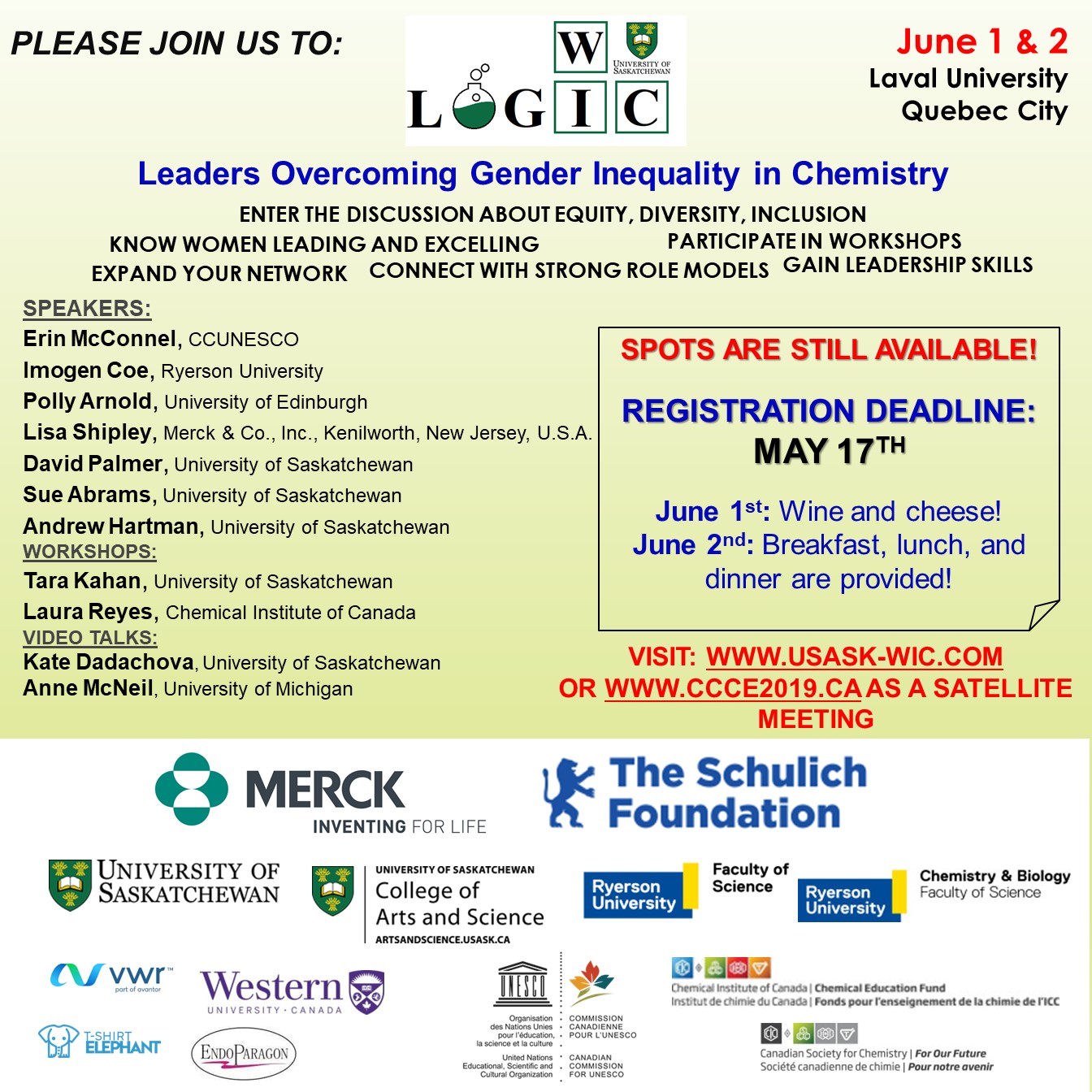 ---
** If you have any dietary restrictions please contact us to let us know so that we can make sure there are options for you!
---

Nous sommes ravis d'annoncer que cet événement aura lieu à l'Université Laval !!
Pour réserver votre chambre par l'intermédiaire de l'Université Laval, suivez ce lien: https://www.residences.ulaval.ca/en/short-term-accommodations/conventions-and-conferences/
Comme extension logique de nos valeurs, nous organisons le 3ème congrès annuel de LOGIC. Cette évènement sert une réunion-satellite de deux jours précédent le 102ième Congrès Canadien de Chimie et Exposition le 1ier et 2ème de Juin, 2019. Chaque année, LOGIC s'adresse un sujet principal; cette année, nous célébrons le thème «Les Femmes Dirigerez et Excelleront». Le congrès s'inclue des assemblées plénières, des débats, et des ateliers, avec la visée de fournir des opportunités de développement professionnel et de réseautage aux femmes dans les sciences chimiques à travers le Canada tout en discutant les questions ayant trait à l'égalité des sexes. La réunion de LOGIC offre une occasion unique de la réseautage et pour démontrer le soutien à la diversité des futurs innovateurs.
**Si vous avez des restrictions alimentaires, veuillez nous contacter pour nous en informer afin que nous puissions nous assurer qu'il existe des options pour vous!
Location
Laval University
2325 Rue de l'Université
Quebec City, QC G1V 0A6
Canada
Refund policy
Refunds up to 30 days before event