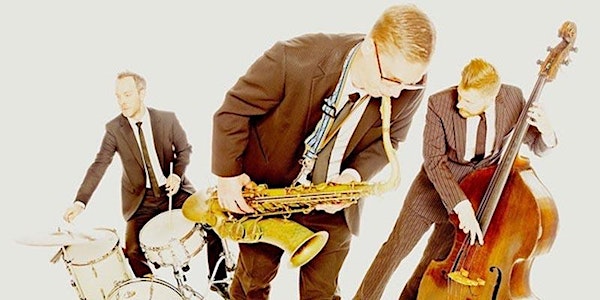 LSD Trio
TD Vancouver International Jazz Festival Presents
Event Information
Location
The Ironworks
235 Alexander Street
Vancouver, BC V6A 1C2
Canada
Presented by the Coastal Jazz & Blues Society as part of the Ironworks Innovation Series in the TD Vancouver International Jazz Festival
About this event
"A fluid, mutually supportive triumvirate of talented young musicians," this striking, hard swinging Swedish group "is a pleasure from start to finish" (AllAboutJazz). With an omnivorous musical appetite that takes in the music of Duke Ellington, Billy Strayhorn, and Sonny Rollins, as well as influences from spirituals, French chanson, and hymns, LSD expertly plays with a multitude of dichotomies: it's soft and beautiful, yet ugly and raw; it's catchy and explosive, yet sincere and soulful. This symbiotic, three-headed beast features Fredrik Lindborg tenor & baritone saxophones/bass clarinet, Martin Sjöstedt (Joe Lovano, Peter Erskine) bass, and Daniel Fredriksson drums. Thanks to the Swedish Arts Council.
Venue/Show Details
The Ironworks is one of a kind venue in Vancouver's East side. This event is general admission and to get the most out of the magical atmosphere, we recommend arriving early for the most choice. Seating is a mix of cabaret and theatre style, as well as standing room.
Lobby, bar, box office & seating all open one hour prior to performance.
Please note: We recommend bringing cash for the bar and any artist merchandise you wish to purchase. Additionally, there is no ATM on-site but there is a cash machine located in the Alibi Room (Modern Tavern) right next door.
Venue is fully accessible. For questions or to book accessibility seating, please contact our box office: 604-872-5200 x5 / boxoffice@coastaljazz.ca
Date and time
Location
The Ironworks
235 Alexander Street
Vancouver, BC V6A 1C2
Canada