Description

All events are FREE and OPEN to the public!
Click the logo

to go to the official McMaster Water Week 2016 website.
Monday, October 24th
Tour of Woodward Wastewater Treatment Plant by the City of Hamilton; (13:00 to 15:00), meet outside of IAHS (College Cres.)
Ever wonder what happens when you pour chemicals down the sink? Take a guided tour of the Woodward Wastewater Treatment Plant, which services an average of 300,000,000 litres per day! Space is limited, so register early! Attendees can expect to be back on campus by ~3:30 pm.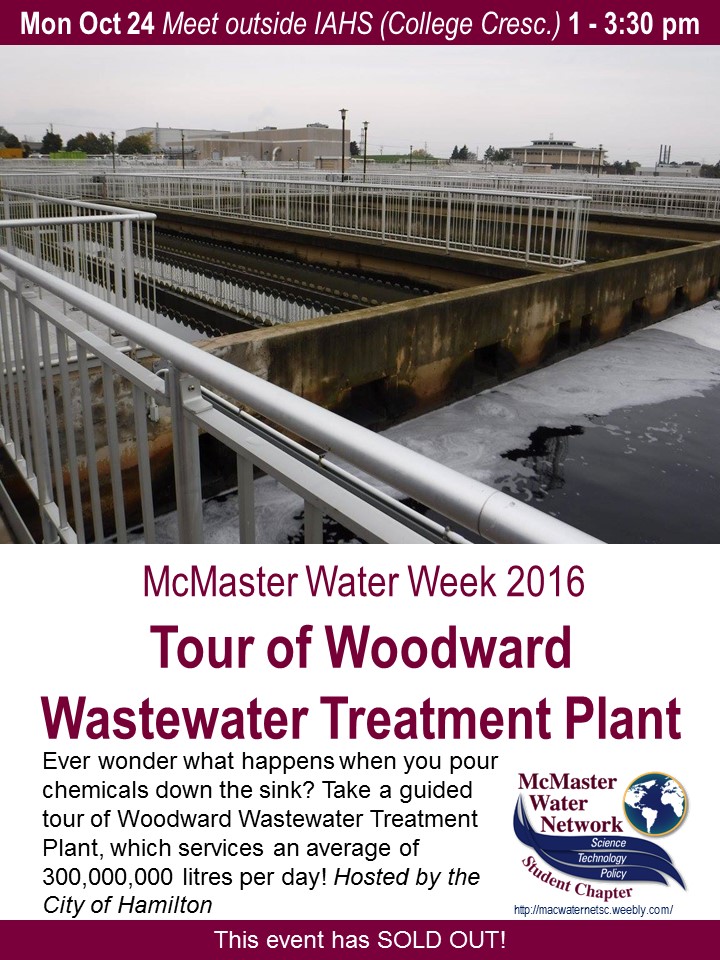 "Boreal Burning! Managing wildfire in an era of warming & drought" lecture by Dr. Mike Waddington, McMaster University School of Geography and Earth Sciences; McMaster Innovation Park (175 Longwood Rd. S), room 1ABCD/conference room 1 (18:00 to 21:00)
Dr. Waddington is a professor of ecohydrology with decades of experience in boreal wetland and ecosystem restoration expertise. His lecture will address the question, "How can boreal ecosystems be managed to reduce the risk of catastrophic collapse while protecting human health, property and economic activity from wildfire?" using an integrative watershed-ecosystems approach, and will discuss a potential strategy to mitigate wildfire severity in Alberta's Boreal Plains. Following the lecture, a wine and cheese reception will be held for attendees.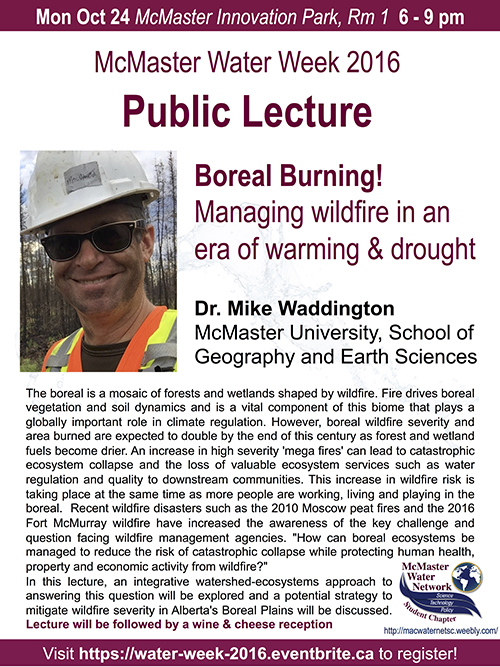 Tuesday, October 25th
Water Research Seminars with McMaster Faculty and the Chinese Water Delegation; Celebration Hall (KTH 113, 13:00 to 16:00)
Short lectures by McMaster researchers working in various aspects of water and water-related issues, such as Peace Studies and Civil Engineering. A special delegation from the Chinse government will also deliver a presentation (in English) about water monitoring in China. A Q&A session will follow each talk. Further details forthcoming.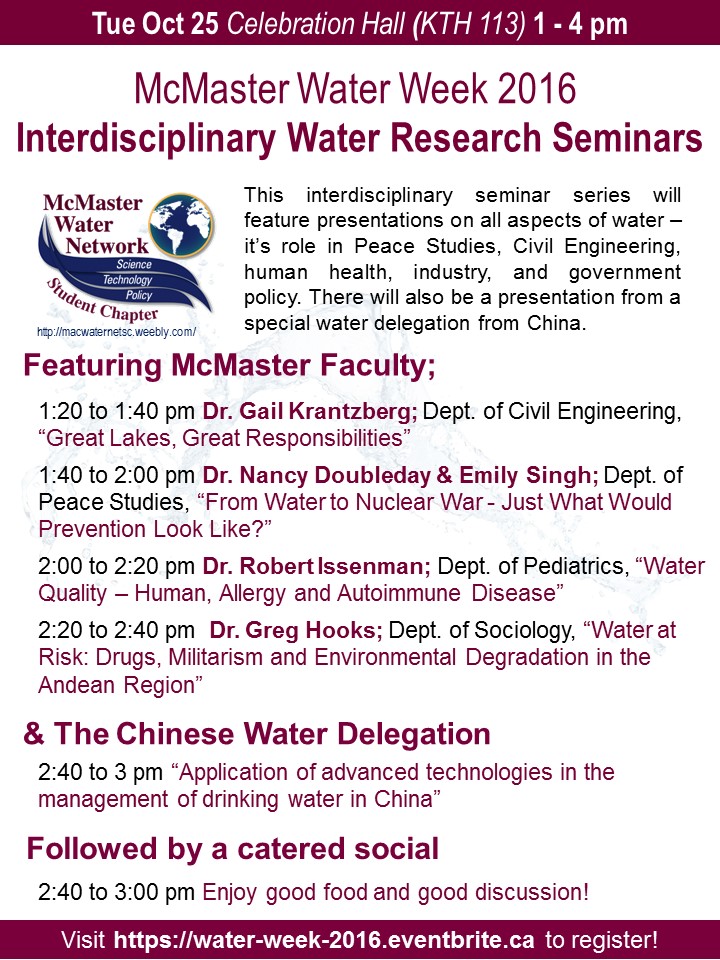 EXPLOR Career Night (18:00 to 20:00); Celebration Hall (KTH 113)
Catering to graduate and senior students interested in the fields of water, environment, and climate. Professionals from industry, academia, and other sectors will engage students in an informal roundtable discussion. This is an excellent opportunity for networking, and to look into career opportunities available. This event will be catered with light refreshments. Funding provided by a SPICES grant to the McMaster Water Network Student Chapter.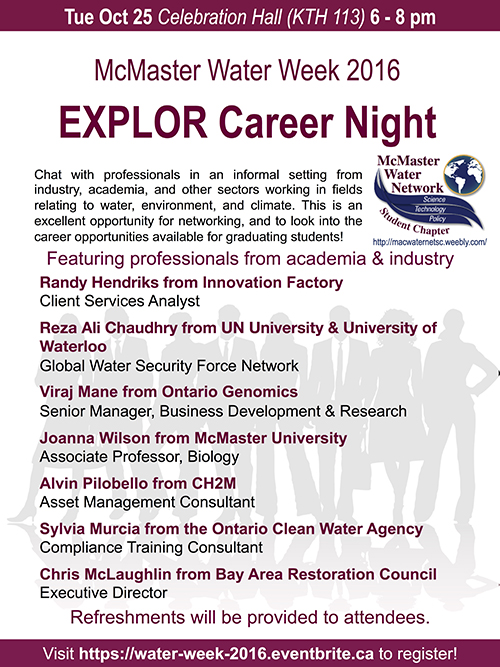 Wednesday, October 26th
"Water-Related Disasters and Sustainable Development," lectures by Dr. Vladimir Smakhtin (Director, United Nations University) and Dr. Nidhi Nagabhatla (Programme Officer, United Nations University); Convocation Hall (17:00 to 19:00)
Drs. Vladimir Smakhtin and Nidhi Nagabhatla from United Nations University will discuss water-related disasters and sustainable development. Dr. Smakhtin will present statistics and connection to changing climate, and how this issue is being addressed within the UN's Sustainable Development Goals. These topics will be supplemented by Dr. Nidhi Nagabhatla's research to demonstrate how ecosystem degradation at large potentiates the adverse impacts of water-related disasters, given examples of impacts in coastal areas and in transboundary context. Both lectures will have a global outlook, with some regional examples. Lectures will be followed by a Q&A section, and followed by a wine and cheese reception for attendees.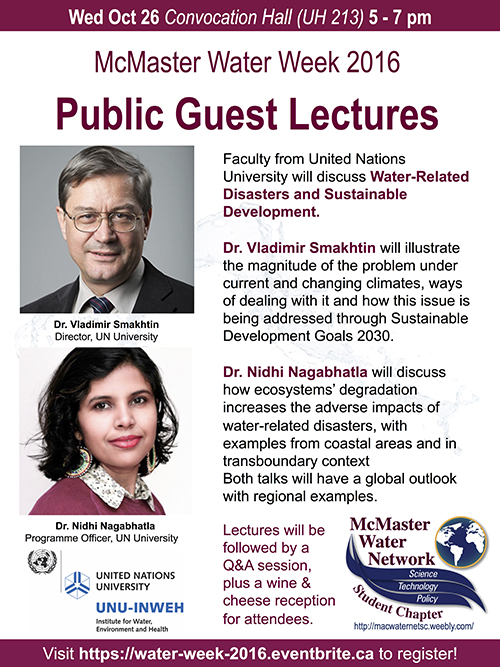 Thursday, October 27th
Open laboratory tours (10:00 to 12:00); meet in JHE lobby
Scientifically curious? Want to see what a real lab looks like? Interested in a senior thesis project or graduate school? Take a tour of some of the facilities at McMaster and see how real science is done at a premier research institution. Confirmed tours include the labs of Dr. Younggy Kim (Civil Engineering), Dr. David Latullippe (Chemical Engineering), Dr. Joanna Wilson (Biology), Dr. Paulin Coulibaly (Geography & Earth Sciences, Civil Engineering), and the MWN-SC rain garden and rain barrel site. Detailed schedule is posted below!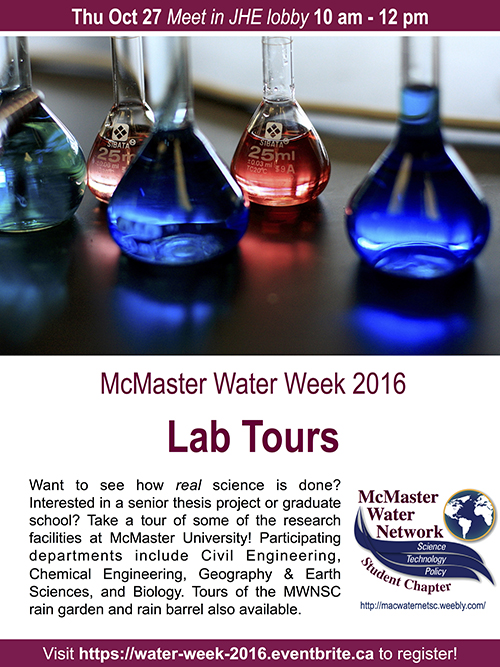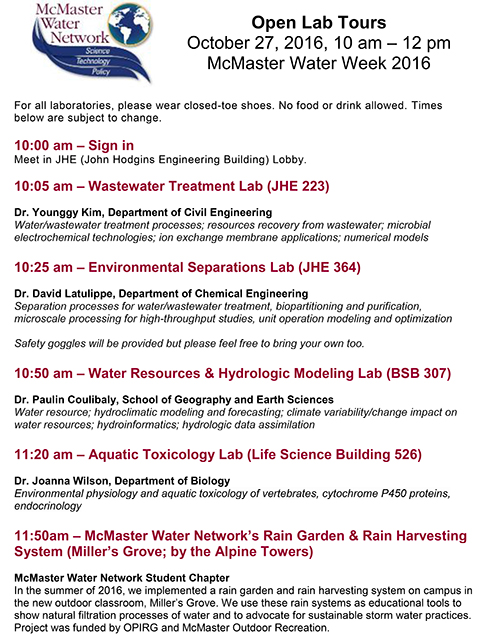 Documentary screening PROJECT: ICE (19:00 to 22:00); HSC 1A1
View a story of the Great Lakes, North America's "freshwater inland ocean" through the prism of ice, touching on aspects of their geology and natural history as well as their place in human movement, population growth, industrialization, culture, and recreation. A Great Lakes panel discussion will follow the screening, featuring the filmmakers, as well as researchers, environmentalists, and policy makers. Confirmed panelists include Dr. Pat Chow-Fraser (McMaster Biology faculty and Great Lakes expert), Dr. Corinne Schuster-Wallace (former UN Univ. faculty and ice expert), William Kleinert (PROJECT: ICE director).
For more information about PROJECT: ICE, visit their website.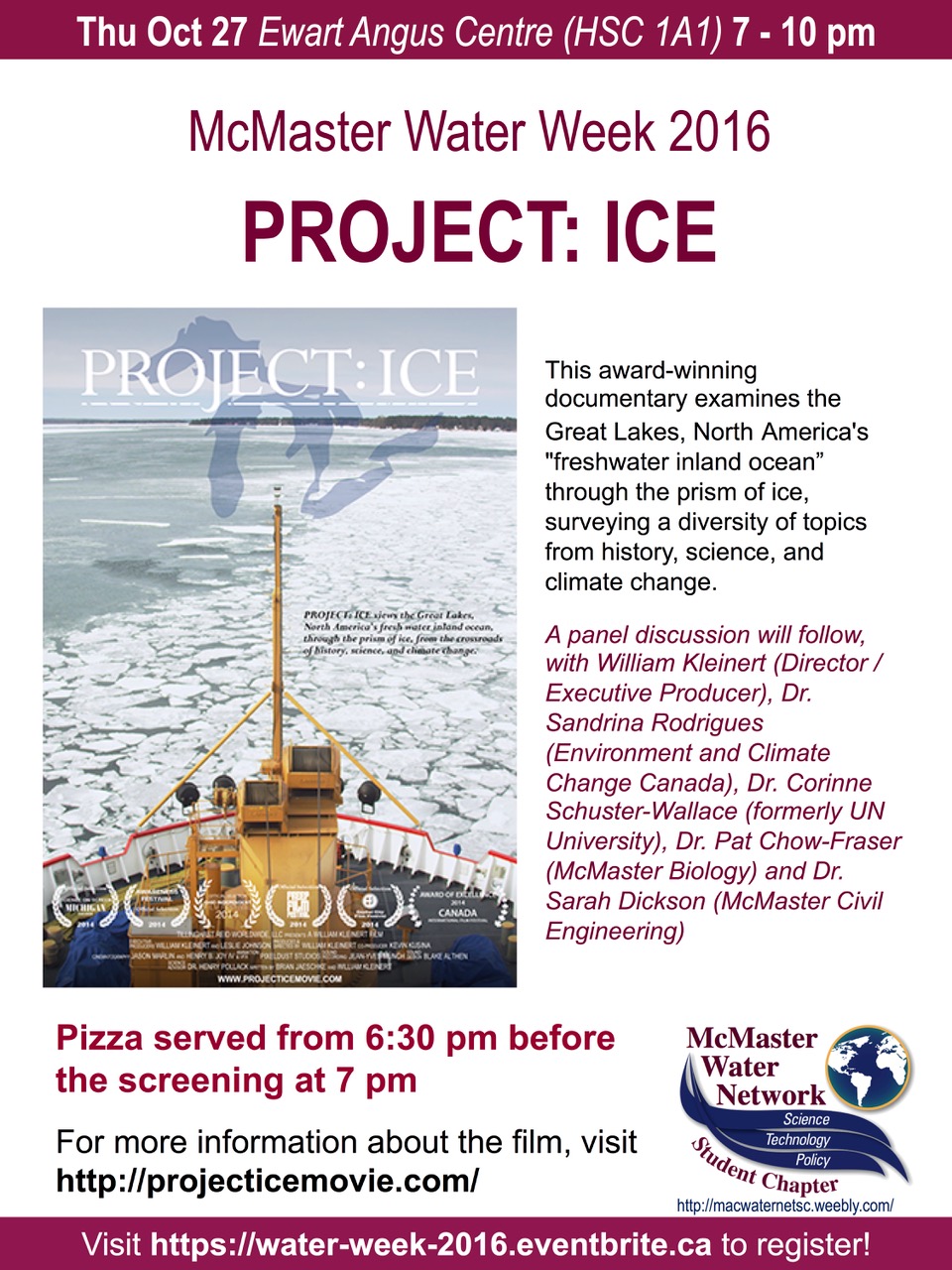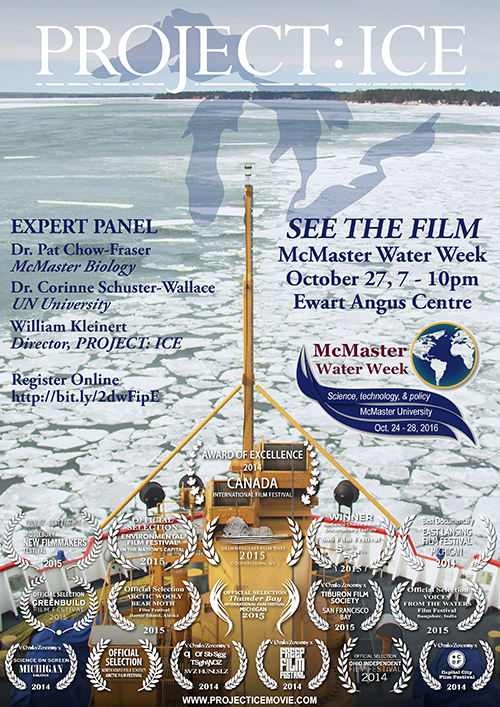 Friday, October 28th
Student Research Showcase (14:00 to 16:00) & Award Ceremony (17:00 to 20:00); Celebration Hall NOW ACCEPTING ABSTRACTS! NEW LINK!
Undergraduate and graduate students from all faculties will share their research, highlighting the excellent work being done at McMaster University. The award ceremony will honour top-ranked posters and celebrate the end of McMaster Water Week. Light refreshments will be served during the showcase, followed by a wine and cheese reception and awards ceremony. Abstracts can be submitted to this NEW link or emailed to macwaternetwork.student@gmail.com (please include your name and "Abstract Submission" in the subject line.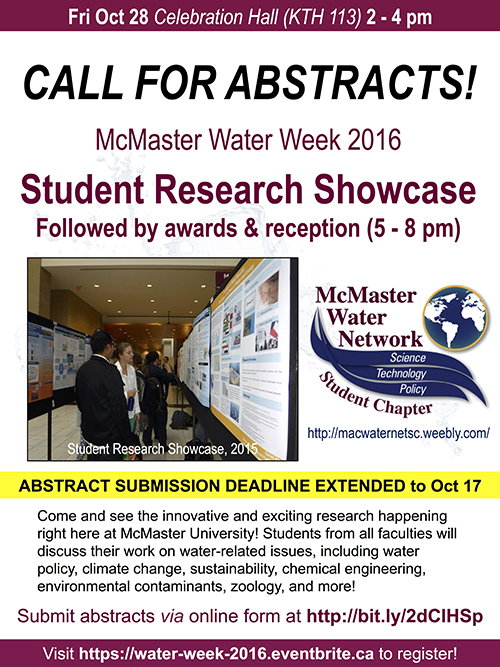 Register for events via Eventbrite Tickets
All events are free to attend and open to the public! Register for events by selecting tickets at the top of the page.
Directions & building locations
McMaster University is located at 1280 Main St. West, Hamilton, ON, and is easily accessible by driving and transit.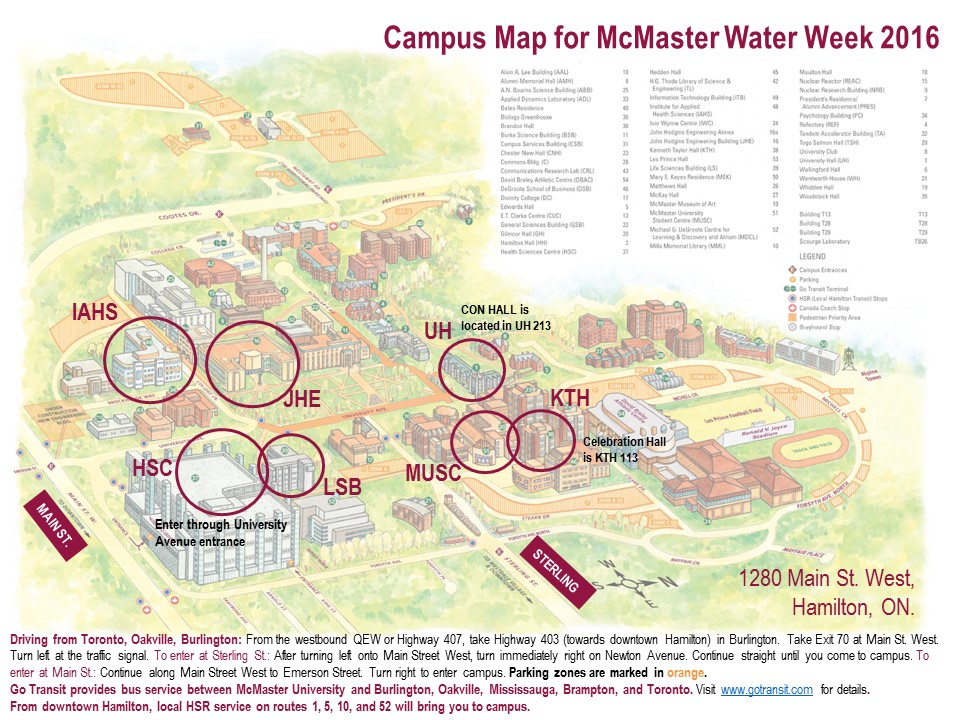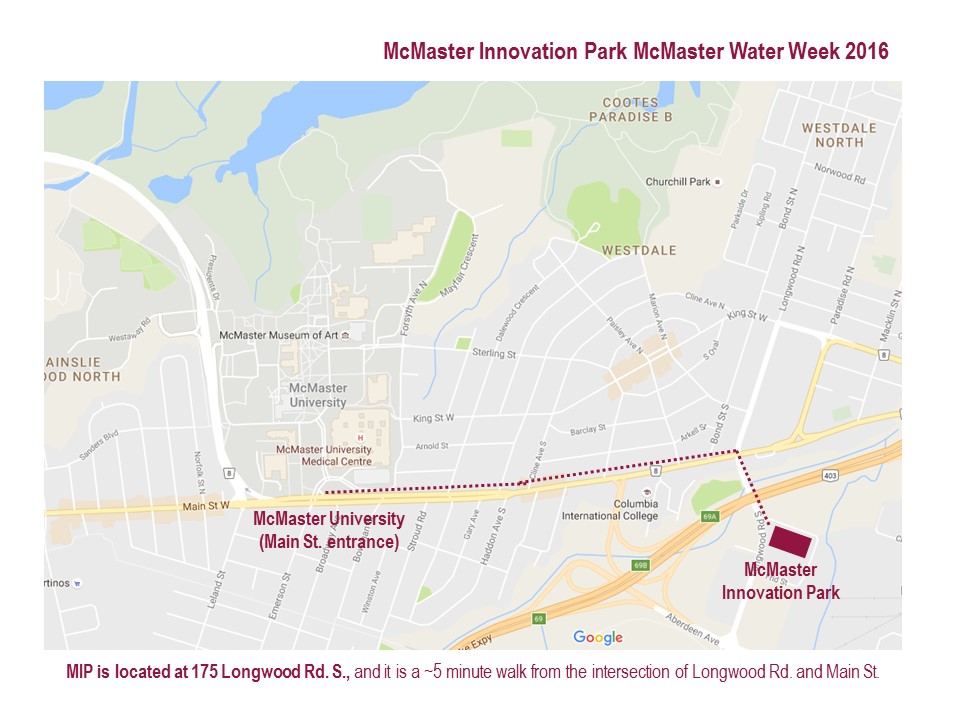 Questions, Comments, or Concerns?
Any questions, accommodation requests, dietary restrictions, or other concerns can be emailed to the McMaster Water Network Student Chapter (macwaternetwork.student@gmail.com). We will respond ASAP!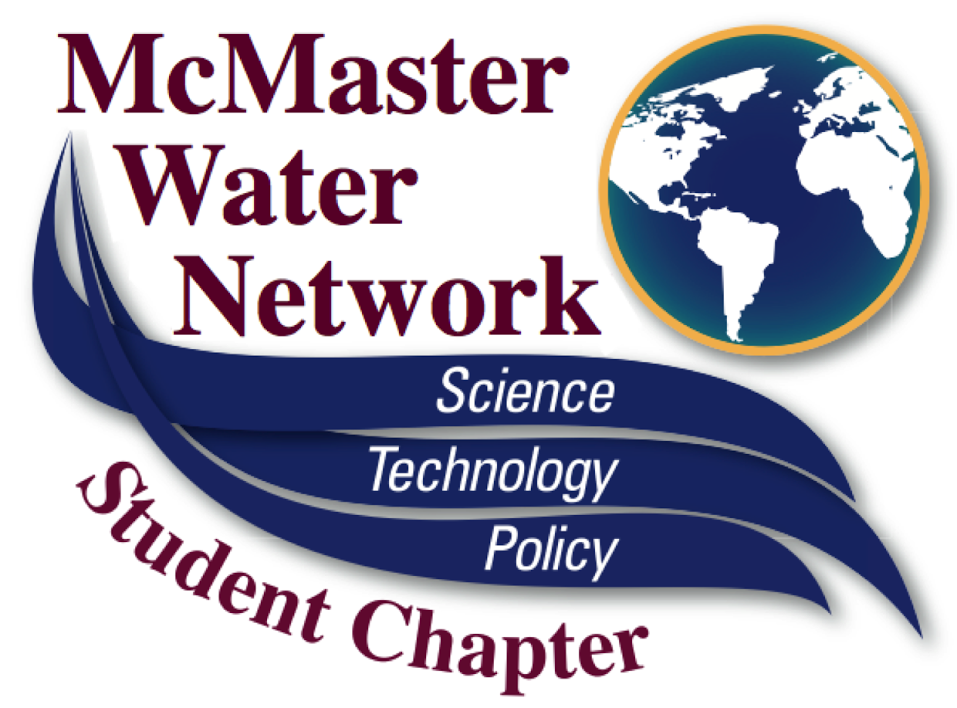 For more information about Water Week events, contact the McMaster Water Network Student Chapter!
Email: macwaternetwork.student@gmail.com
Also check us our website, Facebook, Twitter (@MacWaterNetSC), and Instagram (@macwaternetsc).