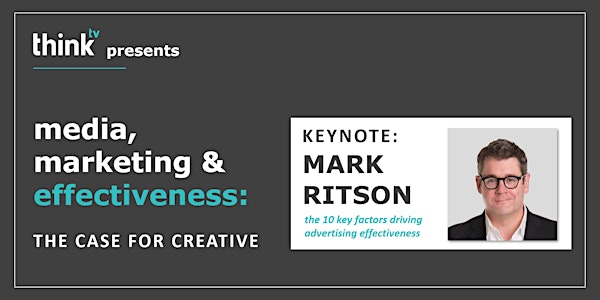 Media, Marketing, & Effectiveness
Date and time
Tue, Nov 12, 2019 2:00 PM - 6:00 PM EST
Location
The Carlu 444 Yonge Street Toronto, ON M5B 2H4 Canada
Description
Don't miss this chance to get three eye-opening perspectives on advertising effectiveness – and why embracing creative could be the key to unlocking the effectiveness advantage.
In an era when medium seems to matter more than message, we're bringing together some of the industry's biggest thinkers – authorities who are analyzing effectiveness from three unique standpoints – for a "state of the nation" look at our increasingly complex advertising environment. These illuminating presentations will help you leverage the latest trends for improved outcomes.
Meet the Experts
Mark Ritson
A renowned marketing consultant and brand-building expert, Mark knows more than a thing or two about what makes for effective advertising. In this thought-provoking talk, Mark will take us through the 10 key factors that drive advertising profitability, and share insights and case studies from a recent review of Effie winners.

Peter Field
Have we really entered an era where award-winning creativity typically brings little or no effectiveness advantage? That's the shocking conclusion at the heart of Peter's ground-breaking 2019 study, The Crisis in Creative Effectiveness. Hear the undisputed "godfather of effectiveness" expand on this important finding and discover what's driving this worrisome trend.
Orlando Wood
As System1 Group's Chief Innovation Officer, Orlando is a leader in the practical application of behavioural science in marketing. His fascinating work in advertising effectiveness draws on both leading-edge psychology and extensive analysis of current video commercials; in this session Orlando will offer guidance on the type of advertising that moves audiences – and achieves profitable growth.
Learn more on our website.