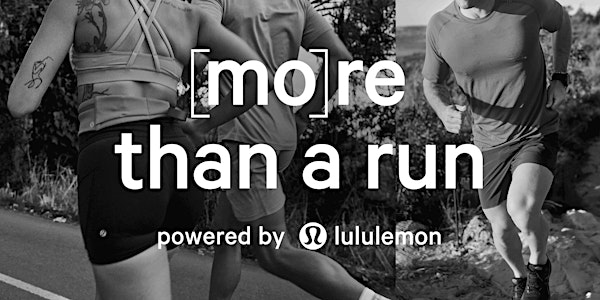 [mo]re than a run, powered by lululemon
Join us on November 26 to run your own route and complete 10km, 30km or 60km to raise much needed funds for Movember.
About this event
[mo]re than a run, powered by lululemon, is a decentralised model that is designed to bring runners and run clubs together to run for a common cause. There is no race route, there are no medals. Our goal is to start conversations, break down the barriers between run clubs and raise 1million for Movember.
Register here to run your own 10km, 30km or 60km race route on November 26 2022.
10km for the one in ten men around the world living with an anxiety disorder
30km for the 30% rise in the number of Australian men dying by suicide over the last decade.
60km for the 60 men we lose to suicide each hour, every hour around the world.
To register for [mo]re than a run, November 26:
1. Register your "mo space" and to raise funds for Movember here.
2. Register here on Eventbrite to run 10, 30 or 60kms on November 26.
3. If you're in Sydney, add on an additional ticket to join us at the Finish Line event*.
*[mo]re than a run Sydney Finish Line Event
Sydney locals or those flying in, join us at the Establishment bar from 12-4pm for recovery and a post run feed. RSVP here and register for your spot.
Non Sydney locals, connect with your local lululemon store to find out about post run recovery being organised in your local community, by your run community.