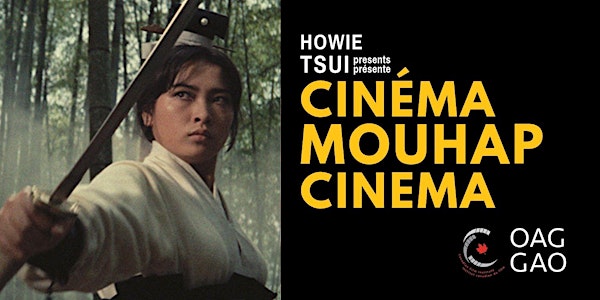 MOUHAP CINEMA | CINÉMA MOUHAP
When and where
Location
Ottawa Art Gallery 50 Mackenzie King Bridge Ottawa, ON K1N 0C5 Canada
Description
Howie Tsui presents MOUHAP CINEMA
Selected from Howie Tsui's list of top picks, OAG and the Canadian Film Institute present a summer series of martial arts films in the Alma Duncan Salon.
All films will be presented with English subtitles.
Tickets available at the door.
July 10 |One-Armed Swordsman
Director: Chan Cheh
1967 | 117 minutes | MPAA rated R
A noble swordsman, whose arm had been chopped off, returns to his former teacher to defend him from a villainous gang of rival swordsmen. Directed by Chang Cheh, it was the first of the new style of wuxia films emphasizing male anti-heroes, violent swordplay and heavy bloodletting. It was the first Hong Kong film to make over one million at the local box office, propelling its star Jimmy Wang to superstardom. The success of this film also spawned two sequels, comprising the One-Armed Swordsman trilogy.
© Licensed by Celestial Pictures Limited. All rights reserved.
July 17 | A Touch of Zen

Director: King Hu
1971 | 180 minutes | MPAA, not rated
"Visionary" barely begins to describe this masterpiece of Chinese martial arts moviemaking. A Touch of Zen (Xia nu) by King Hu depicts the journey of Yang, a fugitive noblewoman in disguise who seeks refuge in a remote, and allegedly haunted, village. The sanctuary she and her three companions find with a shy scholar is shattered when a nefarious swordsman uncovers her identity, pitting the five against legions of blade-wielding opponents. At once a wuxia film, the tale of a spiritual quest, and a study in human nature, A Touch of Zen is an unparalleled work in Hu's career and an epic of the highest order, with breathtaking action choreography, stunning widescreen landscapes, and innovative editing.
July 24 | Project A
Director: Jackie Chan
1983 | 106 minutes | MPAA rated PG-13 for violence
Dragon Ma (Jackie Chan) is a lieutenant in the 19th-century Hong Kong marines. Pirates have been terrorizing local waters, with assistance from the corrupt authorities. Dragon Ma hopes to defeat the evil pirate clan led by Sanpao (Dick Wei), but his plan is short-circuited. Ma then teams with a navy admiral (Hak Suen Lau), a police captain Tzu (Biao Yuen) and a crafty thief (Sammo Hung Kam-Bo) in a new round of high-seas battles with Sanpao and his pirates.
---
Howie Tsui présente CINÉMA MOUHAP
La GAO et l'Institut canadien du film présentent une série estivale mettant en vedette une sélection des films d'arts martiaux préférés de Howie Tsui. Dans le Hall Alma Duncan.
Films présenté aves sous-titres anglais seulment.
Billets en vente sur place. Comptant ou carte de crédit seulment.
Le 10 juillet | Un seul bras les tua tous
Un seul bras les tua tous est un film du genre wuxia, produit en 1967 à Hong Kong par Shaw Brothers Studio. Réalisé par Chang Cheh, ce film est le premier d'un nouveau genre de wuxia qui met de l'avant des antihéros mâles, des combats d'épées violents et de nombreux bains de sang. (classification MPAA : R)
© sous licence de Celestial Pictures Limited. Tous droits réservés.
Le 17 juillet | A Touch of Zen [Une touche de

Zen]

A Touch of Zen [Une touche de Zen], paru en 1971, est un film du genre wuxia. King Hu a collaboré au montage du film en plus d'en assurer la scénarisation et la réalisation. Le film a été lauréat du Grand prix technique au Festival de Cannes de 1975. (aucune classification MPAA.)
Le 24 juillet | Le Marin des mers de Chine

Le Marin des mers de Chine, scénarisé et réalisé en 1983 par Jackie Chan qui y tient le rôle principal, est une comédie d'action hongkongaise. (classification MPAA : PG -13 pour violence)