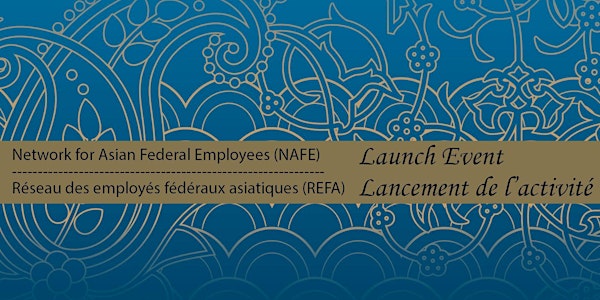 NAFE Launch Event / REFA Lancement de l'activité
The launch of the Network for Asian Federal Employees (NAFE).
Date and time
Wed, May 26, 2021 8:00 AM - 9:30 AM PDT
About this event
What better time than Asian Heritage Month to join members of this new network for an important presentation on recognizing and celebrating the challenges and contributions of federal Asian public servants.
A panel presentation will feature:
Daniel Quan-Watson
- Deputy Minister, CIRNAC
- Champion for Visible Minorities for the federal public service
Dr. Theresa Tam (pre-recorded video)
- Chief Public Health Officer of Canada
Anil Arora
- Chief Statistician of Canada, Statistics Canada
Gina Wilson
- Deputy Minister, Diversity and Inclusion and Youth
Tune in and help us launch NAFE and continue these important conversations!
Register Now
__________________________________________________________________________________________
Le lancement du réseau des employés fédéraux asiatiques (REFA).
Le Mois du patrimoine asiatique est l'occasion parfaite pour vous joindre aux membres de ce nouveau réseau pour une présentation importante pour reconnaître et célébrer les difficultés auxquelles se heurtent de nombreux canadiens d'origine asiatique et souligner les contributions de ces employés au sein en tant que fonctionnaires fédéraux.
Il y aura des présentations animées par les personnes suivantes :
Daniel Quan-Watson
- Sous-ministre, Relations Couronne
- Autochtones et Affaires du Nord Canada
- Champion des minorités visibles pour les fonctionnaires fédéral
Dre Theresa Tam (video pré-enregistré)
- Administratrice en chef de la santé publique du Canada
Anil Arora
- Statisticien en chef du Canada, Statistique Canada
Gina Wilson
- Sous-ministre, Diversité et Inclusion et Jeunesse
Joignez-vous à nous lors du lancement du REFA et aidez-nous à continuer de maintenir ces discussions importantes!
Incrivez-vous dès maintenant