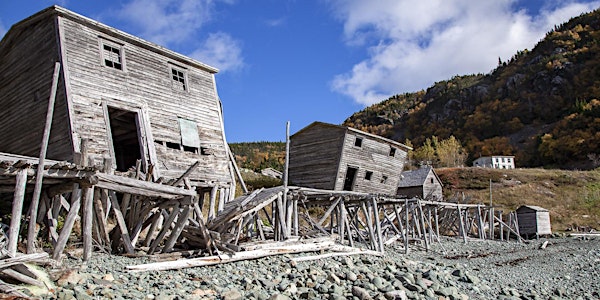 Newfoundland 101
For the enthusiastic photographer, an opportunity to immerse yourself in inspiration and practical instruction.
Date and time
Sat, May 13, 2023 12:00 PM - Sun, May 21, 2023 12:00 PM NDT
Location
The Roses Heritage Inn 9 Military Road St. John's, NL A1C 2C3 Canada
Refund Policy
Contact the organizer to request a refund.
Eventbrite's fee is nonrefundable.
About this event
NEWFOUNDLAND 101
13-21 May 2023 | Nine days
Unique Locations • Individual Instruction • Creative Editing • Post Production Sessions
At the edge of North America, on one of the four corners of the world, Newfoundland and Labrador is one of the best places to see and appreciate nature in all its glory.
This nine-day travelling workshop will have you experience the eastern shores of the island of Newfoundland. There is so much to see. Starting in St. John's, the city is often compared to San Francisco due to the steep incline of the street compounded with the brightly coloured Victorian homes. But it's not just the colours you need to admire, but also the styles, accents and ornamentations. We'll explore the most extensive collection of colourful houses, then wander to your heart's content and see everything else. Most people come to Newfoundland to shoot the same images that millions of others have already taken, but you will come home with images most have never seen.
Photographic opportunities here are numerous and diverse, where landscape and wildlife photographers both will find a wealth of subjects. Dramatic coastlines, sweeping barrens, thick boreal forests, and ancient rock formations – the natural, wild beauty of this place surrounds you at every turn. The living landscape is its own wonder – teeming with seabirds, moose, caribou, and rich marine life. In May, Mother Nature will bless us with majestic icebergs passing by at close range.
Then there is the history in the form of village ruins. Between 1954 and 1975, the governments of Canada and Newfoundland implemented programs that led to the abandonment of hundreds of fishing communities along isolated sections of the Newfoundland coastline. For this part of the workshop, our mission will be to document glimpses into a now-vanished way of life that includes old homes, lighthouses, shipwrecks, abandoned World War II military installations, historic airplane wrecks, even an abandoned amusement park! An essential collection of images to be had that grants permanence to places that will eventually fade out and crumble.
Joining us along the way will be Darrell Power, former bass player of the Newfoundland rock band Great Big Sea who will entertain us as well as convince other musical legends to come out of the woodwork and play for us. Also on board is Gordon Slade. Gordon Slade is recognized as a Canadian leader for his innovative expertise in the sustainable economic development of some of the world's most unique and economically significant regions. In 2005, Gordon was awarded the Order of Canada in recognition for his achievements in spearheading the preservation of Newfoundland and Labrador's heritage.
HIGHLIGHTS:
Three days exploring ghost outports on the Bonavista peninsula
The quaint seaside town of Trinity, where we'll overnight (3)
Unique coastal rock formations accessible only by boat
Iceberg alley, viewed at close range, this time of year
Wildlife-watching including moose, raptors and whales
New-Wes Valley, home to famed Canadian artist David Blackwood
Fogo Island and Little Fogo Islands (boat charter)
--
To the technical side: the workshop criteria involves realizing the critical difference between looking and seeing, and how to develop a natural eye towards making expressive images. Becoming more observant and questioning your sense of subject matter is extraordinarily vital. Scouting with our eyes and cameras, we'll examine the layers organizing the elements of vast spaces to create scale and graphic interest. Taking a closer look, we'll observe the hundreds of vignettes, which provides a closer and more intimate focus, serving to isolate visually revealing (previously unseen) segments of the scene. All in all, this multi-day comprehensive resource will be full of unforgettable experiences, with the logistics taken care of.
Experience Level: My photo workshop tours are for the enthusiastic photographer. It doesn't matter what camera or what level of expertise you are at – what matters is zeal for photography. I'm passionate about photography and go all day. There is plenty of flexibility. If you're not up to going out for sunrise or want to take time off and be on your own -- that is fine. It's your vacation. There will always be something to photograph and we shall have plenty of time to tailor instruction to your time and abilities. The seasoned pro can take full advantage of the logistics, my site and subject knowledge.
Endurance: Easy. We'll drive to each location then walk to the best position for photography. Reach out if you have limitations.
Routine: Our itinerary is subject to change in relation to the weather of the day. As a general idea, each day starts by 8 AM and ends when darkness falls. Some earlier starts at daybreak.
Group Size: 10 people. The small group size ensures every photographer will receive ample time for one-on-one instructional guidance and coaching.
Transportation: Car convoy. For car rentals, it is advisable to book your vehicle asap. Car and SUV rentals are in notoriously short supply throughout Newfoundland and Labrador.
Accommodation: Excellent opportunities if you book ASAP. Contact the Organizer for details.
Trip Details: A detailed information packet will be sent by email once registration and payment is complete. The packet includes a more precise itinerary, camera gear suggestions along with a clothing checklist.
* Payment Option: To save on ticket fees associated with this URL, you can purchase this tour by e-transfer. You may also place a deposit for this workshop (please contact the Organizer for instruction details). Total will be: 2495.00 + GST (5%).
Itinerary Overview:
Our journey starts in St. John's, an international airport hub, where we'll travel north to the Bonavista peninsula with our ultimate destination on Fogo Island, commonly referred to as Canada's oldest settlement (1770). Along the way, there is plenty to photograph, if you know where to look!
Subject to change:
Prestay Friday: St. John's, Welcome Dinner
Day 1 Saturday: Bay Bulls, Ferryland, Mistaken Point, Cape Race
Day 2 Sunday: Bay Roberts, Burgoyne's Cove
Day 3 Monday: Port Rexton, Random Passage, British Harbour
Day 4 Tuesday: Port Union, Elliston, Bonavista
Day 5 Wednesday: Glovertown, New-Wes Valley
Day 6 Thursday: Frederickton, Change Islands, Fogo Island
Day 7 Friday: Little Fogo Islands or Indian Islands, Joe Batt's Arm
Day 8 Saturday: Twillingate
Day 9 Sunday: Return to St. John's -- or Gander for those with earlier flights.
---
FAQ:
What is included in the Field Class workshop?
The cost of the photo tour DOES INCLUDE: instruction from your host photographer.
This photo tour DOES NOT INCLUDE: transportation to/from the photo tour (flights or car rental), hotel accomodations, food or any gear. Expect accommodation to cost $165+ taxes per night double occupancy.
Accommodation and Transportation:
Please note that meals and accommodations for this event are up to each individual participant. 
Lodging: while we can suggest hotels and campgrounds to stay at, it is your responsibility to secure accommodation as soon as possible. We have secured a block of rooms at a discounted rate should you wish to stay with the group. Please inquire with the Organizer to obtain this information.
Fitness Level:
You must be reasonably fit, healthy, and accustomed to walking, and willing to rise every morning between six and seven o'clock (6h00 and 7h00) depending on weather and opportunities announced the preceding evening. Walking distance to most locations is nearby to where you will park your vehicle. You will be on your feet for a minimum of 6 hours per day. Sturdy and comfortable footwear is recommended.
What if I need to cancel?
If you cancel this event the following applies: If cancellation is received at least 60 days prior to the start of this workshop event, the workshop fee can be applied to another of this Organizer's 2023-only events, subject to available space. An administration fee of 20% will be levied and must be paid prior to the start of the replacement event before you can attend. Please note that there is no refund of differential between a lesser priced photo workshop.
For cancellations received 0-44 days prior to the start of the photo workshop, all fees will be forfeited. Should there be a waitlist for your photo workshop, we can help you sell your ticket but the sale is up to you to negotiate and finalize.
We highly recommend all participants purchase their own travel insurance.
Terms and Conditions:
Registration: The deposit amount specified per person for each photo workshop is due at the time you register. Your space is not reserved until we receive your payment in full. 
Audit Policy: Only paid participants will be admitted during the photo workshop.
Age Restriction: This photo workshop is recommended for adults over the age of 19. An adult must accompany any minors under the age of 19. Both adult and minor are required to pay for each respective spot within the photo workshop.
Liability Waiver: By participating in this workshop event, you assume all risk and responsibility for any damages or personal injury that may occur, for any reason. By attending this workshop event, you agree to waive the leadership team, including organizers, event organizers and workshop event instructors from any liability or injury, loss, or damage to personal properties associated with the activities or location of this event. As our guest you are required to comply with our safety rules and are cautioned to heed all warnings and release us from all responsibility for any loss, injury or damage which you may suffer. A general waiver will be presented to you for review and signing upon your arrival.
Cancellation, Refund & Delay Policy: All photo workshop schedules and plans are subject to change at our discretion dependent upon weather alerts, health and safety considerations, or any other factor related or unrelated to photographic opportunities as we see fit. We are not responsible for any other costs which participants may have incurred, including but not limited to travel, car rental, lodging, insurance, photographic purchases and/or rentals.
No refunds will be given for delays or cancellations due to inclement weather, transportation, or other events beyond our control, either before, during, or after your workshop. We are not responsible for any additional costs you may incur due to delays or cancellations.
All daily sessions leave on-time. No refunds for late arrivals or no-shows. You cannot apply credit from other workshop events by this Organizer.
COVID-19: Subject to change without notice. While we cannot guarantee dates will not be affected, we are optimistic based on current Health Canada information. Maximum: 10 participants.
We highly recommend all participants purchase their own travel insurance.
About the organizer
Get inspired! For more than 20 years, photojournalist Pete Ryan has sought that which lies beyond the horizon; seeking out new experiences, landscapes, and cultures. His approach to successful photography extends from training in journalism: to tell a story incorporating truth in all its forms within a non-editorializing narrative. His documentary work ventures further behind the scenes to convey intimate and emotional stories. In this vein, his photo workshops are certain to engage, entertain, and educate by connecting people to each other and to the landscape. A caring educator he provides an environment where people can get beyond the technical aspects of their camera and break through their creative boundaries. 
A Fellow of The Explorer's Club, over two thousand images of his photography are represented by National Geographic and archived in the storied 135-year-old National Geographic Image Collection.
Visit Facebook or Instagram accounts @peteryanphoto + @natgeointhefield