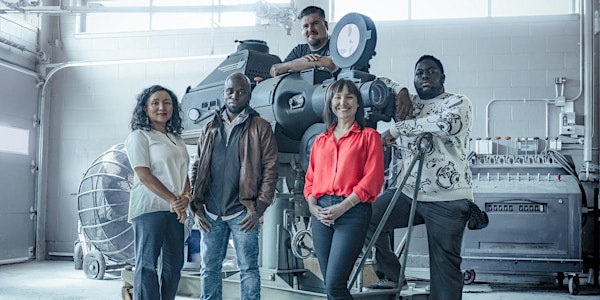 NFB/ONFxp Lightning Talk & Panel Discussion
Join us as participants of the brand-new experimentation lab, NFB/ONFxp, reveal their findings in a thought-provoking lightning talk!
When and where
Location
GamePlay Space / L'Espace Ludique 1435 Rue Saint-Alexandre #Suite 140 Montréal, QC H3A 2G4 Canada
About this event
--Infos en français plus bas--
The National Film Board of Canada (NFB)'s English Animation Studio
Invites you to the unveiling of its first-ever round of experiments, fresh out of its brand-new experimental lab: NFB/ONFxp
Featuring:
Shawn Laptiste with Cellular Automata, an Augmented Reality experience displayed through a stadium-sized crowd of mobile devices.
Travis Mercredi with a reactive spatial soundscape, recorded in the Northwest Territories, for 360 video.
Kofi Oduro with Diluted: Am I in Control?, a Virtual Reality experience using Artificial Intelligence to elicit the feeling of being lost.
and e→d films having beta tested their brand-new 2D to 3D plugin (for animators unfamiliar with 3D, or unhappy with existing pipelines).
Creators will reveal their findings and open the floor to questions.
Opening remarks by Michael Fukushima (Executive Producer); Facilitated by Eloi Champagne (Technical Director) and Charlotte Fisher (Project Manager).
LOCATION: GamePlay Space / L'Espace Ludique
RSVP: eventbrite (required)
There will also be a raffle! Prizes include one free license of 2D to 3D Lite and various NFB Animation studio merchandise (simply RSVP and attend to be entered automatically!).
About NFB/ONFxp
Creativity is advanced by innovative creative tools, and for the NFB, a public producer of cinematic works that straddle many storytelling styles, genres and platforms, inventing technologies has accelerated its cultural and audience mandates.
Furthering their legacy of supporting creative exploration and innovation, the NFB's English Animation Studio has launched an exciting new experimentation lab, focused expressly on research and discovery. With one month to explore a wild idea / test a new tool / migrate their expertise into a new medium, four chosen creators set up shop at NFB Headquarters in Montreal. The program offered access to the NFB's many resources and personalized mentorship from in-house and external specialists.
Without the pressure to produce a final project, creators had the freedom to fully explore their ideas and focus on the process of discovery. During this special, postmortem presentation, they will reveal their secrets—successes, failures, and other remarkable findings. The "TED"-style lightning talk aims to inspire and help enable other creatives in their own ambitious endeavours.
For more information: https://blog.nfb.ca/blog/2019/03/06/nfb-onfxp/
-----
Le studio d'animation anglais de l'Office national du film du Canada (ONF)
vous invite au dévoilement de la première vague d'expériences, tout juste sortie du nouveau laboratoire d'expérimentation : NFB/ONFxp.
Mettant en vedette :
Shawn Laptiste avec Cellular Automata, une expérience de réalité augmentée présentée sur une foule d'appareils mobiles qui pourraient remplir un stade.
Travis Mercredi avec un paysage sonore, spatial et réactif, enregistré dans les Territoires du Nord-Ouest pour une vidéo 360°.
Kofi Oduro avec Diluted: Am I in Control?, une expérience de réalité virtuelle qui utilise l'intelligence artificielle pour évoquer le sentiment d'être perdu.
Et e→d films après avoir testé la version bêta de leur tout nouveau module 2D to 3D (pour les animateurs peu familiers avec la 3D ou peu satisfaits des processus de production existants).
Les créateurs révéleront leurs conclusions et répondront aux questions du public.
Allocution d'ouverture par Michael Fukushima (producteur exécutif); Modération par Eloi Champagne (directeur technique) et Charlotte Fisher (gestionnaire de projet)
LIEU : GamePlay Space / L'Espace Ludique
Ouverture des portes à 18 h 00
Début de la présentation à 19 h 00
RSVP: Eventbrite (requis)
Il y aura aussi un tirage! Les prix comprennent une licence gratuite de 2D to 3D Lite et divers marchandises du studio d'Animation de l'ONF (il suffit de confirmer votre présence et d'être présent pour être inscrit automatiquement!).
À propos de NFB/ONFxp
La créativité est poussée plus loin à l'aide d'outils créatifs novateurs, et, pour l'ONF, le producteur public d'œuvres cinématographiques qui chevauchent de nombreux styles narratifs, genres et plateformes, l'invention des technologies a accéléré ses mandats culturels et publics.
Poursuivant son historique de soutien à l'exploration créative et à l'innovation, le studio d'animation anglais de l'ONF a lancé un excitant nouveau laboratoire d'expérimentation, axé expressément sur la recherche et la découverte. En un mois pour explorer une idée folle / tester un nouvel outil / faire migrer leur expertise vers un nouveau média, les quatre créateurs choisis se sont installés au siège social de l'ONF à Montréal. Le programme leur a donné accès aux multiples ressources de l'ONF et au mentorat personnalisé des spécialistes internes et externes.
Sans la pression de devoir livrer un projet définitif, les créateurs avaient la liberté d'explorer pleinement leurs idées et de se concentrer sur le processus de découverte. Lors d'une présentation spéciale rétrospective, ils révéleront leurs secrets - succès, échecs et autres remarquables trouvailles. Cette présentation éclair de type « TED » a pour but d'inspirer et d'aider les créatifs à lancer leurs propres projets ambitieux.
Pour en savoir plus: https://blogue.onf.ca/blogue/2019/03/06/le-studio-danimation-anglais-lance-un-tout-nouveau-laboratoire-dexperimentation-onfxp/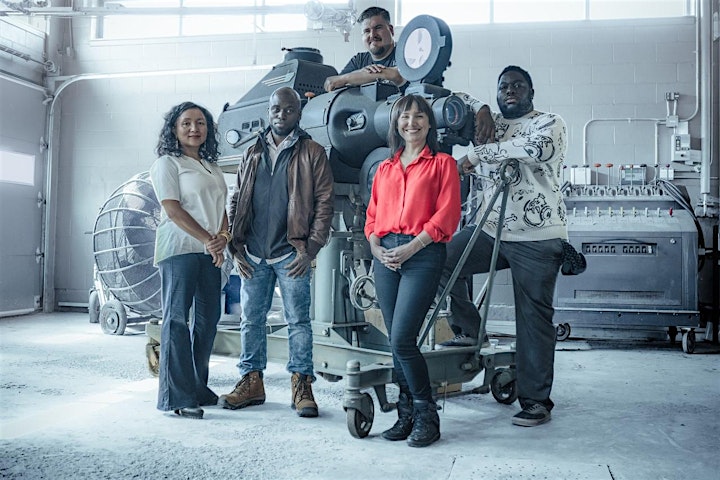 Participants of the first-ever NFB/ONFxp experimental lab, from left to right:
Archita Ghosh (e→d films), Shawn Laptiste, Travis Mercredi, Emily Paige (e→d films) and Kofi Oduro.
Photo by Stéphan Ballard.