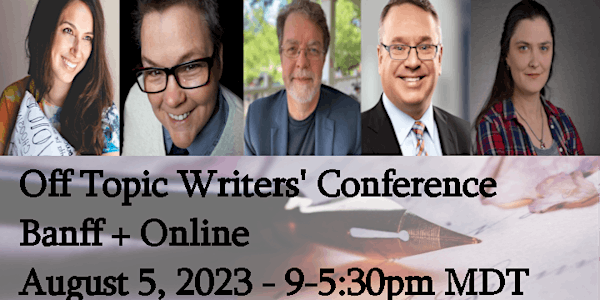 Off Topic Writers' Conference
Learn and get inspired by professional writers and editors. Keynote: Will Ferguson (Giller-prize winning author of "419")
Date and time
Saturday, August 5 · 9am - 5pm MDT
Location
The Fenlands Banff Recreation Centre 100 Mount Norquay Road #2F Banff, AB T1L 1C3 Canada
Refund Policy
Contact the organizer to request a refund.
Eventbrite's fee is nonrefundable.
About this event
The Off Topic Conference will take place August 5, 2023, at the Fenlands Recreation Centre, in Banff, Alberta, Canada.
Keynote: Will Ferguson – Travel Writing & Fiction
4:30-5:30pm
Travel memoirs and novels share many of the same features — sense of place, the telling detail, an overarching journey, characters revealed through dialogue — and I will be talking about how the two can enrich each other.
I began in travel, moved to fiction, and found that the principles I learned as a travel writer helped my novel writing immensely, and vice versa.
BIO:
Will Ferguson is a travel writer and novelist whose memoirs include Hitching Rides with Buddha, about an end-to-end journey across Japan by thumb; Beyond Belfast, about a long walk across Northern Ireland; and Road Trip Rwanda, about a journey into the heart of Africa.
His novel 419, a literary thriller that spans continents, won the 2012 Giller Prize. He has been nominated for both a Commonwealth Award and the IMPAC Dublin Award, and received the Pierre Berton Award from Canada's National History Society. His novel, The Finder, won the Crime Writers of Canada Best Novel Award. He's newest novel, a comedic mystery titled I Only Read Murder, was written with his brother Ian Ferguson and was published in June 2023.
Samples of some of his magazine feature travel writing can be found here: https://www.everythingzoomer.com/author/will-ferguson/
The Anatomy of a Flash Fiction Story – Finnian Burnett
9:30-11:00am
Writing flash is its own reward, but it's also a great practice for novelists, memoirists and every other kind of writer. Writing flash loosens creative muscles, hones deep character development, and gives sanction to skipping the boring in-betweens.
While not all flash is structured, understanding the anatomy of a flash piece can help writers nail a perfect piece every time. This workshop will offer an in-depth look into the structure of a flash piece along with generative writing to practice using that knowledge. Geared toward first timers and experienced flashers alike.
BIO:
Finnian Burnett is a doctoral student and a college instructor who teaches creative writing and English literature. Finn has published several novels, but their true writing love is flash fiction. They've shortlisted or won with Bath Flash, Bridport Prize, Blank Spaces Magazine, The London Story Prize, Reflex Press and more.
The Clothes Make the Man, a flash fiction collection about Arthur, a trans man navigating academia, was recently released by Ad Hoc Publishing and their next collection is forthcoming through Off Topic Publishing. Finn's passion is mentoring emerging writers and helping others find their own passion for writing.
In their spare time, Finnian watches a lot of Star Trek. Finn lives in BC with their wife and Lord Gordo, the cat.
www.finnianburnett.com
The Business of Art – Miranda Krogstad
11:30m -12:30pm
You've poured love, time, and passion into perfecting the work you adore. As thrilling and beautiful as it can be to create a piece, however, it can be differently fulfilling to then share it, find the communities that will most appreciate it, showcase it publicly, and even monetize it. So how do you get your work out there? This workshop will help you set goals and take action to get your writing to the people who will enjoy it the most.
BIO:
Miranda Krogstad is a spoken word poet and educator who uses her words to empower students of all ages and walks of life. Teaching life skills including self-confidence, self-expression, and community-building, she has performed workshops in dozens of cities across Western Canada.
Outside of the formal educational setting, Krogstad is an advocate for positivity and love in the spoken word community and beyond, performing on subject matter from mental health awareness to gender equality. Krogstad was a member of the 2016 national wild card team, a two-time Canada Council for the Arts grant recipient, a Calgary Arts Development Grant Recipient, and a participant in the Banff Centre International Spoken Word Program. She has since founded the organization YYSpeak to promote and support Calgarian spoken word poets and events.
Working With An Editor – Marion Lougheed
2:00-3:00pm
BIO:
Marion Lougheed is a writer, anthropologist and editor who grew up in Canada, Benin, Belgium and Germany. She holds a diploma in Professional Writing from Memorial University (Newfoundland) and has nearly completed a PhD in social anthropology from York University.
Her writing won the Prime 53 Poem Summer Challenge and the Poem In Your Pocket Day Contest (2021, League of Canadian Poets). Her fiction was shortlisted for the Sunlight Press Flash Fiction Contest and longlisted for Furious Fiction and the Fish Publishing Short Story Prize. Her words are included in anthologies by Guernica Editions and Sweetycat Press and have appeared at The Arcanist, Reflex Press, and elsewhere.
In addition to working as a freelance editor, she is the founding editor at Off Topic Publishing. She continues to live a somewhat nomadic life. Find her at www.mledits.com
Copyright Law for Writers – Andrew Shaughnessy
3:00-4:00pm
Everything you want to know about copyright, but were too afraid to ask? We all have those questions about copyright, the ones that constantly pop up on social media group sites, the ones that make us nervous when we are editing, the ones that cause distraction or worry? Do I need to register my copyright?
Is there copyright in a title? Can I use someone else's song lyrics in my work? Should I mail myself my work to prove I wrote it? How long does copyright last in someone else's work? How can I assign or license my works? What are moral rights?
BIO:
Andrew Shaughnessy is an intellectual property litigation lawyer who has handled copyright cases in the past. He is also a writer.