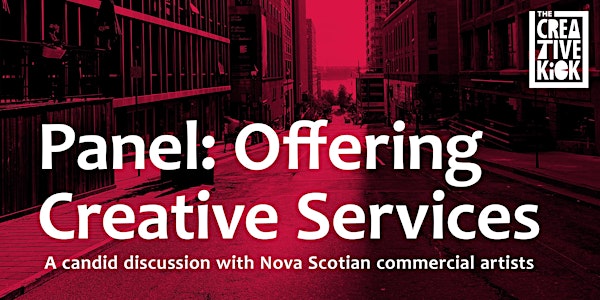 Offering Creative Services: A Creative Kick Panel
a candid conversation with Nova Scotian commercial artists
About this event
Five commercial artists open up about the ins and outs of offering creative services.
Attention all photographers, designers, videographers, animators, illustrators and others who offer a creative service!
The Creative Kick has asked five business owners in a variety of disciplines to sit down and dish out the details around being a creative worker. We'll cover topics such as:
How to find clients.
What it's like to pivot from offering a service to passive income.
Niching down or remaining broad.
Trying to get that elusive work/life, especially when doing everything yourself.
No matter if you've been selling your services for a while, or are just considering taking the leap... this panel is for you!
Our awesome panelists

Amy Eaton: Photographer & Educator at amytakespictures.com, Co-Founder & CEO of Brioka.com
Amy is a product and brand photographer turned educator, teaching makers, artists, and creative entrepreneurs how to take gorgeous photos for their business. Through her signature, no-muss no-fuss teaching style, her students learn exactly what they need to know through clear, simple steps, which enables them to take gorgeous brand and product photos, quickly and easily. These beautiful images enabled her students to successfully stand out and build connections in the online space.
Amy lives in beautiful Nova Scotia with her husband (Jeff), two kids (Nate and Alice), and boston terrier (Huxley), where she enjoys gardening, beach time, exploring forests, and video gaming. Oh, and maybe a trip or two to the local vineyards.

Derrek Ord: Video Strategist, Owner of Even Flow Media
Derrek is a video marketer that enjoys pizza and Fresh Prince of Bel-Air. His goal is to help small to medium sized businesses grow by implementing a full video strategy custom made for their industry, personality and goals.

Lore Comeau: Interdisciplinary Artist at Modern Lorefolk
Lore Comeau is a non-binary interdiciplinary freelance artist, illustrator, graphic designer, writer, comedian, mental and sexual health advocate presently based in Halifax, Nova Scotia. Lore is the owner of Modern Lorefolk, and has been working towards completing their Bachelors Degree in Fine Arts at Concordia University, though is mostly self taught.

Marven Nelligan: CEO & Director of Marvelous Design, Founder & Chair at Make a Dream Endure Organization
Founder of Marvelous Design and the Make a Dream Endure (MaDE) Organization. A multitalented artist, designer, and developer with a passion for creating fun and unique experiences.

Stacey Fredericks: Owner/Graphic Designer at Design With Waypoint
Stacy Fredericks is a print asset designer, a mom of two, and founder of Waypoint Creative Services. She works with coaches and consultants to create luxury print assets to surprise and delight their clients. Because in a world of hashtags and online distance she knows that the perfect physical items keep your business top-of-mind, heart, (and wallet) of your biggest fans!

Moderated by Alison K: web + rebrand consultant, artist, founder of the Creative Kick
Alison K believes creativity deserves company, and thus the Creative Kick was born in 2012. Alison is an international speaker, touching on the intersection of business, creativity and the web on stages across Canada, the US and the UK.
Alison has mentored emerging female and non binary designers and artists, and had held teaching positions at both NSCAD University and NSCC IT Campus. The arts community, and the need to foster it, runs deep in her veins.
Her day job is about being elbows deep in web and digital marketing consulting, and at night you'll find her drawing lewd (but never crude) nekked folx.

About the Creative Kick
The Creative Kick is about inspiring the creatively driven. Since 2012, we've supported commercial and visual artists across Nova Scotia to grow their network, flex their creativity and learn from each other.
We run artist talks, meetups, panels and anything else that brings creative people together in one place. Because that's where magic happens.