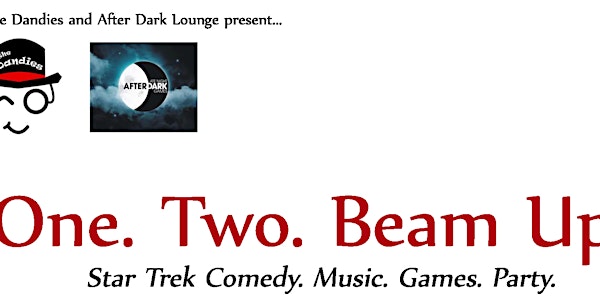 When and where
Date and time
Sun, Oct 30, 2016 7:00 PM - 11:30 PM CDT
Location
After Dark Lounge 121 Osborne Street Winnipeg, MB R3L 1Y5 Canada
Description
The Dandies and After Dark Lounge present...
One. Two. Beam Up.
Star Trek comedy. music. games. Hallowe'en party.
The Dandies and Rock Paper Cynic, both from Toronto, Ontario, want to celebrate their last night in Winnipeg!
We'll start the night with a spontaneous Star Trek comedy set and live music. Afterward we'll party and socialize and enjoy Winnipeg's hospitality!
$10, Tickets available at After Dark Lounge and Eventbrite!
Party in style - Star Trek style!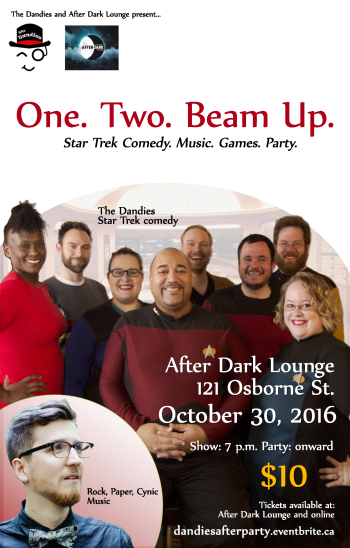 About the organizer
(Toronto, ON, Canada) The Dandies are a Toronto-based comedy troupe.

The Dandies were formed by Andie Leathley and Dale Wells on Feb. 17, 2012. In 2015, the duo recruited Alan Leightizer and musical director Jason Zinger, and Zach Mealia in 2016.
Their flagship show is Holodeck Follies, a monthly improvised Star Trek comedy and variety show in its fourth year. They also produce The Sampler – the fast paced competitive comedy show.
The Dandies were nominated for Now Toronto's Reader's Choice award for Best Improv Troupe (2015, 2014).
More Information: View our Electronic Press Kit for information, reviews, and images.