BAMTO lab presents an online workshop on bilingual language development research
About this event
Join us online on Friday, March 26th from 11:00am-3:00 pm (EDT) at our workshop on the topic of bilingual development in Canada.
Featured speakers include Dr. Johanne Paradis, Dr. Stefka Marinova-Todd, Dr. AJ Orena and Dr. Candace Galla. The talks will be followed by a panel discussion.
All clinicians, students and faculty welcome!
Access and Recording Details:
A link will be sent to registrants to access the workshop in the upcoming weeks, as we finalize platform details.
If you are logged in to Eventbrite, you will see the option to "Access the Event" (on rightside of the page).
Please note the workshop will be recorded and registrants will have access to these recordings the week after the event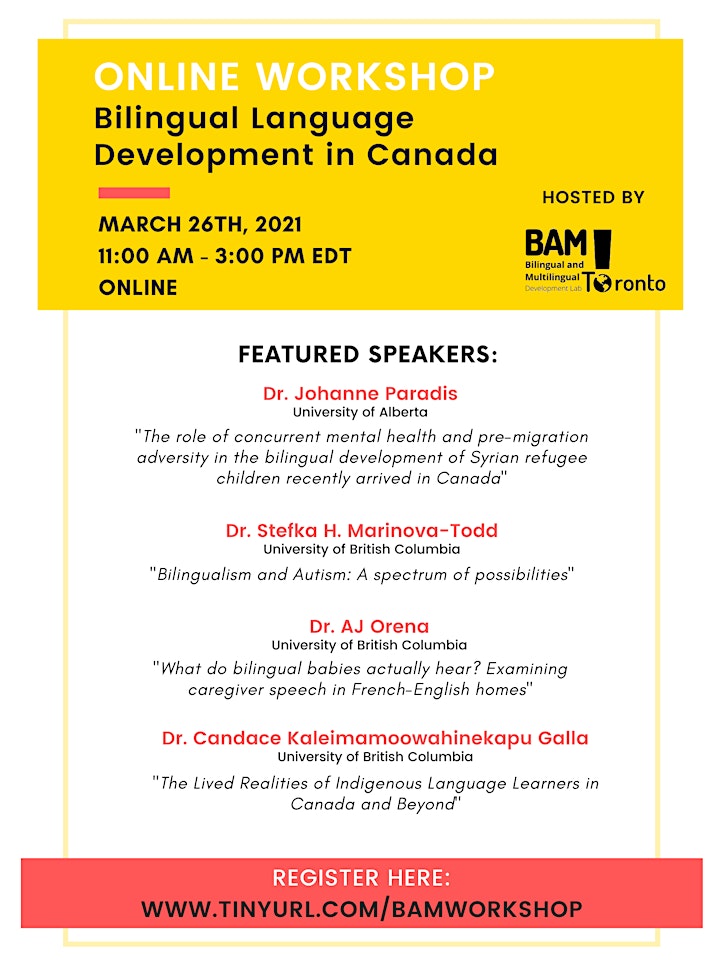 Preliminary Schedule
11:00-11:05 - Welcome and Introduction (Kai Ian Leung & Dr. Monika Molnar)
Talk Title: What do bilingual babies actually hear? Examining caregiver speech in French-English homes.
AJ Orena is an FRQNT post-doctoral researcher in the Department of Psychology at the University of British Columbia. He received his Ph.D. in Communication Sciences and Disorders at McGill University. His research focuses on speech and speaker processing, and how they change as a function of experience – whether over development, or due to individual differences. For his dissertation, he examined how bilingual parents talk to their infants, and how bilingualism affects speech processing and early vocalizations.
11:35-11:40 - BREAK
Talk Title: Bilingualism and Autism: A spectrum of possibilities.
Dr. Stefka H. Marinova-Todd is an Associate Professor at the UBC's School of Audiology & Speech Sciences and is the Director of the Bilingualism Research Lab. In her research, she examines the cognitive and metalinguistic development of bilingual children, and second language acquisition in both children and adults. More recently she has been involved in two collaborative SSHRC Insight grants in the context of which she has studied the language and literacy development of the largest ethno-linguistic group in Vancouver: Chinese-speaking children who are learners of English as an additional language. She continues her novel work on the language and cognitive abilities of bilingual children with autism.
12:10-12:15 - BREAK
Talk Title: The role of concurrent mental health and pre-migration adversity in the bilingual development of Syrian refugee children recently arrived in Canada.
Johanne Paradis is Professor in the Department of Linguistics and Adjunct Professor in Communication Sciences and Disorders at the University of Alberta. Her research is concerned with bilingualism in children with typical development and in children with developmental disorders, in particular children learning English-as-a-second language from immigrant and refugee families. Paradis has published more than 65 peer-reviewed journal articles and chapters on bilingual children and is first author of Dual Language Development and Disorders, 3rd Edition, Brookes Publishing (forthcoming in April 2021). Paradis is the recipient of the 2020 National Achievement Award from the Canadian Linguistic Association. Paradis is the current editor of Journal of Child Language.
12:45-12:50 - BREAK
Talk Title: The Lived Realities of Indigenous Language Learners in Canada and Beyond
Candace Kaleimamoowahinekapu Galla (Kanaka Hawaiʻi & Filipino) is an Associate Professor in the department of Language and Literacy Education (Faculty of Education) and the First Nations and Endangered Languages Program in the Institute for Critical Indigenous Studies (Faculty of Arts) at the University of British Columbia on the traditional, ancestral, and unceded territory of the hən̓q̓əmin̓əm̓ speaking Musqueam people. Her scholarship emphasizes Hawaiian language and Indigenous languages at the intersection of education, revitalization, digital technology, and cultural practices; and decolonizing and Indigenizing the academy to create pathways for Indigenous thinkers and scholars.
13:20-13:25 - BREAK
13:25 - 14:25/15:00 Roundtable Discussion with:
Dr. Diane Poulin Dubois, Professor, Concordia University Research Chair in Developmental Cybernetics, Psychology
Emily Wood, SLP Reg. CASLPO-C, Durham District School Board
About BAM!TO Lab
Many people around the world, including Canadians, grow up learning more than one language. Research in the BAM!TO Development Lab focuses on those who began learning two or more languages from the time they were born and on those who began learning a second or third language upon starting school.
Our research is focused on spoken language processing (also known as speech processing) in these populations. Specifically, we are interested in the typical and atypical behavioural, brain, and physiological patterns associated with the processing of rhythmic, phonetic, and voice-related information in speech.
We are also interested in whether bilinguals/multilinguals and monolinguals rely on contextual cues for language acquisition differently when communicating with familiar vs. unfamiliar speakers, and with monolingual vs. bilingual individuals.
Why are we doing this? While research on bilingual/multilingual development is definitely expanding, little is known about what is typical of bilingual or multilingual acquisition. In the short-term, our findings contribute to existing theories of multilingual language and cognitive development and, in the long-run, will help to develop appropriate clinical diagnostic and intervention tools for a wider range of populations, including bilinguals and multilinguals.