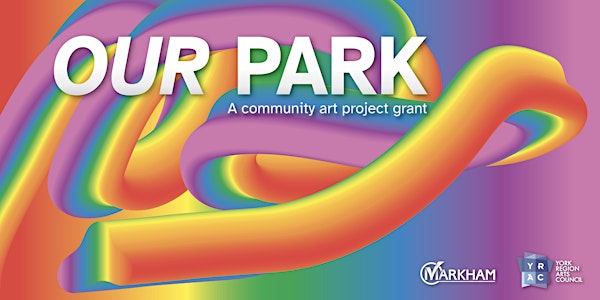 Our Park Information Session
Join us for an online information session and Q&A about " "Our Park" Community Art Project Grant.
About this event
This FREE online information session will provide more detailed information about "Our Park: Community Art Project Grant" offered in partnership with City of Markham Public Art Program and York Region Arts Council.
"Our Park" grant aims to provide funding to Markham-based professional artists, arts organizations, artist collectives, and non-profit organizations to create and present free arts programming in selected parks located in Markham. For the purposes of this program, "arts programming" may include the presentation of dance, literary arts, music, theatre, visual and media arts, community-engaged arts, and other fields of artistic practice.
For this first year of this pilot program, ONE project application will be selected and awarded up to $25,000 to activate Ada Mackenzie Park at 185 South Park Road, Thornhill.
To attend the FREE online session, pre-registration is required here on Eventbrite.
Agenda
1pm - Welcome
Grant Overview
Program Guidelines
Application Walk through
Ada Mackenzie Park
Q&A - Part 1
Allyson Adley - guest speaker "Art on My Mind 2022" project & Q&A
2:30pm - Final words
*Schedule subject to change
If you have any immediate questions, please contact: Monica del Rio Pain, Program Curator, at YRAC: monica@yorkregionartscouncil.com.