Description
Partners for Progress 2018 will be an engaging and interactive conference facilitated by The Outside.
We welcome you to join with members of the six RENs, government partners of all levels, and other economic development stakeholders for this conference.
Beginning with an opening reception on the evening of Sept. 5 and continuing on Sept. 6 from 8:30 a.m. to 4 p.m. with the conference agenda.
Registration required.
ACCOMMODATIONS:
Contact Digby Pines to book a room - 1-800-667-4637 - and refer to the P4P for a group rate.
Overflow accommodations can be found on the Digby Area Tourism Association page.
CONFERENCE AGENDA
September 6th
7:30am - Registration and Breakfast
8:30am - Opening - Welcome and Intro - Frame the day, Review the goals, Check ins
9:30am - 20X20 Presentations - Stories of successes and lessons learned (speakers TBA)
10:30am - BREAK (refreshments provided)
10:45am - Facilitated Conversations
12:15pm - LUNCH (provided)
1:15pm - Keynote
2:00pm - Facilitated Conversations and Activities
4:00pm - Closing Comments and Next Steps
4:30pm - Wrap up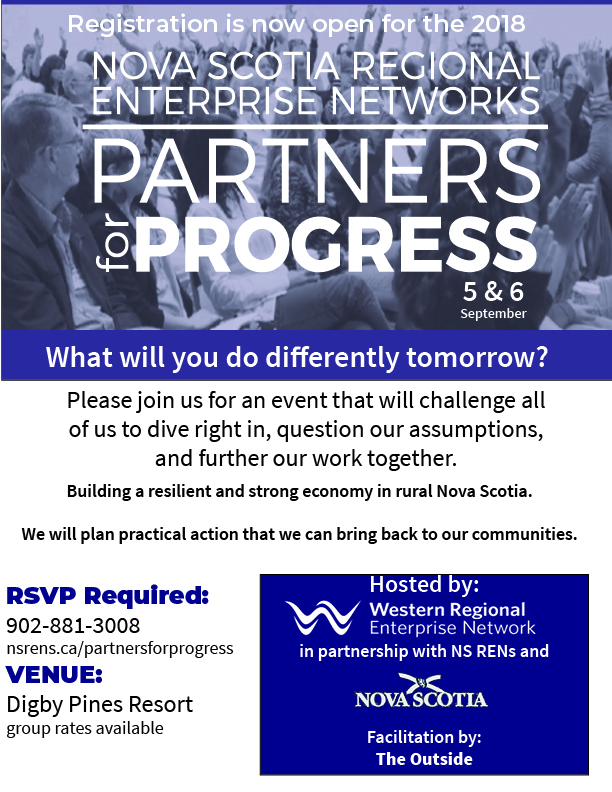 THINGS TO DO IN THE WESTERN REGION:
Digby Area Tourism Association