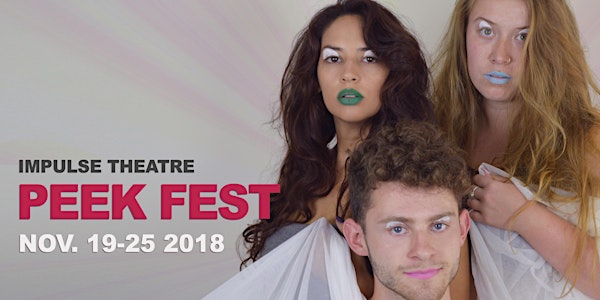 PEEK-FEST 2018
When and where
Location
Intrepid Theatre Club 1609 Blanshard Street Victoria, BC V8W 2J5 Canada
Refund Policy
Refunds up to 1 day before event
Description
ABOUT THE FESTIVAL
Impulse Theatre's PEEK-FEST is a festival for emerging performing artists in Victoria. The festival offers exciting new looks at work in development from some of the province's most innovative creators, while seeking to grow the artistic development of local artists through showcases and workshops.
TICKETS
Tickets to Shows and Workshops are available at the door (starting an hour before) and online. The PEEK-FEST Workshop Pass provides entry into all three workshops for a discounted price, and can only be bought online or at the first workshop on Wednesday, September 21st.
Please note: Advanced sales close an hour and a half before each event.
---
THE PERFORMANCES
For Advanced Ticket Holders: please arrive at least fifteen minutes early to pick up your ticket from the Box Office.
​PEEK-SHOW
Friday, November 23rd, 2018 - 8:00pm
Intrepid Theatre Club (1609 Blanshard)
$15 at door / $10 online
An informal and exciting experience for artists and patrons, all discovering new stories for the first time. The evening consists of new works from a diverse and equitable group of Victoria's performing artists. Each group is provided with only 7 minutes to present whatever art has been brewing in the back in their mind, itching to come out. From text, to dance, to somewhere in-between, we will be living in a space of discovery and courage. PEEK-SHOW acts as a new initiative to foster creative connections between Victoria's performing artists and to spark momentum within the community.​
Applications are being accepted until October 10th. Click here.
THE SHOWCASE
Saturday, November 24th, 2018 – 8:00pm
Intrepid Theatre Club (1609 Blanshard)
$15 at door / $10 online
Three new works mid-development from exciting multidisciplinary performance creators presented with 30 mins each. This is an exciting opportunity to settle in and go deeper into these artist's processes. Each company received 20 hours of rehearsal time to prepare and finesse their work through Impulse Theatre's Residency Program.
This year, the SHOWCASE presents:
Gender is Mine: A One Person Poetry Slam by Rose Cotton
An ancient Mesopotamian Snake Monster, an envious AI, and a nostalgic gay erotica connoisseur all share their most secret and precious desires in the hope of winning your heart. You decide who will win, and you get to see what happens after their wishes come true, whether it's happily ever after or just a new set of mistakes.
culturecapital by Milton Lim
culturecapital is a trading card game about the Canadian arts economy, created by Vancouver-based interdisciplinary artists and directors Milton Lim and Patrick Blenkarn. They're interested in games, media, texts, politics, capitalism, and public resource allocation.
TBD (To Be Devised) by BROKEN DOWN BUS PRODUCTIONS
A devised piece based on verbatim voice messages sent between the artists over a nine month period of distance separation.
---
THE WORKSHOPS
PARTICIPANT NOTES:
Arrive at least ten minutes early: workshops will begin on time.
The Workshop Pass can be purchased in advance or at the box office of the first workshop on Wednesday, November 21st.
INTRO TO ISADORA with Milton Lim
Wednesday, November 21st, 2018 – 6:00pm to 10:00pm
Intrepid Theatre Club (1609 Blanshard)
$30 for the Workshop / $70 for Workshop Pass
An introduction to Isadora (Troikatronix) — a versatile node-based virtual programming environment and powerful audiovisual engine for use in creating interactive installations, performances, and video artworks. This workshop is open to artists from any discipline; coding knowledge is not required. Beyond establishing the user interface and technical foundations, this workshop will focus on generating real-time audiovisual effects and basic interactive systems. Please bring a laptop computer if you have one.
About the Instructor:
Milton Lim is a Vancouver-based artist whose work utilizes digital media and performance, often employing game mechanics, typography architecture, and high-frequency readability. He is a Co-Artistic Director of Hong Kong Exile, Artistic Associate with Theatre Conspiracy, and recent Artist-in-Residence with the PuSh Festival.
GRANT WRITING 101 with Matthew Payne
Thursday, November 22nd, 2018 – 6:00pm to 10:00pm
Intrepid Theatre Club (1609 Blanshard)
$30 for the Workshop / $70 for Workshop Pass
Do you have an artistic project that you are dying to get on its feet? Do you feel overwhelmed when starting a grant application? This weekend wokshop is designed to help emerging professional artists find their footing as they navigate municipal, provincial, and federal grant applications.
About the Instructor:
Matthew Payne is a founding member of Victoria's Theatre SKAM and serves as the innovative company's Artistic Producer. He recently directed Smalltown: A Pickup Musical, wrote and performed in Cariboo Buckaroo, and co-created the show Fashion Machine. Matthew trained at Malaspina College and graduated with a Bachelor of Fine Arts from the University of Victoria. He completed a Directors Masterclass with training from Peter Hinton, Martha Henry and Josette Bushnell-Mingo. Previous drama teaching experience includes classes for Kate Rubin Theatre Drama Studio, ArtsReach, Kaleidoscope Performing Arts School, and several Victoria dance schools.
​
THE STORYTELLING BODY with The Wonderheads
Sunday, November 25th, 2018 - 10:00am to 2:00pm
Intrepid Theatre Club (1609 Blanshard)
$30 for the Workshop / $70 for Workshop Pass
In this workshop, the Wonderheads will introduce the fundamental process by which they bring a mask and story to life. Through a series of games and guided exercises, participants will focus on developing a greater understanding of physical expression and articulation, and leave with a set of tools to help them better express themselves both on stage and off. Transformative and fun! Please wear clothes and shoes you are comfortable moving around in and be prepared to work barefoot or in athletic shoes. If you wear glasses be prepared to work without them or bring contact lenses.
​About the Instructors:
Wonderheads is a physical theatre company specializing in mask performance and visual storytelling. Their work is performed in full-face mask, a wordless form that mixes European larval mask traditions with character mask styles, resulting in a whimsical, wordless craft rarely seen on North American stages.
OTHER EVENTS:

GALLERY
Check out our free gallery featuring local visual artists, open Wed-Thurs from 6pm-10pm, and Sat-Sun from 12pm-4pm at the Intrepid Theatre Club (1609 Blanshard).
PEEK-FEST CLOSING RECEPTION
Sunday, November 25th, 2018 – 4:00pm to 8:00pm
Intrepid Theatre Club (1609 Blanshard)
FREE
Join us for a reception as the festival draws to a close. Taps will be flowing, wine will be chilling, and we're going to celebrate the last day of PEEK-FEST in style!
---
ACCESSIBILITY
Impulse Theatre, and PEEK-FEST, seeks to create an anti-oppressive and queer-positive space for artists within the community. All of our events are wheelchair accessible and have gender inclusive washrooms.
PEEK-FEST Access Program: Impulse Theatre is pleased to offer up to 4 emerging arts workers complimentary access to all festival workshops. This program sponsors arts workers that identify as queer, trans, indigenous, and/or as a person of colour. Click here for more information and the application form. Impulse also encourages submissions from marginalized communities for submissions for PEEK-SHOW.
Impulse Theatre invites interested participants with financial concerns to either apply as an artist for PEEK-SHOW to receive a discount to all workshops, or to volunteer in exchange for a ticket to one of our two performances. If these are not an option for you, please email andrew@impulsetheatre.ca to discuss alternatives.
PEEK-FEST take place on the unceded and traditional territories of the Lekwungen peoples, now known as the Songhees and Esquimalt Nations.