The second edition of a forward-thinking, artist-driven quarterly event series produced by Debaser.
About this event
Pique Fall Edition is a hybrid event with limited capacity live outdoor performances, indoor screenings, installations, a workshop, and a digital program of audio-visual works available on demand at thisispique.com.
Featuring IRL:
+ Infinite Vibes: Intro DJ Workshop facilitated by Pass the Vibes✧ (BIPOC only. Pre-registration required)
and URL:
with
Guest curator Shaya Ishaq
(✧ guest curated programming)
COVID-19 POLICY
By purchasing a ticket and attending Pique, attendees agree to follow our current COVID-19 policy. Audience members must:
Wear a face mask at all times, even while outdoors, if you cannot maintain a 6-foot physical distance with other people.
Consume food and beverages outdoors and at a 6-foot distance from those not in your household or bubble
Wash hands or use the provided hand sanitizer often
Contact tracing information collected in Eventbrite and/or at the box office.
ACCESSIBILITY
In-person programming will be happening in and around the Arts Court and Ottawa Art Gallery buildings, including the SAW Courtyard and OAG Jackson Terrace. Live performance spaces are accessible by ramp, and the indoor spaces are accessible by automated doors and elevator to all floors. We regret that the Portico performance area is not accessible to everyone. Wheelchair accessible, gender neutral washrooms are available throughout the building.
For accessibility and visitor information for the Arts Court building and the OAG go to:
https://artscourt.ca/visitor-info-en
https://oaggao.ca/plan-your-visit
All Pique virtual content will be accessible online at thisispique.com.
SAFETY
Attendees are expected to respect one another. Violence, aggression, oppressive behaviour or language, or bullying will not be tolerated. If you are currently implicated in an accountability process, please ensure you are respecting the space and well-being of those your actions have affected before joining this space virtually or in-person. If staff and/or Board are made aware of any behaviour that violates our safety policy, the person(s) perpetuating this behaviour will be asked to leave immediately. We reserve the right to intervene and/or remove ANY person(s) in the space who are creating or contributing to an unsafe environment.
Land Acknowledgement
We acknowledge and pay respect to the Algonquin Anishinaabeg people on whose land we operate. If you support our programming, please consider supporting a local Indigenous organization or fundraiser. Learn more about this land acknowledgement and find educational resources and ways to support at www.debaser.ca/land-acknowledgement
Pique is produced in partnership with SAW, Ottawa Art Gallery, Artengine, DAÏMÔN, Digital Arts Resource Centre, Firegrove Studio, Le Seltzer, Dominion City Brewing Co, Also Cool Magazine, Ottawa Fringe, CKCU FM, CHUO FM, Apt613, and is supported by the Canada Council for the Arts, Ontario Arts Council, Canadian Heritage, City of Ottawa, Ottawa Community Foundation, SOCAN Foundation, and FACTOR.
Graphic design & web development by @mouthoftiger. Original wordmark typeface created by Moritz Esch.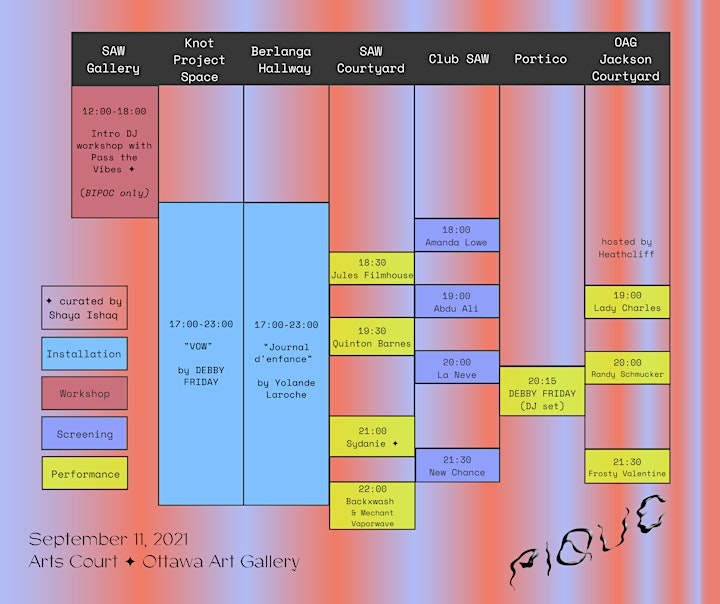 Organizer of Pique ✦ Fall Edition