Location
Ryerson University Student Learning Centre (SLC)
341 Yonge Street
SLC 508 (5h floor)
Toronto, ON M5B 1S1
Canada
Description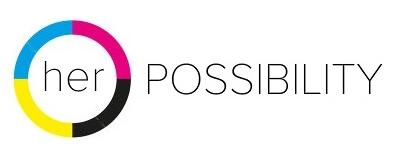 The world needs empowered girls; who are leaders, confident and creative. Girls who can solve problems, create innovative solutions, and live fearlessly.
Possibility Camp, August 13th - 17th, 2018 for girls between ages of 8 - 13 will include lots of fun, an exploration of Ryerson's Campus and TELUS, and hands on STEAM (science, technology, engineering, arts and math) activities to help girls to develop their empathy and growth mindset, generate creative ideas, and build self-confidence in group settings.
At the end of the week long camp, our campers will participate in a pitch presentation to practice their skills!
Our team of facilitators includes inspiring women, who through their own experiences have developed a mindset of possibility, abundance, and social impact. We are passionate about helping your girls be the best they can be.
We look forward to an exciting week starting August 13th, 2018.
Snacks + Materials used are included! Scholarship applications are also open!
Below is a sample schedule: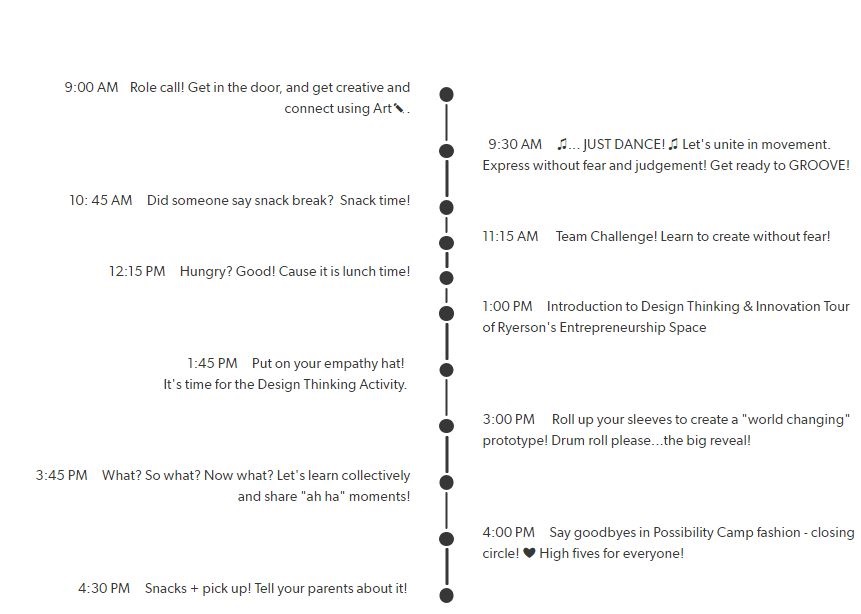 TELUS Showcase & Pitch Event

On Friday, August 17th, registered guests may arrive as early as 2:45pm. Event will start at 3:15pm sharp and will end at 5:00pm. The event is held at TELUS Headquarters at 25 York Street. You may take the elevator directly to the 3rd floor. We will have some volunteers in the lobby area with a Possibility Camp sign to help guide you.
*If you'd like to apply for a scholarship, please complete the application by July 10:
FAQs
Lunch is only provided on Friday. Snacks will be available all day.
What about dietary restrictions?
Not a problem! Be sure to indicate on your registration form any dietary restrictions we should be aware of.
What is the drop-off and pick-up time?
Campers can be dropped off at 8:30am. Our program ends at 4:00pm, however, they will be enjoying a healthy snack and completing their workbook while waiting to be picked up. All campers must be picked up by 5:00pm.
How old does my camper need to be to attend camp?
Campers must be 8 years old by August 13, 2018.
Possibility Camp is $100/day - for a total of $500 per girl. Pricing includes all programming, location tour and Snacks.
No refunds will be issued if a reservation is cancelled within 21 days of the session start date. Otherwise, camp fees are refundable, less a $50 administration fee
Can my camper be in the same group as their friend?
We are one big group! The only time we separate is for some smaller group activities, but we are never without the whole group for long. We encourage connection and deepening relationships in new social situations.
I still have more questions. Is there someone I can talk to?
Of course! Please message us below and one of our directors will schedule a time to speak with you if we can't answer your questions simply over email.
Partners: