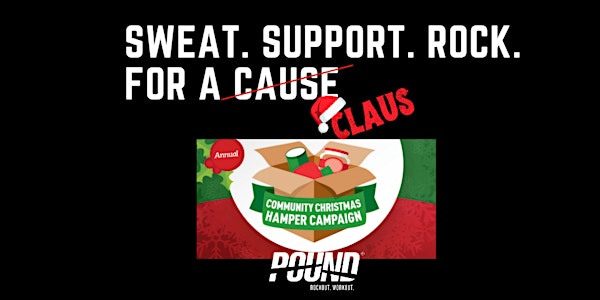 Pound® for a Claus
Come to this special POUND® Class! Give your body and mind some love and help deliver some goodness to the community!
When and where
Location
École secondaire Quebec High School 945 Avenue Belvédère Québec, QC G1S 3G2 Canada
About this event
BREAK A SWEAT FOR A GOOD CAUSE!
By participating in this POUND® class not only will you give your body and your mind some love, but you'll also help deliver some goodness to the community. This event is for 12+ in age. All proceeds will be donated to the Quebec City Community Christmas Hamper Campaign, so that they can distribute food hampers during the holiday season, which is an enormous challenge with a most heart-warming outcome. Learn all about the Community Hamper Christmas Campaign. Follow the Campaign on Facebook.
Your 5 rockin' POUND Pros for this event are Melanie-Anne Bousquet, Vivian Yatabe, Jennie Bouchard, Andréanne Dionne and Marie-Li Laprise. Designed for all fitness levels and easy to modify, POUND® provides the perfect atmosphere to let loose, tone up and rock out! POUND's® alternative vibe and welcoming philosophy appeals to men and women of all ages and abilities.
ROCKOUT WORKOUT
Channel your inner rockstar with this full body cardio-jam session inspired by the infectious, energizing, and sweat-dripping fun of playing the drums. Instead of listening to music, you become the music in this exhilarating full-body workout that combines cardio, conditioning, and strength training with yoga and Pilates-inspired movements. Using Ripstix®, lightly weighted drumsticks engineered specifically for exercising, POUND® transforms drumming into an incredibly effective way of working out.
No Ripstix? No problem! We will be providing a pair to everyone for use during the class. Just bring a yoga type mat, bottle of water, comfortable clothes, workout shoes if you want and a rockstar attitude!
IMPORTANT
* Please read the disclaimer below before participating in this event.
*Disclaimer - If you have any of the following conditions:
• Your doctor ever said you have a heart condition or high blood pressure
• Pain in your chest at rest, during daily activities or when you do physical activity
• Lose balance because of dizziness, or have lost consciousness in last 12 months
• Diagnosed with another chronic medical condition
• Are currently taking prescribed medications for a chronic medical condition
• Currently have or have had within the past 12 months a bone, joint or soft tissue (muscle, ligament, or tendon) problem that could be made worse by becoming more physically active
• Doctor ever said you should only do medically supervised physical activity
Please consult/seek further advice from a doctor or health care professional to make sure it is safe to becoming more physically active and to participate in this type of exercise.
Taken from: 2022 PAR-Q+ (Physical Activity Readiness Questionnaire)