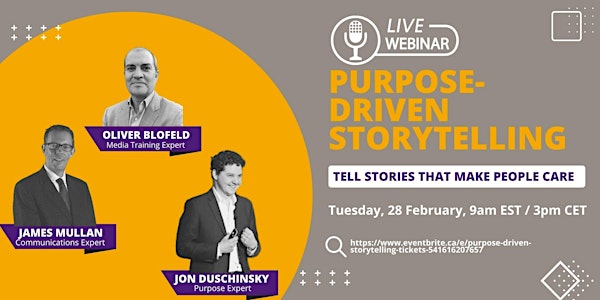 Purpose-Driven Storytelling
Learn how to create business stories that people WANT to engage with!
When and where
Date and time
Tue, Feb 28, 2023 6:00 AM - 7:00 AM PST
About this event
Leaders become great not through strategy, but through enrolment. They get others to follow them because of the way they tell stories and inspire action.
We can and will teach you those very same skills.
In this FREE one-hour webinar, you will:
- Learn the most important thing in messaging
- Understand how to connect your Purpose with your audience
- Transform your Communication Confidence
- Create a story that people will WANT to listen to
- Know how to tell that story to grow your impact
This is NOT another communications training. It leverages cutting-edge neuroscience and behaviour to give you a competitive advantage in your storytelling.
If you have ever wanted to become a more compelling and confident leader and communicator, whether it's in the boardroom, on Zoom or in front of hundreds of people, this webinar is for you. 


Places are limited so sign up today.
About the Speakers
Jon Duschinsky:
Purpose Pioneer, Social Innovator and champion of Business for Good, Jon has been inspiring Leaders to change themselves and change the world for over two decades. With experience in over 60 countries, he is admired for his ability to connect people and organizations to what they stand for, while drawing on his own experience as a serial entrepreneur to connect first-hand with the challenges of leadership.
He has worked in this way with political leaders, Fortune 500 business leaders, SMEs, startups and NGOs in over 60 countries, and shared stages with the likes of Gorbachev, Kofi Annan, and Bob Geldof.
Oliver Blofeld:
Oliver is an experienced broadcast journalist and trainer with more than 20 years' experience reporting across the Middle East for the BBC, CNBC, Financial Times TV and The Business Channel. He started in journalism as a reporter for Financial Times TV in London in 1995. In 1997, Oliver was posted to the United Arab Emirates as Gulf Correspondent. He returned to Europe in 1999 as senior producer of CNBC Squawkbox. In 2002 Oliver took up the role of Managing Editor of The Business Channel. From 2006 to 2010 Oliver reported for the BBC across the Middle East and North Africa.
Oliver is now Managing Partner of Insight Media a specialist communications consultancy advising companies, governments and NGOs across Europe, the Middle East and Africa to enhance their communications skills through messaging, media training, presentation training and crisis training.
James Mullan:
James is a Managing Partner with Insight, a specialist media and presentation training company he co-founded twelve years ago. With Insight he has been a lead trainer for C-level executives across multiple corporate sectors.
As well as being a regular broadcaster on regional radio, James is the co-founder and joint editor of mideastposts.com, a news and current affairs analysis site, and a founding committee member of the Emirates Airline Festival of Literature. Prior to setting up Insight James was Regional Client Service Director for Hill & Knowlton where he led media and communications training programmes for senior executives in multinational and regional companies. He worked for H&K for over ten years.
Insight Media is a specialist communications consultancy with over 20 years' experience working for C-level executives and governments. Our multilingual team comprises award-winning journalists and communications professionals who have worked withthe BBC, Reuters, Al Jazeera, Al Arabiya, CNBC, Forbes,Financial Times, The Guardian, The Daily Mail and TheNew York Times.