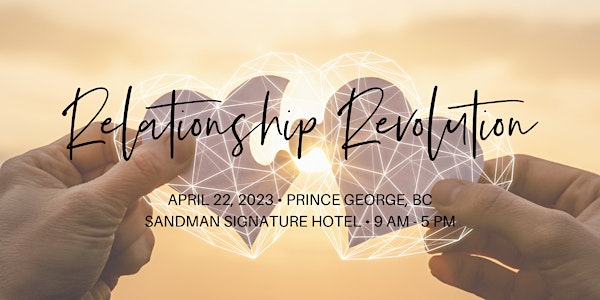 Relationship Revolution
A one-day in person retreat to transform your love life!
Date and time
Sat, Apr 22, 2023 9:00 AM - 5:00 PM PDT
Location
Sandman Signature Prince George Hotel 2990 Recreation Place Prince George, BC V2N 0B2 Canada
About this event
You've been asking for help in making relationships more understandable. You've wondered if this could somehow feel easier, more connected and liberated at the same time. We are answering that call.
If you are ready to become more relationally empowered – then join Carla and Christina for this one-day in-person retreat to transform your love life.
Do you wish you had the tools to communicate more skillfully with a partner?
Are you tired of repeating the same patterns/having the same fights/dating the same type of people
Do you long for a more intimate connection and are unsure of how to get there?
Do you want to open your heart more and find that fear gets in your way?
Do you struggle to feel loved and connected?
Do you ever feel like you are failing at relationships?
This special event will set the stage for all of us to have more loving relationships, regardless of whether you are currently romantically involved or not.
************************************************************************************************
People are waking up to the idea that our relationships have the potential to be much more than we've been taught.
Loving, intimate relationships have a certain kind of magic, an aliveness that creates joy, healing and growth. It allows each member to stand in the fullest expression of themselves, knowing they are loved and supported for who they are. You communicate effectively, handle your conflicts and feel safer in this world.
Sounds great, right? The reality is that these types of relationships don't just happen; they are created. They require truth, commitment and the tools of relational intelligence.
But most of us have not been taught the basics of how to have a healthy, loving and fulfilling relationship. It is just a fact, not a fault. When we can accept this, we are ready to reach out and accept the support of others to learn, grow and do better.
This is why coming together to learn more about how to create healthy, fulfilling relationships is so important. The majority of people are not talking about it, not learning about it, and didn't have great role models. Prioritize building your relational toolbox so that you can create the relationship you truly desire with much greater ease.
We have created this experience for YOU! It's time to step into what is possible for your relationships. You have been craving a modern roadmap for success in your love life and want the tools to get there. Let us show you how.
**************************************************************************************************
Come prepared to:
Gain a better understanding of who you are in relationship, and the impact of your conditioning, attachment styles and experiences
Learn tools for relating at a much more conscious level
Gain clarity about your personal growth edge and challenges in relationship
Step forward with confidence to notch up your love life!
For additional information, visit our website at www.relationshiprevolutionpg.com
***************************************************************************************************
Meet your facilitators:
Christina Bianchini is a Registered Professional Counsellor, relationship expert, international speaker, and personal development workshop facilitator. Founder of Repiphany Counselling, Christina is passionate about igniting individuals to realize what is possible when they fully open their hearts to creating connected, fun, and healthy relationships. She leverages over a decade of experience in psychology and relational science to teach people how to be more loving. Christina is highly regarded as a dynamic, humorous and engaging speaker and powerfully connects to the audience on a real and intimate level.
"Christina is the guide we have all been looking for. Her wisdom, compassion and loving humor resonates with this new generation of relationship growth seekers. She speaks and teaches from the heart. She is magical, yet grounded and engaging. Her work is powerful, important and necessary. I am a better person, parent and partner because of her." - Jane Jewitt
Carla Wainwright is a certified Sex, Love & Relationship Coach through The Tantric Institute of Integrated Sexuality, as well as a Sexual Awakening mentor and long-time embodiment and breath work facilitator. For the past three decades, she has immersed herself in exploring what it means to be a thriving human, to be literally turned on by life - as an individual and in relationship. A seeker of truth and authenticity, Carla's passion is supporting people to heal, transform and awaken to the power of allowing love to be the guiding force in their lives.
"I love Carla! I've been following her for over a decade because she continually and authentically loves me unconditionally and helps me to understand myself and grow to get the most out of life. She helps me let go of things that no longer serve me and allows me to feel so loved and appreciated. I am able to be myself and just feel and experience joy. That is what Carla does for me." - Kathy Hart
Hear directly from your facilitators Christina and Carla!
About the organizer
Our programs have proven to be powerful, effective and fun for people from all walks of life. Our curriculum combines lifelong research into the factors that drive effective living with a unique, participatory approach to learning to create programs that are:
Fun and fast-paced
Take place in a trusting, respectful, environment
Deliver a powerful combination of immediate results and lifelong tools
Transform lives for the good of individuals and the world