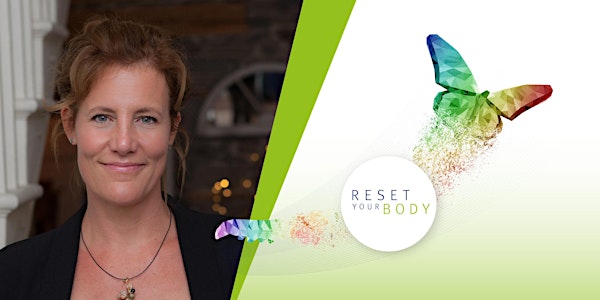 Reset Your Body
It's time to take care of YOU. Join me and learn how you can reset your body with delicious, wholesome real food.
Date and time
Fri, Jan 21, 2022 9:00 AM - 10:00 AM PST
About this event
DOES THE FOLLOWING SOUND FAMILIAR?
-You've tried everything to lose weight and nothing seems to work.
-Your cravings are out of control and you're reluctant to even attempt a new way of eating.
-You suffer from inflammation.
-You feel like you never have enough energy .
-You suffer from bloating, gas, constipation or diarrhea and nothing seems to help.
-You're noticing that your health is following family patterns and it scares you.
-You're worried that addressing diet will mean you're in food prison and you'll never get to enjoy your favorite foods again.
-You think that addressing diet will mean you'll have to starve yourself and that all your food will taste boring and bland.
-You're worried about the direction your health has taken but feel unsure where to begin.
-You have a family history of type 2 diabetes.
-You feel overwhelmed by the contradictory information surrounding food and diet.
-You are ready to take control of your health.
Join me as I share an incredible program that combines personalized nutrition and lifestyle changes in a doable and sustainable package that all comes together with personalized coaching.
This isn't a short-term diet. This is the most comprehensive and holistic program I've ever come across to help my clients achieve their health goals and learn how to make better choices FOR LIFE.
My name is Kim, I'm a Registered Holistic Nutrition consultant and Certified Metabolic Balance coach. My first love is delicious food. My passion is making healthy food delicious and doable.
As a Metabolic Balance coach, my job is to gently guide you through the process of changing your diet and lifestyle in order to help you achieve your health goals.
My goal as your coach is to walk beside you on your health journey. You are the driver and you decide what speed is right for you. I will help with holding your vision and keeping you aligned with your goals .
Your food is your fuel but it's also one of the joys of life. It should sustain, nourish and delight you and it should be savored and chosen carefully.
Let me help.
WITH THIS WORKSHOP:
-You'll see why counting calories isn't the solution to weight loss; managing insulin is.
-You'll learn that fat doesn't make you fat; insulin does.
-You'll understand how what and how you are eating is driving your hunger and cravings - not a lack of willpower.
-You'll appreciate the importance of proper digestion and elimination for overall health.
-You'll discover the link between what you are eating and your inflammation.
-You'll understand the yo-yo effect and how to avoid it forever.
-You'll have a better understanding of the red flags your body is sending you, warning you that you've strayed too far out of balance.
-You'll learn that it should be less about cutting out certain foods (such as dairy, red meat, gluten...) and more about re-balancing the overall metabolism.
-You'll gain an appreciation of just how unique you are and why the one-size-fits-all approach likely didn't work.
Metabolic Balance. These are the words that caught my attention in a local newspaper when I was at a desperate low. By early 2021, I was extremely fatigued and depressed and unable to stay awake for more than 3 or 4 hours. With a recent diagnosis of type 2 diabetes on top of many other health issues I felt ready to die. I could not seem to stop gaining weight and started having angina for the first time in 20 years since my coronary artery bypass surgery.
I did not just need a weight-loss plan, I needed someone to walk the journey with me. I thank God for Kim. She made this awesome recovery possible through her daily coaching and and continuous support. It is now December 2021 and I honestly feel healthier than I have in 30 years. I have energy and I can walk without stopping to catch my breath. I no longer have cravings for sugar and carbs and even though I have gained back a little weight I feel very balanced. My body is working in wonderful ways that I did not think possible. With my doctor's permission and encouragement I have decreased my statin drugs for cholesterol and halved my proton pump inhibitor for acid reflux. I have been on these medicines for years. Thank you Kim!! Anne
***
I started Metabolic Balance program to feel better. I have Crohn's disease and it was giving me a lot of problems. So I wanted to try to help it with a better diet. The weight loss was a great side effect. I lost 50 lbs. in 6 months. Instead of 90% bad days, I have 90% good days and get a better night's sleep. The Metabolic Balance program is something I feel I can stay on forever. It's more of a lifestyle than a diet.
Doug
***
A year ago today I started on my Metabolic Balance journey. My goal was to lose 50 pounds within a year. I wondered at the time if this was unrealistic. But with the incredible science behind Metabolic Balance and the coaching and education from our amazing Kim, that 50 pounds was gone after 4 1/2 months. As great as that was, the bigger challenge was ahead. Would I be able to maintain my goal weight? I'm pleased to say that after celebrating Christmas, New Year, a 21 day cruise, and now the current struggles of corona Virus, including isolation in a home full of baking ingredients, I am only 4 pounds over my goal. Thank you Metabolic Balance and many thanks to Kim.
Patricia
***
Join me for this FREE online workshop
Friday January 21st 2022 from 12:00 - 1:00 EST Places will be limited, please reserve your spot.
The workshop will be recorded and sent to folks that have registered.
For more information or to contact me, go to: www.nutritionlecuyer.ca