Sales Have Ended
Registrations are closed
Thank you for your interest in the Re(Think) [Title] webinar that is being held on [date] [time]. The registration has now ended. Please check out the WRCPC website www.preventingcrime.ca for other upcoming events.
(Re)thinking Drug Prohibition: Reducing Criminalization and Advancing Equity in Canadian Drug Policy
About this event
Canada's prohibitionist narcotic laws are 114 years old, actively criminalizing certain substances and, disproportionately, certain people. Decades of evidence indicates that criminalization via prohibition is expensive and harmful – and a clear barrier to eliminating Canada's chronic drug poisoning crisis that kills 19 people every day.
Join esteemed leaders from civil society and municipal government in a discussion of their upstream efforts to improve everyone's health, safety and well-being with drug laws and policies grounded in equity, and built for the 21st century.
Panel: (Bios below)
This panel will be moderated by our own Michael Parkinson and will feature:
• Natasha Touesnard, Canadian Association of People Who Use Drugs
• Sandra Ka Hon Chu , Canadian HIV/Aids Legal Network, and
• Alicia Neufeld, City of Toronto Public Health,
Key Messages
Criminalizing certain drugs – and certain people – fuels inequities, kills and injures thousands of people, and remains a clear structural barrier to improved individual and community health, safety and well-being
There are alternatives to prohibition underway in Canada today
Prohibition, decriminalization, and legalization with strict regulation remain the key policy options in the midst of the worst poisoning crisis in Canadian history
More about our Moderator and Panelists: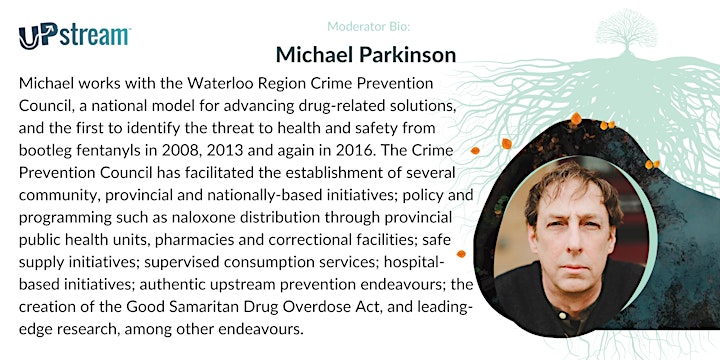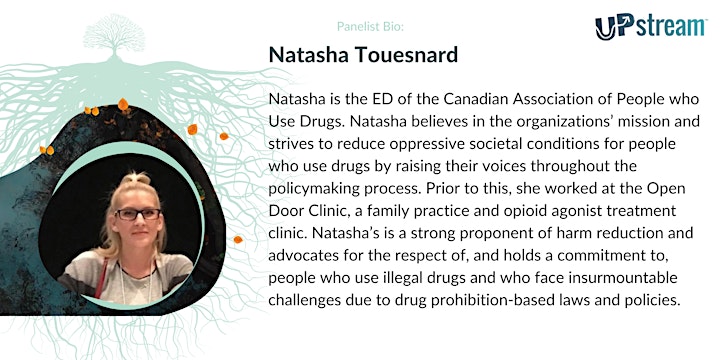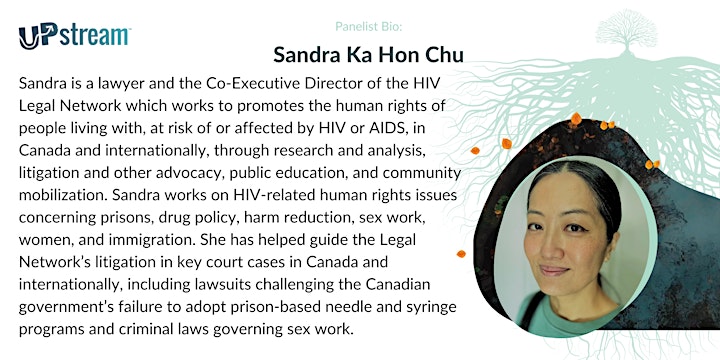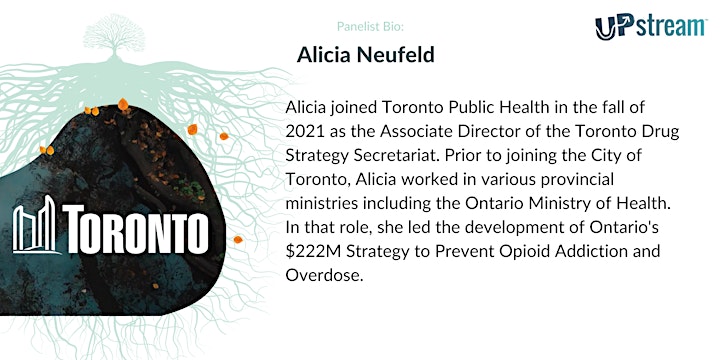 This event is part of our Upstream Speaker series Presented by the Waterloo Region Crime Prevention Council. For links to other future events and to recordings or our future events go to bit.ly/UPstreamSeries.
Goals:
To engage community and inspire action.
Build understanding of issues and concepts that lead to social and structural harms.
To improve community knowledge about Upstream Prevention as a way of preventing harm and creating a safe, more equitable, and just community where everyone has opportunities to thrive.
For more information on The Waterloo Region Crime Prevention, or work and events, click here.

The Waterloo Region Crime Prevention Council (WRCPC) is made up of 40 community leaders representing diverse sectors from our community including education, mental health, child and youth advocates, politicians and enforcement.
The WRCPC strives to shift the focus of crime prevention upstream, building a community foundation of equity where all citizens experience safety and opportunity.
We work with communities and systems to address barriers and amplify voices not being heard. We prevent and reduce social harms by driving structural change through evidence-informed strategies that address the root causes and honour diverse ways of knowing and being.
To learn more, visit preventingcrime.ca.