Book launch for Right Research: Modelling sustainable research practices in the Anthropocene
About this event
What accountability do educators and researchers have in 'righting' their relationship to the environment? Educational institutions play an instrumental role in social and political change, and are responsible for the environmental and social ethics of their institutional practices.
As such, Chelsea Miya, Oliver Rossier and Geoffrey Rockwell invite the academic community to reflect on what their research looks like, how it is conducted, and how it might be developed so as to increase accessibility and sustainability, and decrease carbon footprint.
Please join for a book launch and a timely discussion. All are welcome!
About the Speakers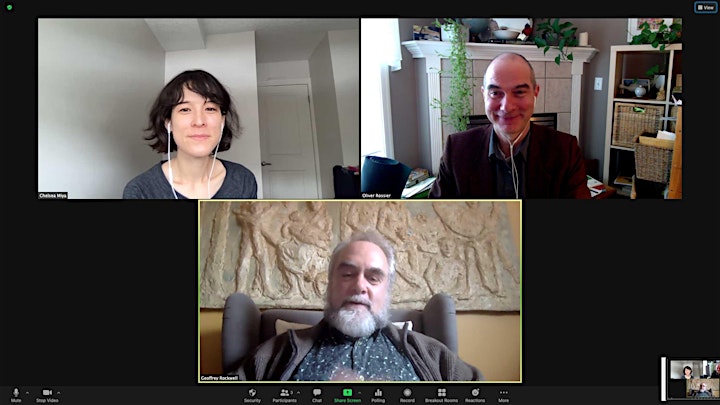 Chelsea Miya is a PhD candidate in the Department of English & Film Studies, University of Alberta. She is a Research Associate at the Canadian Writing Research Collaboratory (CWRC) specializing in usability and documentation, and she coordinated the annual Around the World livestreamed conference.
Oliver Rossier is Senior Officer in Arts Collaboration Enterprise, University of Alberta, and recently completed an MA in Communications and Technology focused on econferencing. Oliver has over 20 years of post-secondary administrative experience including department management, human resources, finance, and research grants administration.
Geoffrey Martin Rockwell is a Professor of Philosophy and Humanities Computing at the University of Alberta. He was born in Philadelphia, and raised in Rome, Italy. He studied philosophy at Haverford College (BA) and the University of Toronto (MA, PhD). He is currently the Director of the Kule Institute for Advanced Study.
About the Book
Right Research is now available to download for free or to purchase in hardcopy or ebook from Open Book Publishers.
Kule Institute for Advanced Study
The Kule Institute for Advanced Study (KIAS) is a major endowed research institute based at the University of Alberta, in Edmonton, Alberta, Canada. KIAS supports interdisciplinary and collaborative research in the Social Sciences, Humanities and Arts at the University of Alberta, focusing on research with the potential for national or international recognition.
Sustainability Council Lecture Series
The Sustainability Council's ongoing lecture series explores local and global perspectives on sustainability, equity and climate action. Hear researchers and practitioners from the University of Alberta and beyond in fields ranging from engineering to ecology, public health to poetry, native studies to nanotechnology.
Organizer of Right Research book launch