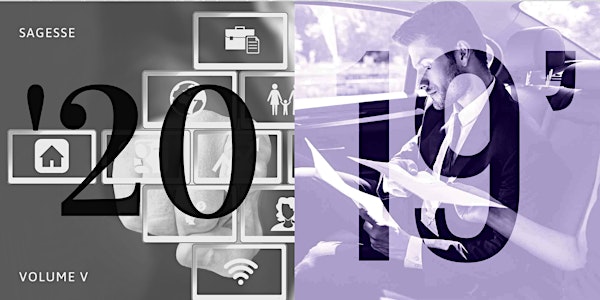 Outside the box, inside the home: ARMA Canada's online newsletter, Sagesse, now comes to life and direct to you.
About this event
ARMA Canada presents a virtual session moderated by the editor of Sagesse. In this free session, you will hear the authors of bring their articles to life. Join this informative discussion to learn about new approaches to managing information and data.
This webinar will be broadcast through EventMobi, using Zoom video. An access link will be emailed to registrants closer to the event. Only registered participants will be able to access the webinar link. Please note you do not need to have a Zoom account to access this webinar.
Sagesse Winter 2020 edition can be found here:
http://armacanada.org/portfolio/sagesse-winter-2020-volume-v/
PRESENTATIONS AND SPEAKERS:
Presentation 1: The Transformational Impacts of Big Data and Analytics
Big data is possibly the most significant disruption in business ecosystems since the meteoric rise of the Internet and the digital economy. This presentation will outline the innovative ways in which big data and analytics has evolved and how it is transforming today's business landscape. Information management practitioners are perfectly positioned to help their organizations tackle the challenges and unlock the opportunities of the big data era. This presentation will highlight the knowledge and skills that are required for information management practitioners to create measurable value for organizations in the big data age.
Speakers: Christy Walters and Crystal Walters
Christy Walters, CIP has over ten years of progressive experience providing information management (IM) advisory and consulting services to clients in several industries. She has a range of consulting experience working with provincial and federal Governments, in the private sector for Deloitte and PwC and, presently, in a University setting while also completing her MBA part-time. Christy is the current Region Director of ARMA Canada Region.
Crystal Walters is a Programmer Consultant with many years of experience in data management and electronic information management in the public sector, manufacturing industry, and in higher education. She is focused on strategic ways to manage and analyze data and information for relationship management and philanthropic success. She holds a BA, a post-diploma in Information Management, and is also a business graduate student at Memorial University.
Presentation 2: Integrate Digital Preservation into Your Information Governance Program Advance your understanding and advocacy for long-term electronic records preservation
Organizations of all sizes and in all sectors keep information and records as long as necessary to meet a range of legal, financial, operational, regulatory compliance and memory purposes that are driven by their unique mission, history and objectives. For permanent and long-term (10+ year) records that spend their "lives" in electronic format, the risks and threats from technology obsolescence should be systematically considered and proactively addressed. This presentation highlights the critical roles that practitioners can play to educate stakeholders on the impacts of changing technologies and to advocate for digital preservation strategies and capabilities to be integrated into their enterprise records and information management programs.
Speaker: Lori Ashley
Lori Ashley is Preservica's Industry Market Development Manager where she analyzes cross-industry and sector-specific requirements for long-term and permanent records retention and use. Research into archives and records management needs in corporate, government, and voluntary sector organizations are used to develop digital preservation use cases, support marketing initiatives, as well as inform Preservica's product roadmap. Lori is Preservica's liaison to the Council of State Archivists (CoSA) and the National Association of Government Archivists and Records Administrators (NAGARA). She is a long-time member of AIIM, SAA, and ARMA, and has served in numerous board positions for the ARMA Madison (WI) chapter.