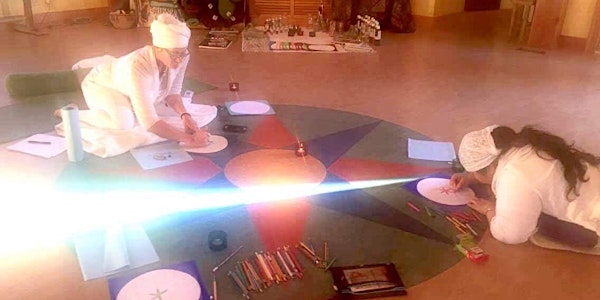 Self-Optimization Through Art and Yoga
When and where
Location
The Sanctuary Space #280, 7015 Macleod Trail Calgary, AB T2H 2K6 Canada
Description
OPTIMISING MIND, BODY AND BRAIN USING ART AND YOGA
In this workshop, Art Therapist and Kundalini Yoga teacher, Livdeep Kaur (Charmaine Husum) invites you to explore your creativity and move beyond the ordinary senses to expand and embrace the deep and profound healing of art therapy and Kundalini yoga.
As we age, the functioning of the brain becomes an even more important component of daily living; something we often take for granted in our youth. From fogginess to forgetfulness to the onsets of disease, optimal brain health facilitates health of all our life giving systems, including mood.
In this introductory workshop, we will discuss and experience the benefits of integrating the right and left hemispheres of the brain using creativity, yoga and meditation. Using Kundalini Yoga and Art therapy we will also explore creating new neuropathways to enhance mindfulness and ultimately our experiences in life.
No creative or physical expertise is needed, as this is a workshop for all abilities with a focus on feeling clearer in the mind, body and soul.
DATE: Saturday, May 11 1:00-5:00 Pm
BRING: Sealable Mug for Tea, Water Bottle, Journal and Pen
COST: $75
VENUE: The Sanctuary Space
ALL MATERIALS, AYURVEDIC TEA AND SNACKS WILL BE PROVIDED
IN THIS WORKSHOP YOU ARE INVITED TO:
Relax the nervous system

Reintegrate right and left-brain hemispheres using Kundalini yoga and art making.

Experience creating scribble art to release tension and enhance brain integration

Introduction to Kundalini yoga and Art Therapy

Breath-work, Kundalini Kriya and Meditation

Create a personal mandala as a reflection of self using art therapy techniques

Connect to your inner power and resources using a Focusing-Oriented Art Therapy© approach

Journaling your reflections and personal insights

Enjoy Ayurvedic yogi tea and snacks
Sign up online ONLY. Reserve your spot before it's full!
LIVDEEP KAUR (Charmaine Husum)
Livdeep Kaur's background is one of an Artist, Art Therapist, Kundalini Yoga Teacher and Somatic Practitioner. An area of particular interest and research has been neuroplasticity and ways in which we are able to heal our brain and optimize its functioning. Using a Humanistic perspective that trusts in the power of individual healing and growth, she has witnessed, experienced and creates this opportunity for others.
Combining these powerful modalities of healing supports shifts in mood, spirit, emotional patterns, and energetic blocks and invites one to experience life with a sense of awe, wonder and true happiness. By integrating both hemispheres of the brain, activating the nervous system and optimizing hormonal functioning using Art Therapy, Kundalini yoga and Mindfulness, you too are invited to experience this bliss.