A full day event of marketing expertise and knowledge sharing, led by the Shout Media team.
About this event
Start Small Business Week 2019 with a bang at the first annual ShoutFest.
ShoutFest is the perfect conference for business owners and managers in any industry who are forward thinking and marketing-minded.
Learn about creative ways to stay ahead of the competition and improve your bottom line with modern marketing approaches that can scale as your business does.
Every person registered will be entered to WIN 3 months of FREE social media management for their business or organization!
Lunch will be provided.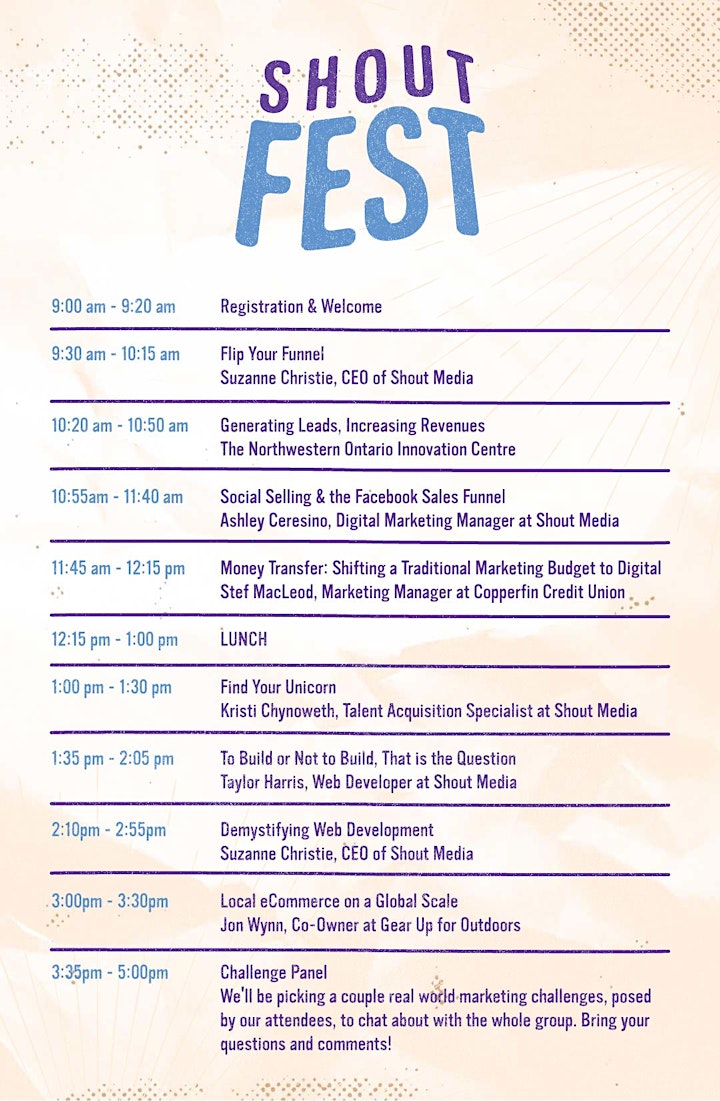 Join us for presentations including:
Flip Your Funnel Suzanne Christie, CEO of Shout Media
Stop chasing your customers down! Also known as "pull marketing", inbound marketing efforts build over time to attract new prospects through tailored content and interactions. Target 1:1 early on in the sales funnel to have a stronger influence on prospects when the time comes for them to choose a business, brand, or service provider. Learn about inbound tools for your industry, from email funnels to Facebook Messenger strategies, and the right way to write blogs.
Generating Leads, Increasing Revenues The Northwestern Ontario Innovation Centre
Building off of the inbound marketing information, the Northwestern Ontario Innovation Centre will explore the latest tools and techniques to generate quality sales leads for your business.
Social Selling & the Facebook Sales Funnel Ashley Ceresino, Digital Marketing Manager at Shout Media
If you're still baffled about how Facebook helps to create lead generation and sales, this presentation is for you. Ashley breaks down how and why Facebook is a pivotal piece of a well built sales funnel. She also goes into the importance of an appropriate budget, targeted audiences, incentives, and crafted copy in order to convert your fans to loyal customers.
Find Your Unicorn Kristi Chynoweth, Talent Acquisition Specialist at Shout Media
You're posting jobs on every platform - yet searching for the right candidate feels like searching for a unicorn. Sound familiar? If so, you're pumping money and resources into a weak recruitment marketing strategy. Learn the one question you need to ask yourself to find your unicorn, move your business forward, and improve your bottom line.
To Build or Not to Build, That is the Question Taylor Harris, Web Developer at Shout Media
When is it beneficial to build your own app solution, and when is it simply a waste of money? When facing custom development vs. using existing software, there are simple ways for you to determine a clear winner. Taylor goes into the pros and cons of each along with some real world examples.
Demystifying Web Development Suzanne Christie, CEO of Shout Media
When you're planning on building a new site, or updating an existing site, it's hard to know where to start. WordPress, Shopify, WooCommerce, Squarespace, GoDaddy, Wix... the options seem endless, but they aren't all created equally. Suzanne discusses what you should be considering for your website for now, for the future, and why.
PLUS two client case studies:
Money Transfer: Shifting a Traditional Marketing Budget to Digital Stef MacLeod, Marketing Manager at Copperfin Credit Union
Local eCommerce on a Global Scale Jon Wynn, Co-Owner at Gear Up for Outdoors
AND our Challenge Panel:
We'll be picking a couple real world marketing challenges, posed by our attendees, to chat about with the whole group. Bring your questions and comments!