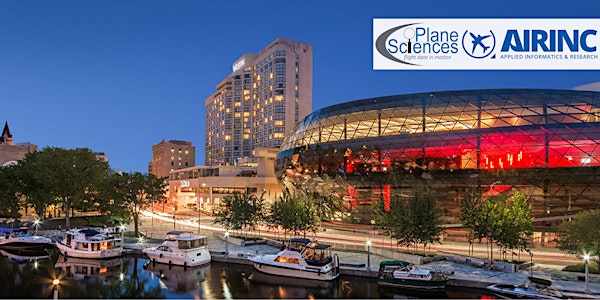 Spring 2019 Users Conference
Users Conference
By Plane Sciences Inc. & AIRINC
Date and time
Tue, Jun 11, 2019 9:00 AM - Wed, Jun 12, 2019 4:00 PM EDT
Location
Shaw Centre 55 Colonel By Drive Ottawa, ON K1N 9J2 Canada
About this event
The Users Conference is primarily intended for customers from both Plane Sciences Inc. and Applied Informatics & Research Inc. to share experiences with flight data related products and services including accident investigation, airline FOQA/FDM/FDA accident prevention programs, military use of flight data and use of flight data for maintenance.
Attendees can expect to learn about our current products as well as our plans for future integration of FAS, Insight and FDM; experience live and interactive software demos as well as learn about key features and how our software is used in daily practices. We will have key note speakers from several organizations to share their experiences with the software and how they have integrated it into their current practices.
The conference will be catered with coffee breaks (with a light breakfast during the morning coffee breaks) and a refreshing lunch. In addition there will be a catered conference function on the first evening. Please see the tentative agenda below.
The conference is open to current customers as well as non-customers (upon request) who are considering joining our user community.
Accommodation
As there is no official Conference hotel we have provided hotel suggestions below at various price points near the Shaw Center, located in the heart of downtown Ottawa.
Westin (12m from venue) https://www.marriott.com/hotels/travel/yowwi-the-westin-ottawa/
Chateau Laurier (270m from venue) https://www.fairmont.com/laurier-ottawa/
Andaz (700m from venue) https://www.hyatt.com/en-US/hotel/canada/andaz-ottawa-byward-market/yowaz
Best Western Plus Ottawa Downtown Suites (1.9km from venue) http://www.bestwesternottawa.com/
Please ensure to book your accommodations early as June is a very busy time in Ottawa.