Event Information
Location
Sarah McDonald Place
1467 Whites Road North
Pickering, ON L1V 6X1
Canada
Hello community! We would like to welcome new families and welcome back returning families to the reopening of our STEMWORKS Program!
About this event
Black Physicians of Tomorrow exists toprovide African, Caribbean, Canadian (ACC) individuals with the tools andresources needed to prepare for and attain, careers in the field of medicineand the allied health professions.
Many minority students applying to orpursuing a health related post- secondary programs are experiencingbarriers and challenges, preventing them from entering into their desiredhealth profession. Their academic journey is all too familiar to some of us,but change is underway to change this narrative.
Through our STEMWORKS Program, we are focused on improving proficiency in Science, Technology, Engineering, and Math (STEM) subject areas to better equip black students who are pursuing careers in medicine and the allied health professions.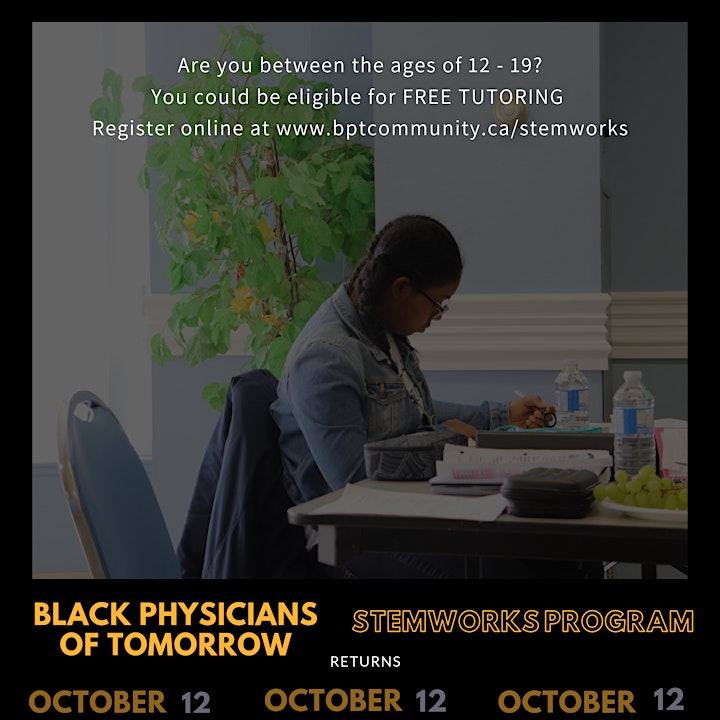 Date and time
Location
Sarah McDonald Place
1467 Whites Road North
Pickering, ON L1V 6X1
Canada