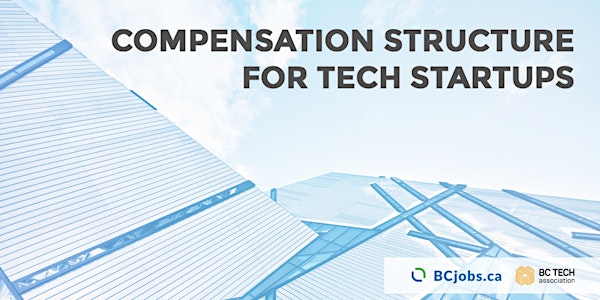 Talent Recruitment Workshop: Compensation Structure for Tech Startups
Location
BC Tech Hub
887 Great Northern Way
Suite 101
Vancouver, BC V5T 4T5
Canada
Description
How can your tech startup compete with larger companies for the best and brightest talent?
Join BCjobs.ca and BC Tech on Wednesday, November 7th to learn how you can build a competitive compensation structure. Tech Industry experts Tim Swanson of Corporate Recruiters BC, Annika Reinhardt from Talent Collective, and Amanda Nagy from Thinkific will be sharing their insights and discussing industry best practices during a panel session.
The panel session will be followed up by a roundtable session with the panelists - AMA style!
About The Speakers:

Tim Swanson, Corporate Recruiters BC
Tim has over 25 years of executive search and recruiting experience from emerging growth companies to Fortune 500 companies. For the past decade, he has focused on helping BC-based technology companies build their executive teams and has become an expert in understanding how executives and their teams need to evolve as their companies grow. Tim started his executive search career in Tokyo helping Global Fortune 500 companies to build the leadership teams responsible for opening up Asian markets before returning to Vancouver over a decade ago. He is a graduate of the University of Victoria.
Annika Reinhardt, Talent Collective
As the co-founder of Talent Collective, an organization focused on helping tech companies develop, grow and reward their talent, Annika Reinhardt creates compensation strategies that are values aligned and don't break the bank. She is a Certified Compensation Professional with a Masters Degree in Project Management and 10+ years of experience in organizational development. Annika can also be found sharing her thoughts on topics like the gender gap and pay transparency on news outlets such as CBC, CTV and the Globe & Mail.
Amandy Nagy, Thinkific
From customer service to social media and now people and culture, Amanda Nagy has absorbed countless uncommon skills (the perfect latte, anyone?) while forging her non-linear career path. Her marketing background, love of helping others and innate desire to have all things organized (she has been known to successfully herd cats…) all roll up into her dream job as People & Culture Specialist at Thinkific. Amanda's current passions include advocating for women and minorities in the tech industry, as well as creating exceptional candidate and employee experiences. While she doesn't get much sleep, she finds ways to turn it into a positive by whipping up sweet treats for her friends and coworkers.

Agenda:
4:45-5:20 - Registration and Networking
5:20-5:30 - Kick Off and Introductions
5:30-6:00 - Panel Session
6:00-6:30 - Roundtable Discussion
6:30-7:00 - Networking
Seats are limited. For any questions about the event, please contact Natalia at nkozlowski@wearebctech.com
We look forward to seeing you there!
---
About the BC Tech Association
Making BC the best place to grow a tech company has been the mission of the BC Tech Association since 1993. While our members focus on growing their businesses, BC Tech has been providing opportunities for our industry members to collaborate, learn, and grow together. We are dedicated to connecting companies, developing talent, and advocating so our industry and our province thrive. To learn more visit www.wearebctech.com.


About BCjobs.ca
As Western Canada's largest job board, BCjobs.ca has been connecting job seekers to leading companies in Greater Vancouver and throughout British Columbia for over 16 years. Focused on its community, BCjobs.ca understands the local hiring market, economy, and companies that make up the fabric of our great province.
Connecting talented job seekers with top local employers both online and in real life - BCjobs.ca is your trusted career and workplace partner.