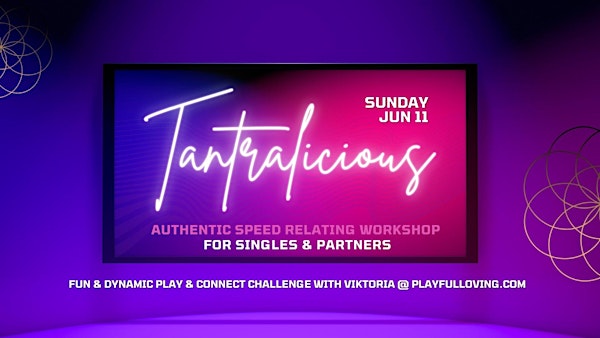 Tantralicious : Authentic Speed Relating Workshop
The Ultimate in Authentic Speed Relating with Fun, Dynamic, & Playful guided short Tantra practices.
By Viktoria | Love & Intimacy Coach & Counsellor
Date and time
Sunday, June 11 · 6 - 8pm EDT
Location
Studio 308 (Dixie Park Centre) FREE Parking 1550 S Gateway Rd 3rd Floor Mississauga, ON L4W 5K3 Canada
Refund Policy
Refunds up to 7 days before event
Eventbrite's fee is nonrefundable.
About this event
The Ultimate authentic relating & communication skills challenge through guided fun & dynamic empowering exercises!
Tantralicious: Play & Connect Challenge WORKSHOP for Everyone with Viktoria
SUNDAY, JUN 11 from 6:00pm to 8:00pm
Experienced through the Tantra lens with guided energy & connection practices.
Are you excited to uplevel your relating and communication skills in a fun way? Then this respectfully dynamic workshop is for you!
The Play & Connect Challenge for everyone is a dynamic learning workshop that raises the bar in authentic relating and communication training! Improving your conscious connection skills to a higher level with fun, quick, and enlightening learning practices.
Side Effects may include a clear knowing of what your boundaries are, language to articulate your needs and desires and a change from awkward to confident with repeated play.
---~---~---~---~---~---~---~------~---
Who is this for?
This is for SINGLES & PARTNERED people who seek to enjoy the above side effects.
Space is limited. Save your spot today!
REGISTRATION: $44pp + Eventbrite fee
WHEN: Sunday, JUN 11 from 6:00pm – 8:00pm
WHERE: Studio 308 ~ 3rd Floor, 1550 South Gateway Rd, Mississauga (Dixie Park Centre), ON, L4W 5K3 | Off Dixie and South of Eglington >>PARKING is FREE<< on premises. >>PLEASE arrive on time.<<
IMPORTANTN NOTE: This is a Fragrance Free workshop. No cologne perfume or any other synthetic made fragrance. Exception: Essential oil dabs.
---~---~---~---~---~---~---~------~---
What people are saying:
A different experience for me being paired up with my partner for all the interesting exercises, building more connection with her & identifying gaps to work on. And she does not want to be a princess. - Chris
Being a natural giver I learned that I tend to take charge of situations at the detrement of meeting my own needs. Often not even knowing what those are. Opening up about this through play and conversation lead to the is discovery. - O.W.
Viktoria's facilitation created a safe space to explore deeper parts of myself and my authentic connection with others. - Christina
Many times my intitial response was "Oh god, I don't think I can be/do that." And then I chose to go ahead and do it anyway. To my surprise, I was better at the game than expected and I had more fun once I was "in it". Super fun and empowering. - J.T.
This was a beautiful and affirming experience of deepening connection with my partner. We learned something new about each other tonight. - Audra
I love the opportunty to connect with other humans in openess and authenticity. - Sara
---~---~---~---~---~---~---~------~---
How is this guided ?​
Step by step exercises engage you in a safe and playful way with clear guidelines. Giving you the practice time to, always, be authentic and true to yourself.
For each exercise you can choose one of the 3 choices:
engage or
modify or
discuss
Guided Exercises may include:
Yoga (mindful awareness)
Tantra (Dark, Red and White)
Adoration Rituals of Connection
improv (creative collaboration)
compassionate communication
dance movement
masculine & feminine polarity play
energetic polarity awareness
storytelling creation
role play improv
dynamic power exchange
words of affirmation
predicament scenarios
touch sensation
and more
This CLOTHES-ON learning workshop is designed to bring you into full presence with yourself (mindfully showing up fully with your entire being).
IMPORTANT NOTE: For the duration of the event you are asked to choose the Giver or Receiver role. Also known in Tantra as Active vs Receptive polarity position.
You will experience expanded possibilities for relating to another person in a more profound way. You come away with greater confidence in your ability to know and express yourself. Shift your perspective on what a healthy and playful relationship can feel and look like.
Dare to be Adventurous in your learning!​
Enjoy a worthwhile, dynamic, fun and playful workshop that will leave you feeling nourished, open-hearted and excited to be in connection with life!
---~---~---~---~---~---~---~------~---
About Your Guide
Viktoria is a holistic love & intimacy, coach, counsellor & confidante of 20 years. An avant-garde provocateur, catalyst, and radical love agent. Always advocating for the best version of yourself to show up.
Viktoria helps women, men, and couples struggling with trauma, disconnection, reconnection, anxiety, frustration, and bedroom boredom with regard to intimacy, compassionate communication, confidence building, relationship and sexual healing, wellbeing and care with self and partner.
Wondrous delights abound, Viktoria For more info surf to: www.playfulloving.com
About the organizer
Viktoria is a holistic love, intimacy, relationship, and sexual wellness coach & counsellor of 15+ years. An avant-garde provocateur and radical Tantra love agent and kick-ass mentor.
A Transformational Counsellor, Life Coach, and Author. Reiki practitioner, Yoga instructor of Hatha, Laya, and Trauma Sensitive Yoga. Tantra Teacher and Compassionate Communication Facilitator. Trainer of the following massage modalities: Holistic Chi Kung massage and Bondassage, and Elysium. She is also a T.R.E. (Tension/Trauma Release Exercise) certified provider. Creator and Trainer of Soma Love ®, touch & energy movement massage.
She helps women, men and couples struggling with disconnection, anxiety, frustration, trauma, and bedroom boredom with regard to intimacy, communication, relationship and sexual wellness with self and partner.
Dedicated to creating safe and nurturing environments to somatically release negative emotions, trauma, anxiety, and tension. Viktoria expertly supports and empowers men, women, and couples to authentically and live fully, love deeply, laugh often, and get the vibrant healthy intimacy they desire through private coaching, programs masterclasses and training.
Helping people reconnect with confidence, presence, and passion with themselves first and then with their loved ones.
Helping you to become an amazing partner and lover.
Helping you build confidence to attract the right partner for you.
Helping you learn what works for you and your sex life.
All done through transformational learning dynamics, self-empowerment practices, healthy boundary setting, compassionate communication, confidence building with practical guidelines for success and much more.
She resonates with powerful presence. Always inspiring your curiosity and creativity to flow fully into your life. Always moving you towards realizing your confidence and profound potential. Always guiding you towards your innate ability to heal from within and live a phenomenal life.
Her life philosophy: Be mindfully aware and always within your boundaries of safety, consent, and comfort levels with respect, honour, and trust with yourself first and reciprocally with loved ones, family, friends, and people in other circles of your life.
Viktoria, Holistic Intimacy, Relationship & Sexual Wellness Coach, Counsellor, and Confidante.
Helping women, men & couples get the vibrant & healthy intimacy they desire.
416-887-5621
viktoria@playfulloving.com
www.playfulloving.com
IG: @playfulloving
FB: @playfulloving

Intimacy = Into-Me-See /Into-You-See: Empowering self-awareness & confidence in and out of the bedroom so you can... Be an amazing lover and partner. Communicate your needs and desires. Attract the right partner for you. and Learn to heal from sexual trauma.