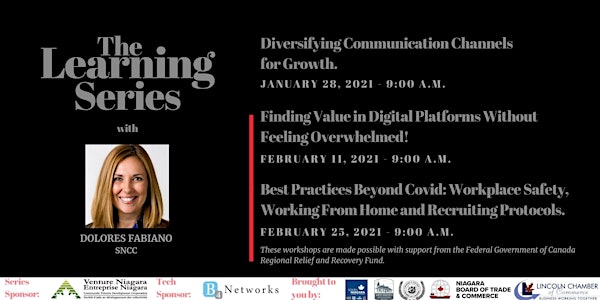 The Learning Series with Dolores Fabiano
About this event
Session 1: Presented by Alyssa Milot, Fractional CMO & Founder, The Zen Strategy
Event Date:
January 28th
Title:
Diversifying Communication Channels for Growth
Summary:
Expanding your business into new markets or connecting with existing customers in a different way can foster an invaluable rebirth. Diversification can breathe fresh, new life into your business...and your bottom line.
This workshop is designed to help you adopt the foundational tools that you will need to seamlessly transition in new directions for growth and to share a strategy that will ensure you do not veer too far off the path.
Session 2: Presented by Alyssa Milot, Fractional CMO & Founder, The Zen Strategy
Event Date:
February 11th
Title:
Finding Value in Digital Platforms Without Feeling Overwhelmed!
(ie. How to use the right platforms....not all the platforms.)
Summary:
Digital marketing, automated marketing, social media marketing...does it make your head start to spin? Or worse yet, make you just want to stick your head in the sand and hope it all goes away?!
Ya, that's fair. It is overwhelming! Especially now when our world has become digital and virtual to new levels overnight!
This workshop is designed to help reframe what "going digital" really means for your business, how to approach it, and what is truly worth your time and effort. It is about learning, choose and executing...the right things. NOT all the things!
Session 3: Present by Jhon Canon, H.R. Manager, On Demand Staffing
Event Date: February 25
Title: Best Practices Beyond Covid: Workplace Safety, Working From Home and Recruiting Protocols.
This workshop is made possible with support from the Federal Government of Canada Regional Relief and Recovery Fund.
Summary:
As employers, we now have new challenges due to the current public health emergency caused by COVID-19. Join us as we discuss some of the challenges employers are faced with today and some best practices that can help you respond to these challenges.
In this webinar, we will cover:
o General Public Health Measures for all Businesses
o Safety Protocols for the workplace
o Working from Home
o Why you need a policy
o Health and Safety – Ergonomics and WSIB
o Equipment and tools
o Support for employees
o Recruiting During Covid
o The job market - a snapshot
o Challenges
o Best practices