Description
The Tiny Marsh BioBlitz is back!

Join expert naturalists and discover the amazing diversity of birds, mammals, reptiles, amphibians, insects, fish and plants that live within this expanse of marsh, forest and field north-west of Elmvale.
A BioBlitz is an intense search for as many species as possible in a given space over a given time period. The search is for variety, not quantity – so each species gets counted only once, no matter how many individuals are seen.
For Tiny Marsh Blitzers, the space is the provincial wildlife area's approximately 900 hectares. Tiny Marsh is recognized as an Important Bird Area, a globally significant habitat for the conservation of bird populations.
Come for just one activity, all day, or part of the day. Our children's activities attract more interest every year and we're delighted to help introduce the wonders of nature to the next generation.
Early-bird activities begin at 6:00 am, when the bird groups head out to find waterfowl, songbirds and raptors at the time of day during which they are most active.
Our formal welcome is at 9:45 at the Nature Centre followed by a variety of guided activities beginning at 10:00. We will break for lunch from noon - 1:00. Please bring your own packed lunch. A second round of guided activities begins at 1:00 pm followed by at sharing circle at 3:00 pm. This year we will finish the day with a special sunset activity from 6:00 pm - 9:00 pm. Check below for full event schedule.

This is a fun day for specialists, amateurs and newcomers to the world of nature. We have found that a 7-year-old is as likely as a seasoned naturalist to spot a rarity. And children delight in the process of discovery and playing a role as part of the team.
Arrive prepared with weather appropriate clothing including a hat, long pants, and closed footwear, sun protection, sufficient water and insect repellent. Bring snacks (especially those participating in the early morning bird walk). This is a rain or shine event!
Please note there is no potable water available at Tiny Marsh so bring enough water for your day especially if warm temperatures are forecast.
QUESTIONS YOU MAY HAVE...
Where do I park?
In front of the Nature Centre which is BioBlitz Headquarters.
Are there washrooms at Tiny Marsh?
Yes there are washrooms in the Nature Centre.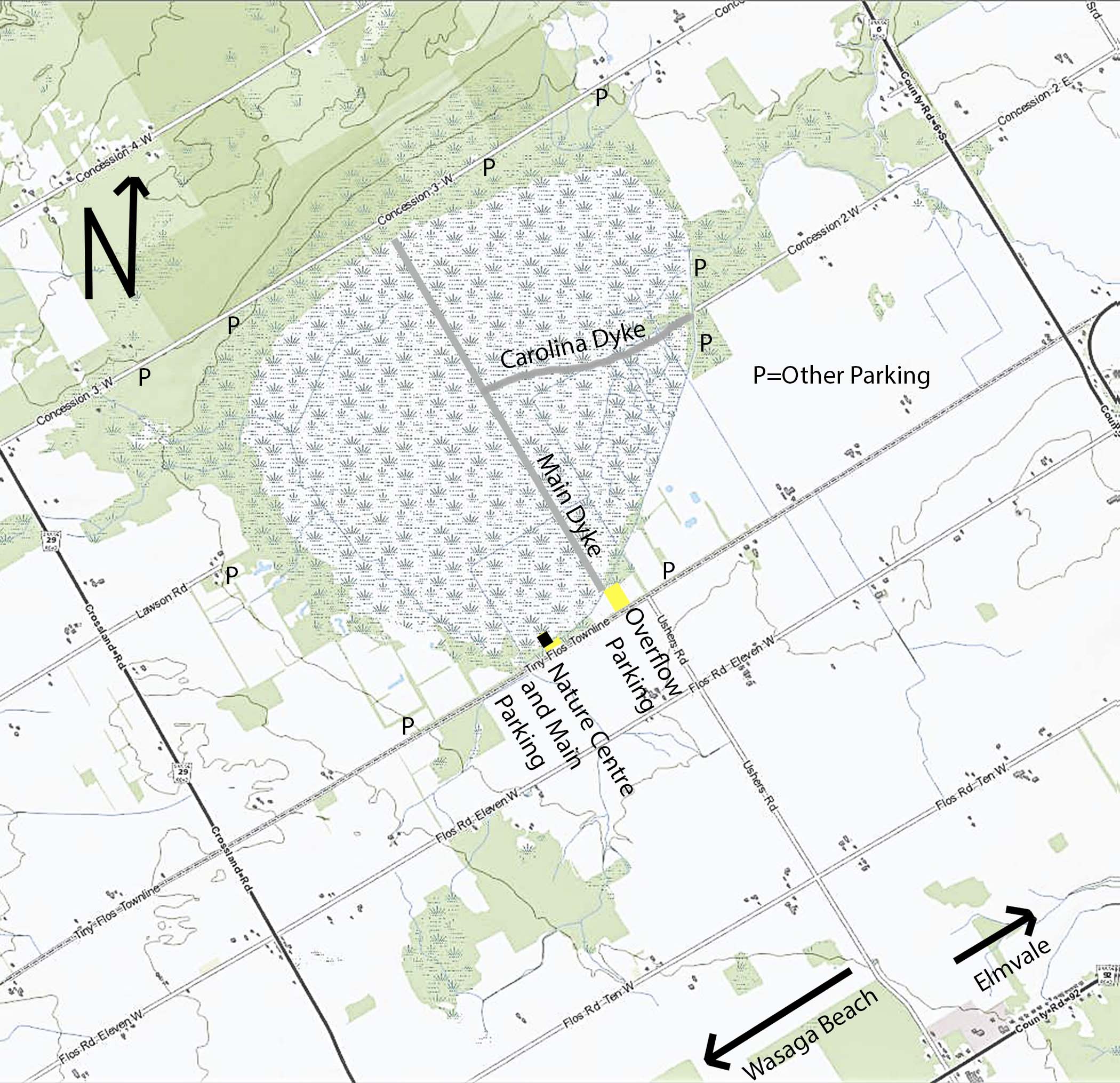 How can I contact the organizer with any questions?
Please email bioblitz@mtmconservation.org or call 705-322-2545.
Thank you to our generous sponsors. This year the Tiny Marsh Bioblitz is free and accessible to all because of your support!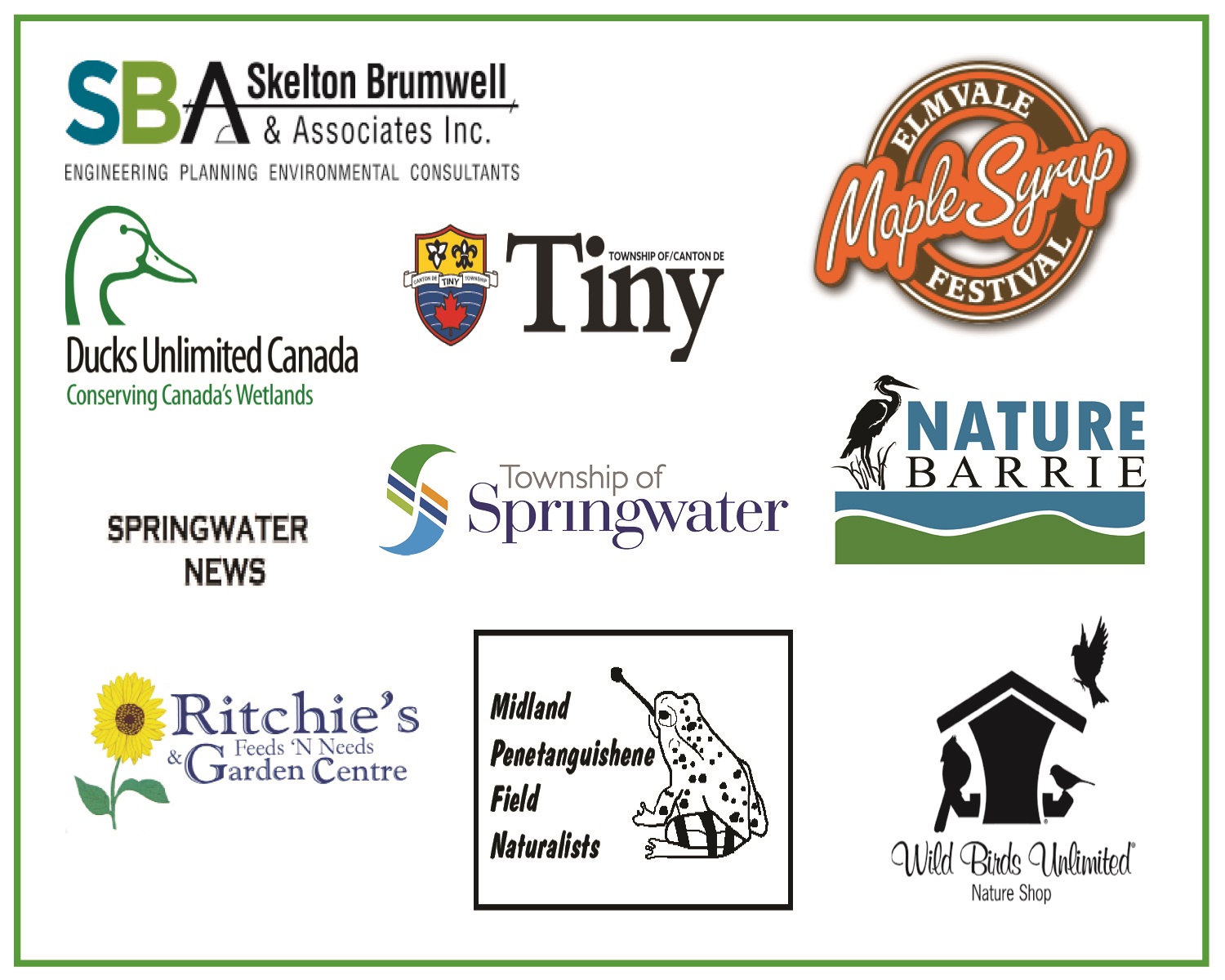 If your business or organization wishes to be part of our 2019 event as a sponsor, contact bioblitz@mtmconservation.org. We promote all our sponsors in advertising and other materials.
EVENT PARTNERS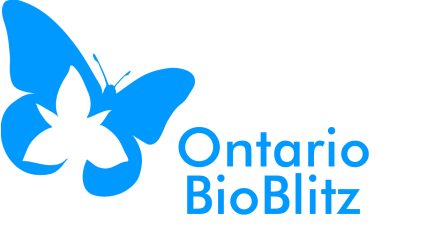 Check out the following schedule. Come for the whole event or take in just one walk, the choice is yours. If you're busy during the day, why not come for the evening waterfowl viewing? The Bioblitz is free but it is helpful for us to know how many people are coming, so please register and get a ticket. If you're interested in a specific walk or walks, email bioblitz@mtmconservation.org with your preference. This will make it easier to match you with the leader/topic of your choice, as we do limit the number of people on each walk.
SCHEDULE
---
Early morning 6am to 9:30am
Early Birds and Birders – Being an "early bird" pays off as many birds are most active during the first hours of daylight. ***Waterproof boots required to protect feet from wet morning dew.
Ken MacDonald
Chase Moser
Dan Whittam
Phyllis Tremblay
Lisa Levez-Bordeleau
Welcome and Acknowledgement
Damsels and Dragons – Shimmering, colourful, acrobatic - damselflies and dragonflies are a wonderful indicator of a healthy wetland.
Naomi Saunders
Brittany Hope
Ken MacDonald
Lane Henderson
For kids and would-be kids - dip into nature – Dip a net into the water and see what you come up with. Catch a butterfly. Kids 12 and under get a Discovery Passport, net and critter viewing box.
David Eales
Lisa Levez-Bordeleau
Life in the Shadows, Ferns and More! – Explore the world of ferns at Tiny Marsh! Enjoy a fern hunt with two Master Naturalists, finding ferns and more!
Barbara Palmer
Kate Harries
On the Wing and Underfoot – This morning walk will take you through a variety of habitats - forest, field and marsh and provide an introduction to the abundance and variety of life that can be found in this important wildlife area – from birds to crayfish.
Jim Charlebois
Jennifer Howard
What's growing on? – Tiny Marsh is awash in colour at this time of year. Find out what's out there and learn about the role native plants play in the ecosystem.
Lynn Short
Clare Holden
12 noon to 12:45 pm
– Check in and Lunch
Bring your own lunch. There are tables and shelter at the Nature Centre.
Kids for Turtles demonstration - Meet a turtle ambassador and learn how kids can help turtles of Ontario, (which are all now on the Species at Risk list!).

Kristyn Madrick
12:20 pm – Dave Moore of Canadian Wildlife Services will update us on his Black Tern research
Calling All Gardeners – Adjust your eye to the beauty of native plants – many of which will look lovely in your garden and will support your birds, pollinators and other native creatures.
Kate Harries
Lynn Short
Leave No Critter Uncounted - A general walk for the whole family. Let's find the unfound. This walk will try to uncover some of the marsh's residents as they go about their journeys.
Clare Holden
Lane Holden

Buggin' – You'll be amazed at how many interesting and beautiful insects go through their life cycle at the marsh – butterflies, moths, bees, wasps, spiders, flies, beetles and more.
Yvonne Metcalfe
Ontario Benthos Biomonitoring Program – Advanced Pond Dip – learn how those tiny pond critters tell the tale of the health of our wetlands, with one of Lakehead's Benthos Biomonitoring Program experts.
Debbie Balika

Chase Moser

3.00 to 4.00 pm
– Sharing the experience of the day
Bring your own lawn chair and cool drink if required. Reminder re: sunset birding event. Review the day's tally.
4:00 pm to 6:30 pm
Free time: Rest and listen to the birds, wander the marsh, have a picnic or a meal in Elmvale...
Sunset Waterfowl Viewing – Walk the dykes and, with the help of Dave's powerful lens, get up close and personal with the myriad species of ducks, geese and other waterfowl that at this time of year are raising their young at the marsh and enjoy the sunset.
Dave McLachlin
Anne McArthur is a member of Ontario Nature and Nature Barrie. She also participated in the 2013-2014 Biological Inventory of Tiny Marsh and continues to volunteer with various projects throughout Tiny Marsh.

Barbara Palmer is a member of the Owen Sound Field Naturalists and a graduate of the Master Naturalist program. She has a broad interest in botany and ferns and orchids in particular. She enjoys botanizing along the Bruce Trail and on the Bruce Peninsula.
Brittany Hope is a conservation biologist working in the environmental/conservation field and is a board member of the Friends of Minesing Wetlands. Brittany loves wetlands! Participated in several biological inventories including Scanlon Creek and Minesing Wetlands.
Chase Moser is a member of the Ontario Field Ornithologists, Nature Barrie, and a recent graduate of the Master Naturalist program. He can often be found on his own or with his family strolling and birding at Tiny Marsh, Matchedash Bay, or George Langman Marsh (they really like marshes!).

Clare Holden is a member of Nature Barrie and Ontario Nature, a graduate of both the Ontario & Florida Master Naturalist programs, and a member of the 2013-14 Tiny Marsh biological inventory volunteer group.
Dan Whittam is an avid birder and a member of the Midland-Penetanguishene Field Naturalists Club.
David Eales is a member of Nature Barrie and a director of MTM Conservation Association, which manages Marl Lake, Tiny Marsh and Matchedash Bay.
David McLachlin, a specialist in Wildlife Biology and Wetland Restoration with Ducks Unlimited Canada, has undertaken the enhancement, inspection and management of hundreds of wetland restoration projects throughout Ontario.
Dave Moore is a waterbird biologist with the Canadian Wildlife Service, and studies gulls, terns, herons, cormorants, marshbirds, and other aquatic birds on the Great Lakes. He is also the incoming President of the Waterbird Society. Dave and colleagues are currently tracking Black Terns at Tiny Marsh (and other locations) to understand their migration and overwintering ecology.
Jennifer Howard, an award-winning and published naturalist, photographer and educator, loves the wilderness and everything big and small that lives within it. Member of the 2013-14 Tiny Marsh biological inventory volunteer group.
Kate Harries is a Master Naturalist and a member of the Midland-Penetanguishene Field Naturalists and Ontario Nature. She is the owner of Return of the Native, a native plant nursery, and blogs at www.returnofthenative.ca about growing for beauty and habitat.
Ken MacDonald is a long-time member of the Midland-Penetanguishene Field Naturalists. Novice birdwatcher for over 40 years. Lifelist 254 species. Not bad for a guy who doesn't go anywhere.
Lane Henderson is a graduate of both the Ontario & Florida Master Naturalist programs. An active member of Nature Barrie assisting with the Swiftwatch & Bluebird projects.
Lisa Levez-Bordeleau, is an Ontario Master Naturalist graduate, ecologist by trade, and celebrating 5 years as the owner of The Earth is Hiring, facilitating indoor and outdoor ecology-based learning, casually working at Red-tailed Hawk Forest School.
Lynn Short, a long-time Tiny Township cottager, teaches horticulture at Humber College and heads a Phragmites control research project. She received the 2016 Bob Whittam Environmental Award from the Severn Sound Environmental Association.
Naomi Saunders is an Ontario Master Naturalist graduate, and a member of the Friends of Minesing Wetlands. An environmental educator, she enjoys spending as much time immersed in nature as available time allows, so that she can share her experiences with others. Participated in several biological inventories including Tiny Marsh and Minesing Wetlands.
Phyllis Tremblay, graduate of Master Naturalist program, 40 year member of Nature Barrie, longtime member of Ontario Nature and the Regional Coordinator of Ontario SwiftWatch. Participated in several biological inventories including Tiny Marsh and Minesing Wetlands.
Yvonne Metcalfe has been fascinated with insects and spiders all her life. Through her keen interest in macro photography, she works to show people the beauty of insects, the important role they play in the world and how they deserve our respect.