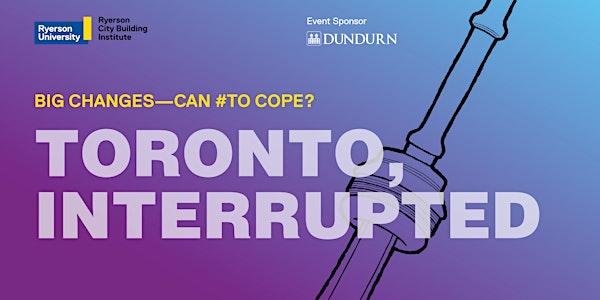 Toronto, Interrupted
By Ryerson City Building Institute
Date and time
Wed, Jun 5, 2019 8:30 AM - 11:00 AM EDT
Location
Oakham Lounge, in Oakham House 63 Gould Street Toronto, ON M5B 1E9 Canada
Description
In his new book, Toronto Reborn, Ken Greenberg explores decades of dramatic and inspiring changes to Toronto that shaped our successful, if somewhat accidental, global city. The book was written at a high point in Toronto's urban history, yet at the time of publication, a new provincial government began legislating policies that may dramatically alter its course. Can the positive forces for change that Greenberg describes prevail?
"Toronto, Interrupted" is a special presentation by Ken Greenberg, plus a panel consisting of Devika Shah (Social Planning Toronto), Tricia Wood (York University) and Councillor Josh Matlow (City of Toronto), moderated by journalist Royson James. Conversation will focus on the big changes affecting transit, land development, climate policy, social services and more in our city, and how these will affect our progress.
The presentation will be followed by a book signing with Ken Greenberg. Copies of Toronto Reborn will be available for sale. To learn more about the book, visit https://www.dundurn.com/books/Toronto-Reborn.
Doors open at 8:30 AM for check-in, refreshments and a light continental breakfast. Presentation runs from 9 AM to 11 AM. Seating is limited to those who are registered.
About the organizer
The Ryerson City Building Institute combines leading-edge research with broad public engagement to advance progressive city building in the GTHA and beyond.
We envision a future in which all cities are prosperous, equitable, environmentally sustainable and resilient. In collaboration with the Ryerson community and external partners, we produce public policy research and share insights addressing diverse urban challenges to promote healthy neighbourhoods, cities and regions, starting with the GTHA. We are recognized for our accessible approach to knowledge mobilization, our multi-disciplinary perspective, and for providing leadership and dialogue that motivates action on important issues.
To learn more, visit www.citybuildinginstitute.ca and follow @RyersonCBI.