Sales Have Ended
Ticket sales have ended
Please add yourself to the waitlist, as this will help us notify you next time this workshop runs.
Sales Have Ended
Ticket sales have ended
Please add yourself to the waitlist, as this will help us notify you next time this workshop runs.
Description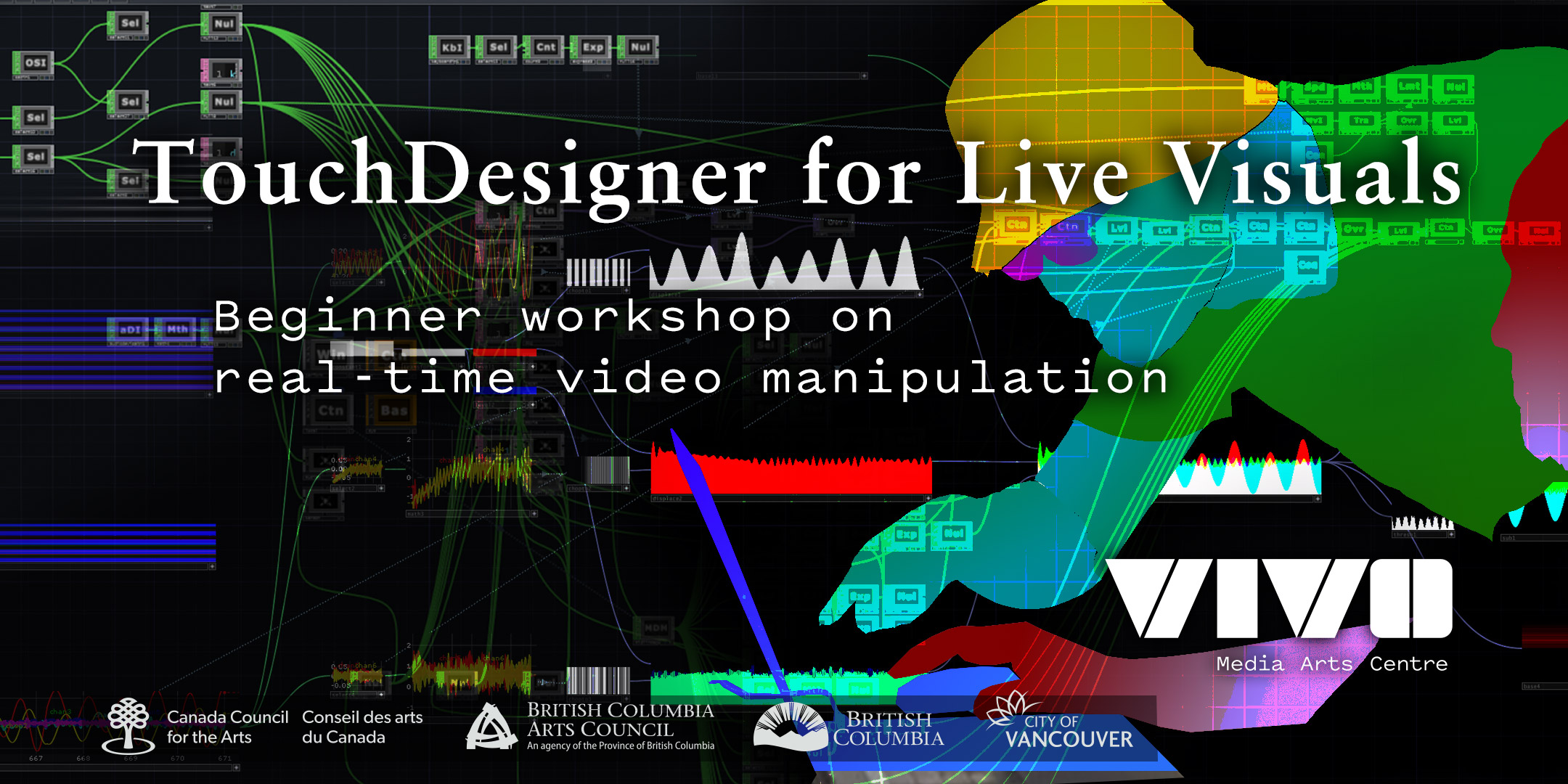 TouchDesigner for Live Visuals
A beginner workshop on real-time video manipulation for live performance and interactive installations, with artist Yasushi Harada.
12 hours total over 3 sessions // $125, or $90 with any VIVO Producer Membership (+GST), all equipment provided

Session 1: Wed, Feb 12, 6pm - 10pm
Session 2: Wed, Feb 19, 6pm - 10pm
Session 3: Wed, Feb 26, 6pm - 10pm
Two extended subsidies available for this workshop:

https://forms.gle/3kHxj2ZNWPALpj7JA
Prerequisite: General computer literacy (e.g., saving files, facility with a mouse and keyboard) is required.

This workshop introduces you to live video manipulation for performance and interactive installations using TouchDesigner (http://derivative.ca/).
If you're dizzy after reading the extensive list of features TouchDesigner offers -- realtime 3D rendering & compositing, projection mapping, lighting & audio for live shows, VR tools -- this intro workshop is a good place to start familiarizing yourself with the software and meet other beginners too!
The instructor will encourage participants to keep in touch through Slack and the TouchDesigner Study Group he organizes in Vancouver.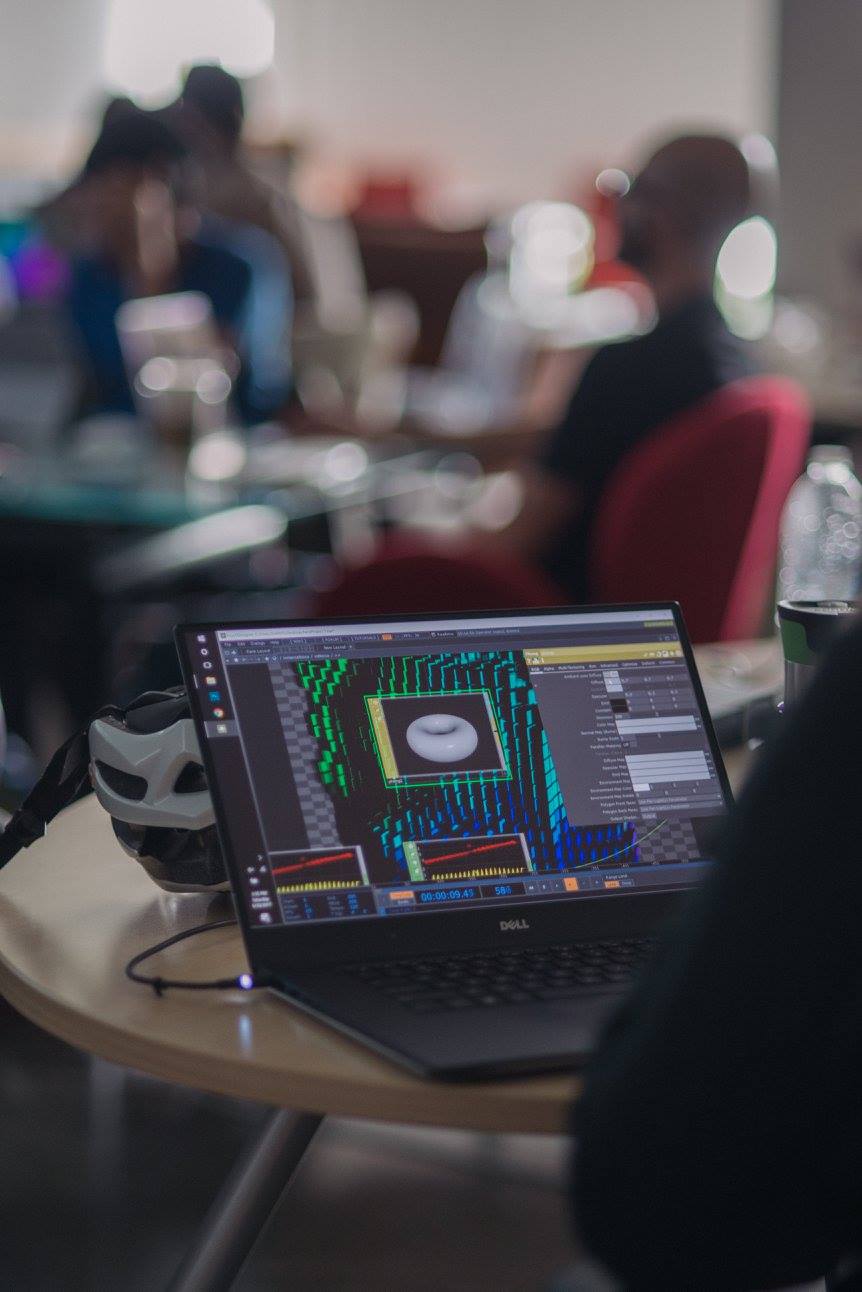 Topics covered:
Video playback

Various inputs and effects

Various operators and ouputs

User interface

3D rendering

Audio reactive

Projection mapping
Open lab time will be given to participants, with instructor available for questions.
Participants are strongly encouraged to bring their own video files on a USB drive; instructor will also have a small selection of video files on hand.
All equipment and software provided. However, participants wishing to bring their own laptop must install and register the latest free version of TouchDesigner (downloadable here: https://derivative.ca/download) before arriving to the workshop, and bring a mouse with 3 buttons.
---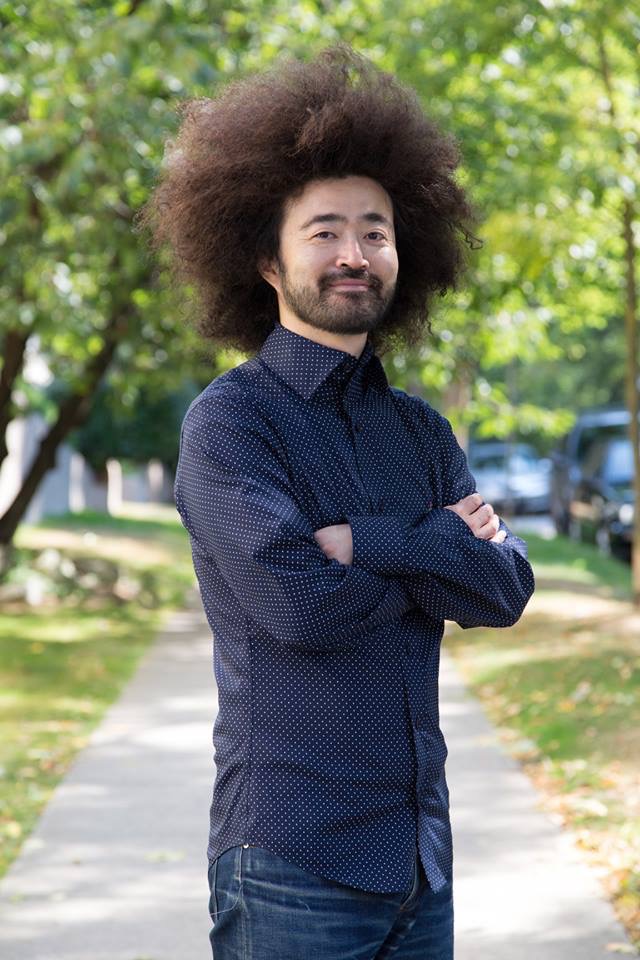 Yasushi Harada is an interactive developer, technical director and visual artist born in Tokyo, Japan, currently living in Vancouver. With a background in psychology, he later found his passion for creating visuals with programming languages while he was working at a creative agency. He has worked for brand activation events, museum exhibitions, night club events and music festivals and has focused on creating live visuals and interactive installations mainly with TouchDesigner in recent years. He is a founder and co-organizer of the TouchDesigner Study Group Vancouver.
https://www.instagram.com/chimanaco

---
Questions? Email us at education@vivomediaarts.com or call 604-872-8337, ext. 5

Want access to discounts?

Sign up to for a Producer Membership -- either the Extended or Basic -- it's totally worth it if you're taking more than one workshop within the year!
Or redeem your the Video Bucks you earned by volunteering
---
Find out about our upcoming workshops sooner!
VIVO's workshops:
http://vivomediaarts.com/workshops
Sign up for VIVO's newsletter (bottom of page):
https://www.vivomediaarts.com
Facebook:
https://www.facebook.com/vivomediaarts/
Twitter:
https://twitter.com/VIVOMediaArts

---
Refunds: Class sizes are small, and our instructors need to be paid–if you can't make a class that you've signed up for, we need time to alert wait-listed participants. VIVO presently asks that withdrawals from workshops be requested by emailing education@vivomediaarts.com at least 12 days prior to the workshop date, if you would like to receive a refund minus a $5 administration fee. Thanks!
Organizer of TouchDesigner for Live Visuals
VIVO MEDIA ARTS CENTRE, incorporated in 1973 as the Satellite Video Exchange Society (SVES), is Vancouver's oldest media arts access centre. VIVO continues to fulfill its founding vision by directly supporting independent artists, community-based producers and activists to develop and exchange their skills in a supportive environment. Our members gather around the tools and material means of production to invent new understandings, new genres and new friendships. Reflecting both the diversity of contemporary technologies and the symbiotic communities that coalesce around new forms of knowledge and creativity, our programming fosters formal, aesthetic and critical approaches to media arts practice. VIVO builds an audience of makers, organizers and critics through artists in residence, lectures, workshops, performances, exhibitions and curatorial and archival research. As an integral artist run centre in Vancouver, our resources and facilities will continue to inform and influence engagement in all levels of media art investment.