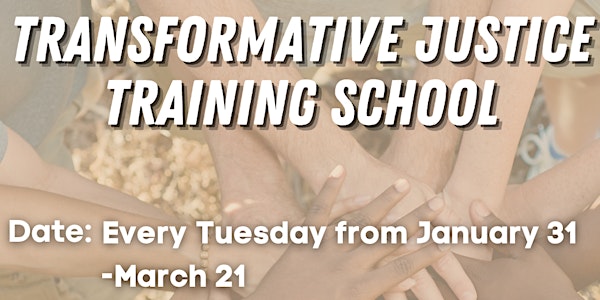 Transformative Justice Training School
This training school will collaboratively generate knowledge, skills, and tools to facilitate transformative justice processes.
About this event
This transformative justice training school is offered by OPIRG-Ottawa where participants will recieve a certificate upon completion of the 8 week training. We will create a space to interrogate the systemic roots and harmful impacts of the criminal legal system and co-generate knowledge about transformative justice through healing, accountability, safety, reparations, and collective action. We will then offer training resources and tools for people to build skills to facilitate transformative justice processes for conflict and harm that are participant-driven, human-centred, trauma-informed, intersectional, anti-oppressive, decolonial, and strength-based. The training school will use a hybrid model (in-person and virtual). The training school will cover:
- Systemic issues that produce marginalization (colonialism, racism, classism, sexism, heteropatriarchy, and ableism) which are social, economic, cultural, and political. Individual behaviours reproduce systemic oppression and reify the existing system.
- How the current criminal legal system is focused on punishing, surveilling, exploiting, othering, and benefiting the powerful. Racial profiling and police violence, adversarial justice is white supremacist, prison industrial complex (prisons the new form of slavery), criminalization and mass incarceration of BIPOC, disabled, 2SLGBTQI+, poor people, migrants, dehumanization in the police and prison system (monopoly over the use of violence, solitary confinement, hyper-policing impoverished communities, and racial minorities).
- Carceral abolition as a framework to dismantle the punitive injustice system and build transformative justice and mutual aid.
- Transformative justice as a political movement and approach that address individual and structural harm.
- Tensions and challenges of transformative justice to work outside the criminal legal system but still in a capitalist and settler colonial context.
- Examples, scenarios, and tools for facilitating TJ processes with community members and with the consent of survivors, people who cause harm, and others impacted.