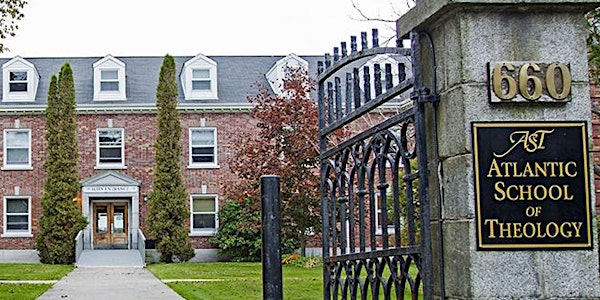 Trinity
This course explores the doctrine of the Trinity, including its biblical foundations and the theological conversations that shaped it.
By Atlantic School of Theology
Date and time
Tue, Jan 10, 2023 5:00 AM - Tue, Apr 4, 2023 7:30 AM PST
Refund Policy
Contact the organizer to request a refund.
Eventbrite's fee is nonrefundable.
About this event
This course explores the doctrine of the Trinity. The first half of the course explores the biblical foundations of the doctrine and the theological conversations (in the first 500 years of Christianity) that shaped it. The second half looks at how the doctrine informs Christian theology in moral, social, and liturgical contexts.
About the Instructor: Dr. David Deane, Associate Professor of Theology at AST, earned the BA, MA, and PhD at Trinity College, Dublin. Prior to serving with AST, he was Theologian in Residence at Colorado State University. He teaches courses in areas such as Christology, the doctrine of God, the Holy Spirit, early Christian thought, moral theology, atheism, anarchism, and Roman Catholic theology and apologetics. He is a frequent theological commentator on radio and television, and has conducted research on the Roman Catholic Church leadership's response to accusations of sexual abuse against priests, just war theory, and Friedrich Nietzsche. He is the host of AST's podcast and has presented a series of vlogs on theological topics.
Dates: January 10 - April 4 2023
Days & Times: Synchronous: live in real time via internet link or in-person on Tuesdays from 9am - 11.30am
Requirements: Weekly readings and discussions. No written work, projects, or presentations.
Books to purchase:
The Triune God by Fred Sanders
The Trinity: On the Nature and Mystery of the One God by Thomas Joseph White OP
Fee: $250.00
Format: Online or In-Person
COVID-19 protocols: Please visit https://www.astheology.ns.ca/home/covid-19/index.html
Please note: This Continuing Education program is non-credit, meaning it cannot be counted toward a degree or diploma, and will not be transcripted. Continuing Education registrations are refundable until 48 hours before a program commences, minus the Eventbrite processing fee. After that time, fees are non-refundable.
Questions? Please contact:
Ginny Wilmhoff, Continuing Education Convenor, at virginia.wilmhoff@astheology.ns.ca
Or the instructor, Dr. David Deane at David.Deane@astheology.ns.ca
Share news about this program with a friend:
Hi! I thought you might be interested in this program at Atlantic School of Theology this winter: https://www.eventbrite.ca/e/trinity-tickets-450884356247
About the organizer
Leaders come in many forms. Atlantic School of Theology helps lifelong learners, post-graduate students, those seeking church vocations, and many others reach their educational goals. AST balances practical skill development with the pursuit of scholarly wisdom.
AST is located in the heart of the south end of Halifax, Nova Scotia. Our peaceful grounds are highly conducive to study. The beautiful waterfront of the Northwest Arm is in our back yard, with the woodland Point Pleasant Park nearby.
We are shaped by a tradition of cooperation and respect, going back over 200 years, to create an open, inclusive, and welcoming environment.
In registering for a continuing education program, you authorize Atlantic School of Theology, or its representative, to photograph and record your image and voice on still photographs, audio, or video media. You assign Atlantic School of Theology (AST) any and all rights, including copyright, on this material for promotional purposes.
 This material can be used, in whole or in part, for the non-commercial promotion of Atlantic School of Theology programs, events, or activities including social media such as Facebook, Twitter, the AST website and YouTube channel.
AST is a registered charity and welcomes donations in any amount (please click here).