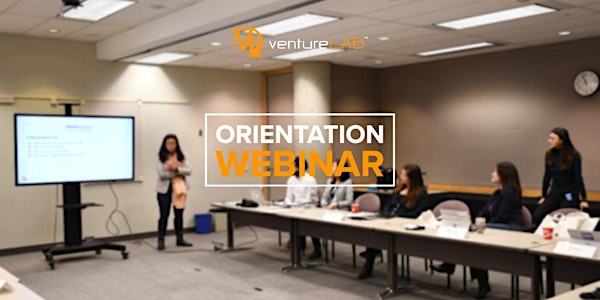 ventureLAB Orientation (Webinar)
Our orientation sessions are intended for ventureLAB clients. If you are not yet registered, please sign up here: www.venturelab.ca/apply
About this event
Welcome to the ventureLAB community!
Join us June 24th for a Hybrid Orientation, where there is an opportunity for only 4 companies to visit our Space at the IBM Innovation Space, Markham Convergence Centre (3600 Steeles Ave E, Markham, ON L3R 9Z7).
In-Person participants will be required to arrive early to check-in at security. Please call (905) 248-2727 when you arrive if there is not already a ventureLAB staff member to welcome you in the lobby.
At the orientation, we will cover:
Who ventureLAB is
Our partners and ecosystem
Programs and opportunities to support entrepreneurs at each stage of business
Be prepared to do a 30-second introduction on your company - this will give us an opportunity to familiarize ourselves with your business and see how we can better leverage our resources to help you. In your pitch, please include brief details on the following:
Customer
Problem
Solution
Stage
You'll also have an opportunity to meet with one of our Venture Growth advisors individually.
For questions please contact: Mayavan Raja Manager, Innovation Space mraja@venturelab.ca
COVID-19 Disclaimer
In response to the impacts of COVID-19, ventureLAB has implemented a number of policies and precautions to ensure the health and safety of our team and tenants, their families, and our broader community. Until further notice, all ventureLAB events, orientations, and workshops will be delivered through an Online Webinar format to ensure the safety of all involved. For more information, please click here.
About ventureLAB
ventureLAB is a leading technology hub located in Markham in York Region, Canada's second-largest tech cluster. Through its programs focused on capital, talent, technology, and customers, ventureLAB has supported over 2,000 tech companies and entrepreneurs, including 100 companies that have raised over $100 million and created 3,500 jobs. ventureLAB's innovation hub is a 50,000 square foot facility that is home to over 45 tech companies and partners that employ over 300 people. At ventureLAB, we grow globally competitive tech titans that build-to-scale in Canada.
Photo/Video Disclaimer
All ventureLAB events are recorded for educational and marketing purposes. If you do not wish to be included in these recordings please let a ventureLAB team member know as soon as possible so that we can omit you from the recording.