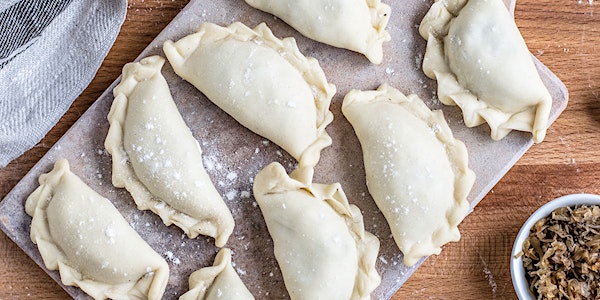 Virtual Pierogi Cooking Class
Learn to make authentic Ukrainian pierogi from scratch! Join us for an interactive virtual cooking class.
About this event
Learn to make authentic Ukrainian pierogi from scratch! Join Darlene Germin and her mom (we'll call her Baba) for an interactive virtual cooking class on Saturday, November 21, 2020 at 10am.
No fancy gadgets required. All you will need are a rolling pin, biscuit cutter (or drinking glass) to cut the circles of dough, some parchment paper and cookie sheets/pans to put your finished pierogi on to freeze or boil. Please download the list of 'tools' and the recipes so that you have them to reference during the live class (and after).
We recommend setting out all of your ingredients "mise en place" before the class and then tune in via zoom and follow along with Chef Darlene and Chef Baba.
The interactive cooking class is sponsored by a grant from the Canadian Red Cross. We want everyone to have an opportunity to try something new with co-op friends. Superstore gift cards, supplies and loaner tablets are available for those who need it.
Please be aware that the Tablets available for loan are limited so we recommend that you register as soon as possible if you need one.
Online Event:
This virtual class will be held virtually via Zoom.
You can join the online workshop via a computer, tablet or mobile device.
You can download the Zoom app from the Zoom Download Centre. We recommend that you download the application before the class.
The Zoom application is very easy to use. However, we have provided you with a few videos below for those of you that are new to the software.