About this Event
Join us as we gather online to discuss the future of tech, including how innovative tech is enabling the future, what kind of pivots are happening in the work environment, and the lessons being gained in the changing landscape of the pandemic. Tech professionals and enthusiasts will be inspired as they listen in on our highly knowledgeable speakers who are industry thought leaders and influencers in this exciting space. Join our rapidly growing tech community and get the real scoop on innovation that's happening now!
This is a free event, but registration is required to attend. Registered participants will receive information on how to join in prior to the event.
Disclaimer: We will be recording parts of the online event to share the experience with the community.
-----------------------------------------------------------------------------
SPONSORSHIP INQUIRIES: View our Virtual Sponsor Package
FOR MORE INFO: Email torontoevents@genesys.com
Join our mailing list and visit our official Toronto Tech Summit website
Follow us on Twitter @Genesys and see our past twitter conversations #TOTechSummit
-----------------------------------------------------------------------------
ALL ATTENDEES RECEIVE:
All-access to all talks and presentations during the event
Chance to win our giveaways during the event
-----------------------------------------------------------------------------
GIVEAWAYS
(more to be announced)
HOST

SPEAKERS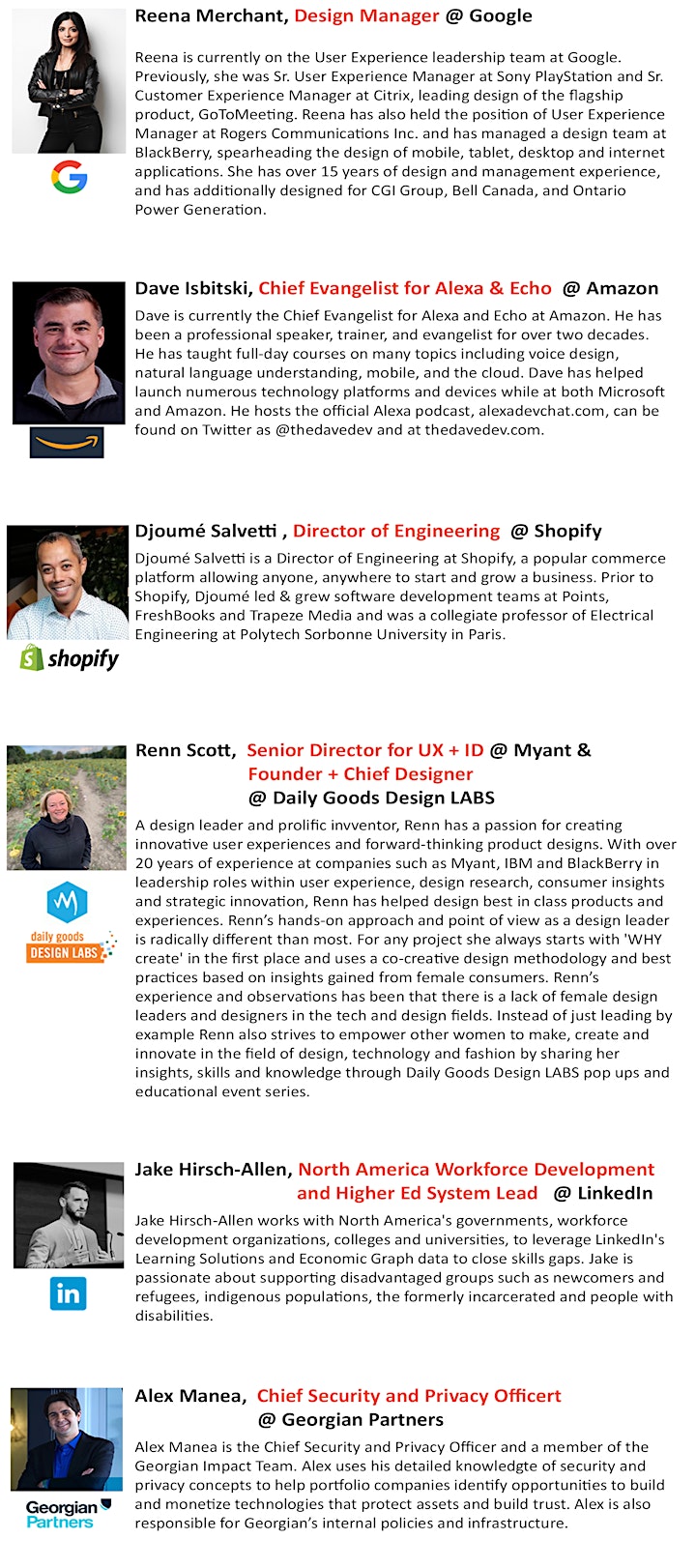 SPONSORS
(more to be announced)
SCHEDULE
1 p.m. - 1:15 p.m. Opening Remarks
1:15 p.m. - 1:40 p.m. Keynote
1:40 p.m. - 1:45 p.m. Lightning Talk
1:45 p.m. - 2:10 p.m. Keynote
2:10 p.m. - 2:35 p.m. Keynote
2:35 p.m. - 2:45 p.m. Break
2:45 p.m. - 3:20 p.m. Panel Discussion: The Future of Work
3:20 p.m. - 3:25 p.m. Lightning Talk
3:25 p.m. - 3:50 p.m. Keynote
3:50 p.m. - 4 p.m. Closing Remarks