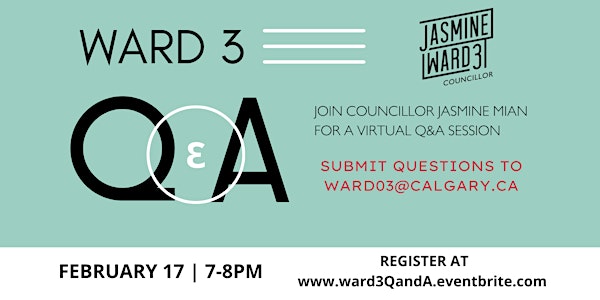 Ward 3 Q and A
Join Ward 3 City Councillor Jasmine Mian for a Q and A. Please submit questions prior to the event to ward03@calgary.ca
About this event
A Message from Ward 3 City Councillor Jasmine Mian:
Thank you for registering for tonight's Q&A. We plan to start right at 7pm so please join before that to ensure you're able to access the virtual event by following the instructions below.
If you see the message "The live event hasn't started" after following the instructions and clicking the attendee link, then you're ready. If you have trouble connecting, please email ward03@calgary.ca.
Instructions for attending
• If you are using a laptop/computer, no app is needed. Simply click "watch on the web instead" and you will be directed to the event
• if you are using a mobile device like an iPhone, Android phone, or iPad, you'll need to choose "download the app" either from the App Store or Google Play
• after you've installed the app, click "join as guest" and you will be directed to the event
• Thank you and see you tonight!
Jasmine Mian
Ward 3 City Councillor
ward03@calgary.ca
------------------------------------------------------------------------
In place of an in-person town hall, Councillor Mian is hosting an online Question and Answer for residents of Ward 3 on February 17 from 7-8pm.
The Councillor would like to hear directly from residents regarding any ideas, issues, or concerns related to Ward 3.
This online event will use Microsoft Teams software. A link will be sent out prior to the meeting. Please send questions in advance to ward03@calgary.ca